Watch: Amid Hunger Crisis, Venezuelan President Eats Empanada During Live TV Address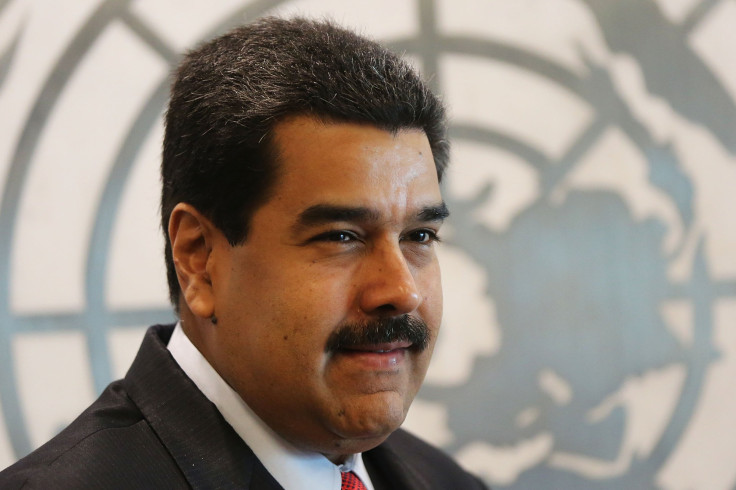 Venezuelan President Nicolás Maduro was recorded Thursday eating an empanada during a live television address. Maduro reportedly didn't think the cameras were still filming him, which led him to sneakily take a quick bite of his empanada, a popular food in Latin American culture.
Venezuela is in the midst of a severe food shortage due to an economic crisis. Citizens have resorted to drastic measures to avoid starvation, including eating zoo animals and giving away their children to families who can afford to feed them.
The video depicts the leader at the Palacio de Miraflores in Caracas, Maduro, examining the room before pulling out an empanada from inside his desk for a brief snack break in the midst of the state-mandated broadcast. Maduro took a large chomp out of his food before putting it away to continue his address.
Venezuela's president, already mocked for gaining weight amid a hunger crisis, pulls out an empanada from his desk during a live TV address. pic.twitter.com/sPw63dbt83

— Hannah Dreier (@hannahdreier) November 3, 2017
"In his defense empanada's are delicious," one Twitter user wrote Friday.
State-mandated broadcasts of this caliber have the tendency to proceed for hours, but this didn't stop social media users from poking fun at the Venezuelan leader. Several echoed that there is a need for "desk empanadas" and others agreed that everyone should "let them eat empanadas."
"Trump has a red button on his desk to get a coke and this guy has f------ empanadas in his desk drawer," another Twitter user added.
Maduro has been criticized for gaining weight amid Venezuela's hunger crisis.
"The only one gaining weight in Venezuela is Maduro. He hardly fits in the TV screen anymore," opposition leader Henrique Capriles said of Maduro, according to Reuters.
Maduro confirmed Thursday that the South American country's government can't afford to cover all of its bills. The country only has $10 billion remaining in the bank. Venezuela's economic crisis has led to the starvation of civilians, with most of its 31 million residents left short of food. Venezuelans often resort to stocking up on whatever they can afford to survive, even if it lacks in nutritional value. The food shortage has also caused residents to skip meals and lose weight.
© Copyright IBTimes 2023. All rights reserved.