WATCH: Donald Trump Supporter Berates Univision Journalist Jorge Ramos: 'Get Out Of My Country'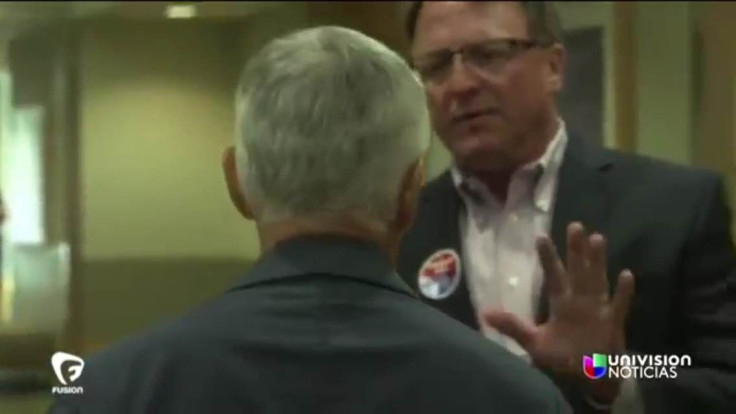 The high-profile showdown between Donald Trump and Univision journalist Jorge Ramos at a Tuesday news conference in Dubuque, Iowa, produced a brief sequel soon afterward when a supporter of Trump demanded that the Spanish-language anchor "get out of my country."
Team Trump confirmed to International Business Times that the man was not affiliated with the candidate's campaign.
After Ramos was booted out of the press room by Trump's security staff for challenging the GOP front-runner on his proposal to deport all undocumented immigrants en masse, footage shot by Univision showed a second confrontation in the hallway outside the media event.
A tall white man with a bright red Trump sticker on his lapel could be seen in the video berating Ramos.
"You are very rude, it's not about you," the man said to Ramos, pointing a finger in his face. "Get out of my country."
"I'm a U.S. citizen, too," Ramos replied.
"Well, whatever, no," the man shot back, waving his hands. "Univision, no."
Trump's communications director, Hope Hicks, told IBTimes she had never met the man before.
"He is not affiliated with the campaign," Hicks said over the phone. "We have 11 staffers in Iowa and this gentleman is not one of them."
The man's remarks to Ramos echoed Trump's from a few minutes earlier, when he told the journalist to "go back to Univision" before security led him out of the press pack. Ramos was later let back in by Hicks to ask Trump a question.
© Copyright IBTimes 2023. All rights reserved.