Who Is Jorge Ramos? Donald Trump Starts Fight With Influential Latino Reporter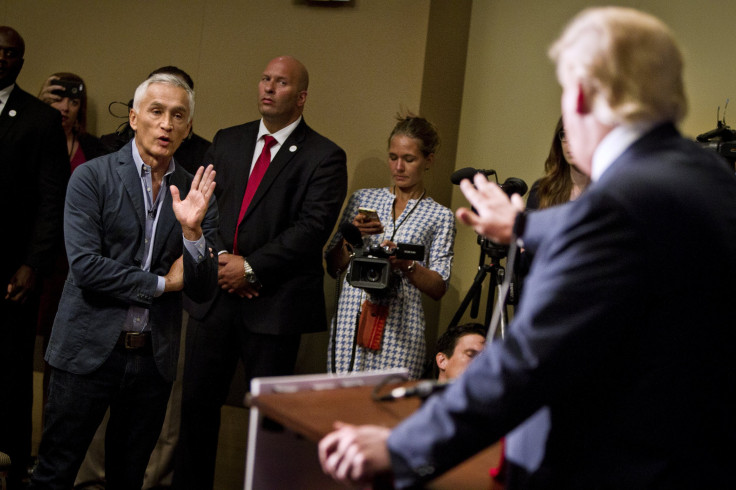 Donald Trump and Univision anchor Jorge Ramos got into a bit of a scuffle Tuesday night. During a press conference in Dubuque, Iowa, the two men argued about Trump's proposed immigration policy and his plan to deport the estimated 11 million undocumented immigrants living in the United States. Then Trump kicked the famed journalist out of the room.
Ramos, a dual citizen in the United States and Mexico, is arguably one of the best-known and highest-profile Mexican-Americans in the world. Ramos is an Emmy winner, and has had a long career in journalism that has allowed him to interview several world leaders, including U.S. President Barack Obama, former U.S. Presidents George W. Bush and Bill Clinton, former Cuban President Fidel Castro and the late Venezuelan President Hugo Chavez.
It's not the first time there has been some friction between Trump and Ramos. Trump posted Ramos's cell phone number online earlier this year, accusing the anchor of not treating him fairly.
Ramos has been in the news business for more than three decades, and found his footing on a Los Angeles Univision affiliate in 1983. He has worked for Univision for most of his career, and in 2008 he represented the network moderating a debate between then-Sens. and Democratic rivals Barack Obama and Hillary Clinton.
During his career, Ramos has been able to amass a considerable personal fortune. In 2015, the 57-year-old was named as the highest-paid journalist on People With Money's top 10 highest-paid journalists list. He made an estimated $75 million in combined earnings for the period covered by the list, through his salary, stock investments and a series of product lines including a fashion line and perfume.
Ramos came to the United States on a student visa after quitting a job at a Mexico City TV station when he was told that he needed to soften a segment he made that was critical of the Mexican government. He was 25 at the time, and began working for KMEX-TV, Los Angeles. From there he moved up the ranks of television to anchor Spanish-language TV's No. 1-ranked broadcast with 2 million viewers. He was 28 when he started as Univision's news anchor and had trouble with the teleprompter, but made do. He's been married and divorced twice.
U.S. Deportations Over Time | InsideGov
"Excuse me. Sit down. You weren't called. Sit down," Trump told Ramos Tuesday when he stood up and began calmly asking a question about immigration policy (another journalist had been called on when Ramos began asking his question). But Trump wasn't having it. As Ramos persisted, a security guard walked over to the journalist and led him out of the room.
"I'm a reporter, an immigrant, a senior citizen," Ramos protested before being removed from the press conference. "I have the right to ask a question."
Trump later let Ramos back in, after several journalists still in the room asked why he was ejected and whether or not he would be allowed back in. When he came back into the room, the two men quarreled for five minutes over immigration, Ramos saying Trump's immigration plan is "full of empty promises" like erecting a 1,900 mile border wall between the United States and Mexico. He also criticized the candidate for his comments on "anchor babies," a term used to describe children of foreign nationals born in the United States who allegedly are used by the parent to establish a claim on living in the country.
Follow me on Twitter: @ClarkMindock
© Copyright IBTimes 2023. All rights reserved.