WATCH: Fort Lauderdale Hotel Valet Knocked Down By Alleged Ex-Police Officer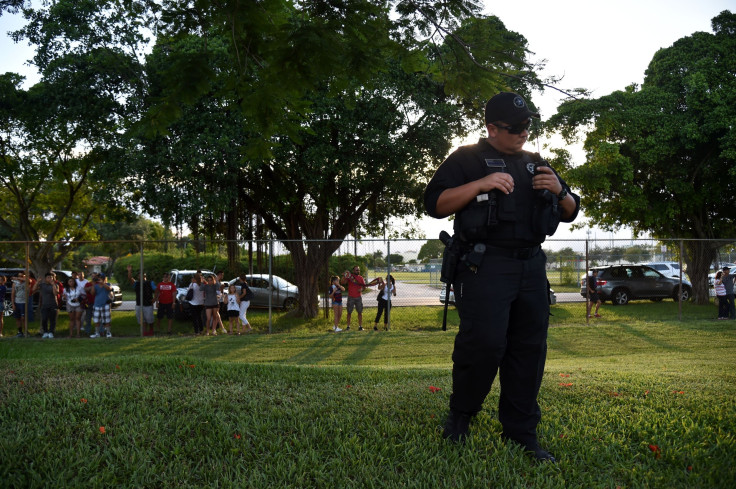 The Florida man claiming to be a former police officer who was caught on security camera punching a valet at a Fort Lauderdale resort last week will now be charged with battery, reports said Tuesday.
John Henry Kiernan, the man who is seen punching the valet in the video, will face a misdemeanor battery charge for hurting Rodolfo Rodriguez at the Ocean Sky Hotel and Resort at 4060 Galt Ocean Drive in Fort Lauderdale, Florida last Tuesday, Rodriguez's attorney, David Kubiliun, told NBC 6 on Tuesday.
Read: WATCH: Colorado Police Helps 4-Year-Old Girl Search Home For Monsters
Rodriguez told NBC 6 the man was a guest at the hotel and he was apparently upset over an $18 valet charge that he was supposed to pay.
"He punched my face and I don't remember nothing," Rodriguez said. "He punched me for no reason."
However, Kiernan told a different story. He said that the valet was disrespectful to him and his wife while he was with his children and that the valet provoked him to fight.
"Based on everything I have dealt with in my life...and based on his body language, the way he spoke to me, I did feel he was going to go to physical contact," Kiernan said. "I didn't know if the guy had a weapon on him. So as soon as he said that I struck him one time and he went down."
The security video obtained by the police authorities this week showed Kiernan walking toward Rodriguez from around his truck where his wife and children appear to be sitting. Rodriguez is seen with his hands inside his pockets. They are seen speaking for several seconds, just moments after which Kiernan is seen punching Rodriguez in the jaw, completely knocking him out. While Rodriguez is seen lying on his face on the pavement, Kiernan tries to pin his arms back until an unidentified woman intervenes at the scene. The video has no sound so their conversation is not heard.
Rodriguez was later taken to a nearby hospital for treatment and later released.
Fort Lauderdale Police responded to the hotel's complaint last Tuesday, however, the 37-year-old, alleged former officer Kiernan, who is said to be residing in central Florida, was not initially charged.
Ocean Sky Hotel and Resort front office manager Nigel Blair said on Monday that it made no sense or there was no evident reason that Fort Lauderdale police authorities did not arrest Kiernan at the scene of the incident last Tuesday. Blair said that he has been working at hotels for almost three decades and has always seen officers arrest guests immediately for even lesser counts of violence.
"I have seen them arrest people for just touching someone," Blair said, according to New York Post.
Read : WATCH: Texas Black Teen Harassed By Police For Mowing Lawn
Police spokeswoman Tracy Figone responded Monday saying that the investigation regarding the incident is ongoing. She claimed that the security video wasn't immediately available to the authorities and the lead officer in the investigation was not aware at that time that Kiernan was a former police officer.
"The officer had no knowledge of what his past or present job was. It had absolutely nothing to do with this investigation," she said.
According to CBS News, it is not clear if Kiernan's claim of being a former officer is true. However, they obtained a 2015 arrest report, which indicated that Kiernan at least was a security guard at Orlando International Airport, when he was taken into custody for reportedly stealing sunglasses.
© Copyright IBTimes 2023. All rights reserved.
FOLLOW MORE IBT NEWS ON THE BELOW CHANNELS