WATCH: Las Vegas Police Body Cam Footage Shows Suspect Firing At Officers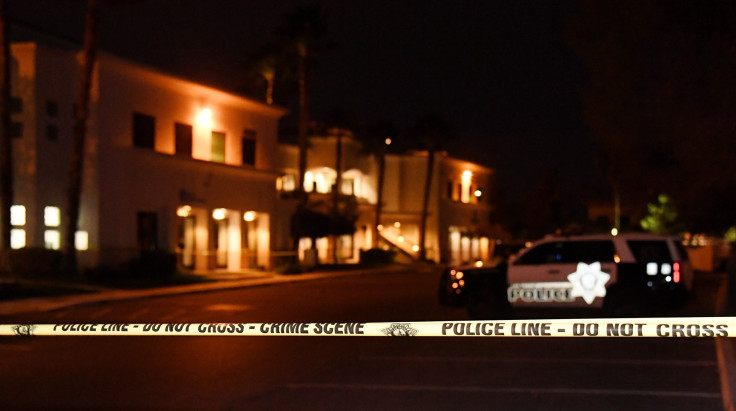 Las Vegas Police released body camera footage Friday showing a gunfight between an armed suspect and two police officers. The gunfight led to the death of the suspect and injured one of the officers with non-life threatening injuries. The video has gone viral since then and it had more than 300,000 views at the time of publishing this story.
The Clark County Coroner's office told FOX 5 on Saturday the suspect, identified as 25-year-old Miguel Salas, was shot in the head and died of the injury.
The incident took place August 1. Salas was asked to come out of his pickup truck by the officers who were investigating a case of a stolen cellphone. Salas repeatedly asked why he was being asked to do so.
Read: NYPD May Boycott Dunkin' Donuts After Brooklyn Store Refused To Serve Officers
The body cam footage showed Salas asking, "Why do you need me to step out of my car?" He told the police officers: "I'm not doing nothing!"
Then an officer's voice is heard: "Yes, you are. You're not listening to our command. Do you want to get tased?"
In the video, police officer Richard Nelson, 33, and his unnamed partner are seen restraining Salas inside the vehicle. One of the officers is seen holding Salas' left wrist as he argues with them and refuses to get out of his vehicle. In less than a second, Salas is seen taking out a gun and he starts firing at the officers.
"Shots fired! I've been hit! Shots fired, I've been hit!" Nelson is heard yelling. Then the two officers run for cover and fire back at Salas.
Officer Nelson was hit by a bullet that made its way through a gap in his bulletproof vest, injured him in the armpit area, and went through his lower back. Following the treatment, he is said to be "ok" at his home, according to Clark County Assistant Sheriff Tom Roberts.
Nelson and his partner are "very lucky" to be alive, Roberts said during a press conference Friday afternoon.
The other officer, who has not been identified, was also hit by the bullet during the gunfight, but his uniform belt saved him from suffering any injuries, police said. "It doesn't matter what area this happens in, everybody comes together and supports each other (in times like these)," Sheriff Joe Lombardo told Fox 5 news.
Salas was said to have fired nine rounds, after which Nelson fired back pulling the trigger ten times and wounded Salas in his head.
Officer Nelson has been serving the police department since April 2009. He has four children and his parents and fiancé were present at the University Medical Center, Las Vegas, where he was treated. After the incident, he has been placed on routine paid administrative leave. The investigation into the incident is still underway.
Read: WATCH: MTA Police Officer Repeatedly Punches Suspect In The Face
Sheriff Roberts praised the two officers during the news conference; however, he added the officers should have reacted to the situation faster, according to Las Vegas Sun.
This has been the fifteenth shooting incident reported so far in 2017 that involved Las Vegas police officers. Seven such incidents have been reported since June 20. That is a remarkable increase from 12 such shootings reported in all of 2016. Roberts said the agency has been looking into the issue.
© Copyright IBTimes 2023. All rights reserved.