[WATCH] Massive Fight Breaks Out At Rowdy Florida Boat Party, Arrests Made
A rowdy lake party in Florida broke out into a massive fight, and it was all captured on video by the Volusia County Sheriff's Office.
The party, dubbed "Mayhem at Lake George", featured hundreds of boats tied off with large crowds of people and a floating DJ stage in the middle.
According to WTSP, a CBS affiliate out of Tampa Bay, "Mayhem at Lake George" is an event that is hosted each year by organizer Florida Watercraft Events that includes swimming, dancing, music, and drinking.
The video from the Volusia County Sheriff's Office shows at least four or five men pushing people off a DJ platform into the lake, where punches are thrown and kicks are performed in the air.
The police can be heard on the video saying that one man on the DJ deck is "pretty bloodied up." One officer continued by saying, "We're gonna need rescue. We got one guy on the deck, looks like he's unconscious, bleeding heavily from the face."
Multiple local law enforcement agencies were called for backup due to the size and rowdiness of the crowd. The Volusia County Sheriff's Office thanked the supporting departments in a Facebook post.
In a Facebook post, the Volusia County Sheriff's Office said that "arrests were made and several citations and warnings were issued."
According to WESH, an NBC affiliate out of Winter Park, Florida, officials issued 42 stops, gave 50 warnings, and wrote eight citations for Boating Under the Influence. First responders were on-site for 12 hours , the news outlet said.
Volusia County Sheriff Mike Chitwood told WESH, "People are just out there to have a good time, but like anything else, when you have a huge concentration of people like this and you have alcohol involved, you do have some incidents."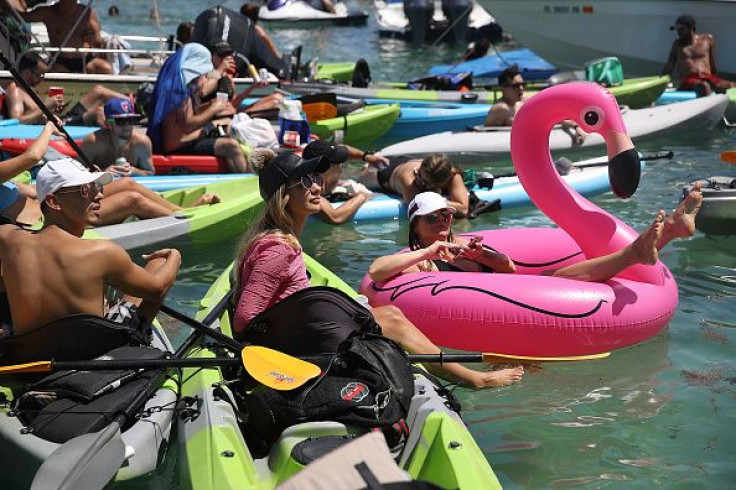 © Copyright IBTimes 2023. All rights reserved.