WATCH: Mysterious Deep-Sea Shark Captured On Camera By Scientists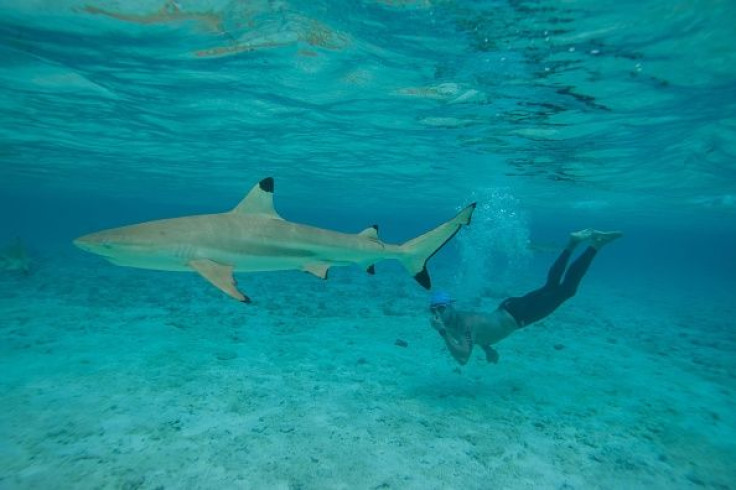 Using a camera to probe the sea floor, scientists documented a mysterious deep-sea shark twice in two days near California's Channel Islands.
A group of scientists with the Exploration Vessel (E/V) Nautilus saw two blunt-nosed six-gill sharks, one a bit smaller than the other, at depths of 700 feet and 1,000 feet last Monday. An ROV, or a "remotely operated underwater vehicle," named Hercules was used to record the sharks. During the second shark encounter at Santa Cruz Island, a giant crab stole the show when it sauntered into camera view. It toted another crab in its claws.
E/V Nautilus uploaded the video to their YouTube channel. "Is that a taxicrab?" quipped one of the scientists in the video. "It's an Uber crab," another scientist replied.
"Within two days, ROV Hercules encountered two bluntnose sixgill sharks while exploring Channel Islands National Marine Sanctuary," read the video caption. "This second shark was spotted off Santa Cruz Island at 306m (1,000ft) depth, and appears to be smaller in size than the first shark spotted. The green scaling lasers seen in this video are set at exactly 10 cm apart."
READ: Huge Great White Shark Caught By Local Fisherman In Massachusetts
Sixgill sharks are expected to grow to up to 18 feet and are named for the six gill openings on each side of their heads. Most other shark species five gill slits instead.
Considered prehistoric-looking, these sharks resembled a fossil shark species that existed 200 million years ago. They're not well researched because they usually inhabit ocean depths of 600 to 3,000-plus feet. To survive, sixgill sharks preyed mostly on fish, smaller sharks, crabs, squid, seals and rays.
As the E/V Nautilus video shows, these sharks moved slowly. However, they possessed a certain poise as they navigated the lightless ocean depths.
Scientists encountered the first prehistoric-looking sixgill shark near the Channel Islands last Monday. The team spotted the giant shark in the ROV's lights while exploring a chasm nearly 700-feet deep at Santa Cruz Island.
#SharkAwarenessDay, every day! This bluntnose sixgill was the second to sneak up on ROV Hercules while exploring @NOAA_CINMS. pic.twitter.com/wRO52WFieH

— E/V Nautilus (@EVNautilus) July 15, 2017
"That could be a sixgill shark," one of the crew members said in the minute-long video.
Moments later a large shark appeared in front of the camera.
"Wow… check this out," one scientist said as the shark passed in front of the camera.
READ: VIDEO: Great White Shark Feasts On Huge Whale Carcass In Australia
The E/V Nautilus embarked on a yearlong analysis of the Eastern Pacific Ocean from Canada to Mexico's Revillagigedo Islands. According to its website nautiluslive.org, its scientists used the remotely operated vehicles to explore and locate new underwater environments.
"ROVs, Hercules and Argus, owned and operated by the Sea Research Foundation's Institute for Exploration," its website reads. "The objective is to explore, locate and describe new habitats, geological processes, cultural sites, and unknown phenomena, establishing a rich foundation of information to catalyze further scientific efforts."
© Copyright IBTimes 2023. All rights reserved.