Huge Great White Shark Caught By Local Fisherman In Massachusetts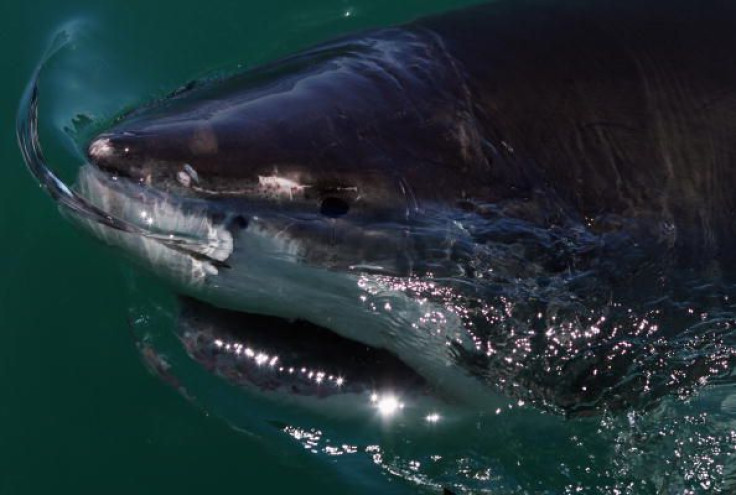 Another great white shark was reportedly captured near land this week — this time in Massachusetts.
Instead of some potential seafood, local lobsterman Gil Mitchell reportedly snagged a gigantic great white shark while he was out fishing in Rockport Tuesday. The large male great white was 8 feet 7 inches long, weighing 362 pounds. Mitchell apparently released the shark after he had noticed it had a transmitter attached to its fin.
READ: WATCH: Shocking Footage Of Shark Attacking Fisherman's Drone In Australia
Unbeknownst to Mitchell, this great white was no stranger. It had already been captured and logged by researchers who intended to study its travel habits. Experts at OCEARCH, a non-profit wildlife organization, captured the shark nine months ago for a study and named it Cisco after a famous Nantucket brewery. OCEARCH took to Facebook July 1 to share info about Cisco, which OCEARCH named its "Shark of the month."
"Cisco has traveled 2731 miles since being tagged and released in Nantucket, Massachusetts 9 months ago," the post read. "He is currently pinging by Rockport, Massachusetts, which is slightly north of his original tagging location. Cisco's track is revealing the one-year migration loop of an immature male white shark in the western Atlantic region."
Great white sharks are usually feared by beachgoers, who are warned to dart in the opposite direction when encountering the animal. However, Chris Fischer, the founder of OCEARCH, and his research team's objective is to save the Great Atlantic White Shark, a project he's been working on for years.
READ: The Terrifying Great White Shark Named Katherine Was Spotted Again, Close To Virginia
"Sharks are the lions of the ocean, they are the balance keepers," Fischer told News 3 in a May interview. "They eat and call out the weak, dead and dying so the strong can multiply. No large sharks means no fish."
According to Fischer, his OCEARCH team captured sharks with preservation in mind. All sharks they catch received a GPS tracking device that will ping every time a shark's fin surfaces above water for 30 seconds.
Sharks get around too. A mature male shark can cover about 17,000-25,000 miles a year of ocean water. A shark tagged in Florida could quickly travel to New England-area beaches.
"If we catch one here it's going to be off the beaches of Virginia and it's going to be off the beaches of the New England," said Fischer.
Fischer and his OCEARCH team have tracked sharks for years. And apparently, anyone can. The GPS devices attached to the tagged sharks display their locations on the organization's website here. Some of the sharks even have their own Twitter handle.
"Jump into the project, track the sharks engage with them. OCEARCH is not owned by anyone, it's owned by everyone," said Fischer.
He added, "We all want to make sure that the future generation has an abundant resource so they can enjoy it as much as we have in our lifetime, it's the passion that brings us together."
© Copyright IBTimes 2023. All rights reserved.