WATCH: Rare Footage Shows Great White Shark Breaching Off Cape Cod Coast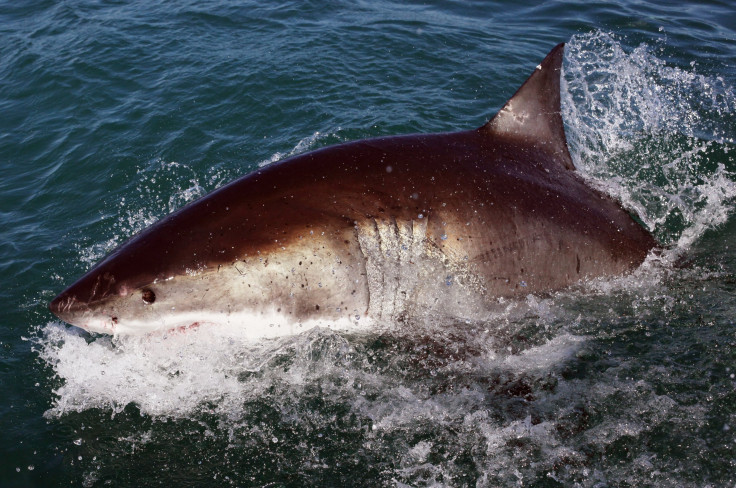 In a rare incident, a great white shark was caught on camera breaching off the Cape Cod coast when a group of fishermen was trying to reel in fish. The incident took place Saturday when Hap Farrell, a charter fishing captain, for the first time captured the predator steal a catch from a fisherman's line.
Farell told the local media that seeing a shark breach wasn't new but recording it on camera had never been possible until now. The member of the Rock Harbor Charter Fleet, Orleans, was taking tourists out for fishing off the Billings Gate Shoals when the shark emerged from the waters.
In the video, the 12-feet-long shark is seen breaching six miles off the shore during the first trip, but a full breaching was seen when Farell went for the second time Saturday afternoon.
"Whoa!" the group of fishermen exclaimed in unison the moment they saw the shark breaching off the Cape Cod coast for the first time. The Atlantic White Shark Conservancy — a nonprofit that supports great white shark research, education, and conservation, in Cape Cod, also shared the video.
Watch the video below.
Great white sharks have been increasing in the Cape Cod area. In June, experts said the number would reach up to 150. Some feared that an increase in the number of sharks may also lead to shark attacks.
"It's not if, it's when, in terms of somebody being fatally attacked," Marine Fisheries scientists Gregory Skomal told National Geographic in 2016. "We've got seals being eaten within 100 meters of surfers. Think about that. Cape Cod is coexisting right now, but we haven't had the attack; we haven't had that fatal attack."
On Friday, in the same area, a group of private whale watchers witnessed great white sharks feeding on the carcass of a dead whale.
Captain Chad Avellar told NBC Boston that he saw two "good-sized" sharks were eating the carcass.
"The minke was bloated and belly up. It had already been eaten on by the shark. We waited and waited for a couple minutes, then a fin popped up, then the sharks popped up. Some of the sharks even swam around the boat for about a minute and a half," he said.
The rare sight was caught on camera by Joanne Jarzobski, a marine biologist and a naturalist with the SeaSalt Charters whale watch company.
"It was a really amazing experience to be able to witness this bit of nature offshore," Jarzobski said, according to reports. "It was showing so much of its body as it devoured this whale." She told NBC Boston that the whale may have died after getting entangled in fishing gear.
© Copyright IBTimes 2023. All rights reserved.