Watch: Richard Spencer Explains How Alt-Right Will Survive 'Twitter Purge'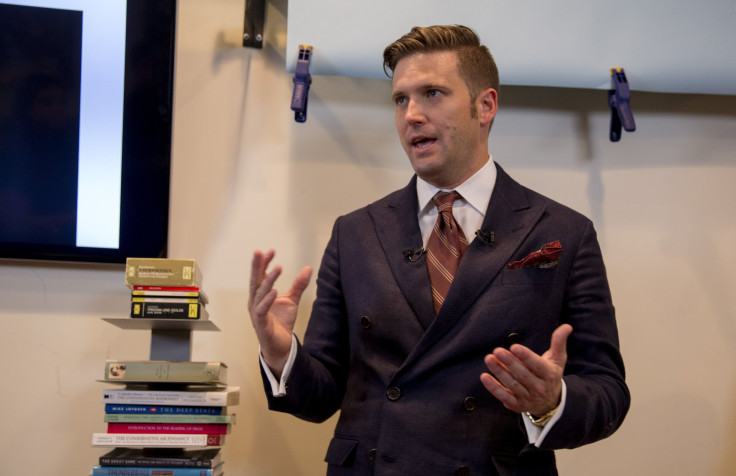 White supremacist and the president of National Policy Institute, a white supremacist think tank, Richard Spencer, spoke about how alt-right brigade will survive the new ruling by Twitter which led to the massive purging of accounts which contained hateful imagery and display names, which included numerous alt-right accounts, in a video published by AltRight.com on Tuesday.
In the video, Spencer stated that he "survived" the opening stages of the Twitter purge and people like Jared Taylor-white nationalist and the editor of white supremacist magazine, American Renaissance-will be allowed back on the social media platform after his account got suspended.
One of the reasons for the purge which Spencer stated was the existence of Social Justice Warrior (SJW) committees within Twitter who are working towards making Twitter a "safer" place. He also stated that Twitter is working with the Anti-Defamation League (ADL), an international Jewish non-governmental organization, which, according to him, are working towards "suppressing real white identity" and "positive racial feelings among whites."
Spencer then states that, if one perceives Twitter purges in the past, it can be noticed that Twitter has been very "inconsistent" in nature where the company made "ad-hoc decisions" which were reversed. He goes on to say that he doesn't "think that they [Twitter] are going to do a massive ban."
Apart from the SJW committees working within Twitter, Spencer stated that a more important reason could be the working factor behind this Twitter purge. The reason was that Twitter was not a successful company from the Silicon Valley. Comparing Twitter with Facebook, he said, "Unlike Facebook and unlike some other companies, Twitter is not turning a profit."
He also said that Twitter wanted to "create a new version of Twitter," a version which will be "really fun" and "basically meaningless."
This video was published the day after when Twitter enforced new rulings which suspended Twitters users who were affiliated to hate groups "on and off the platform."
According to a report by Recode, a technology news website, this ruling was originally announced in November. The report further stated that the ruling penalized the users whose accounts contained "hateful imagery and display names", including the Nazi insignia, or those accounts which used a "username, display name, or profile biography to engage in abusive behavior."
The ruling which was enforced Monday resulted in numerous alt-right accounts getting suspended. In a blog post, Twitter said: "Today, we are starting to enforce these policies across Twitter."
The statement also said, "In our efforts to be more aggressive here, we may make some mistakes and are working on a robust appeals process. We'll evaluate and iterate on these changes in the coming days and weeks, and will keep you posted on progress along the way."
The report by Recode further stated that Twitter was being pressurized by the users in the U.S. and regulators from around the world, especially from Europe, to take a strong stand against hate speech.
© Copyright IBTimes 2023. All rights reserved.