Watch: Waffle House Employees Pour Food On 'Drunk' Passed-Out Customer
Waffle House apologized Thursday after a video showing its employees pouring food, including salt and ketchup, on a passed-out customer was shared on social media. At least two employees were reportedly seen in the video humiliating the customer by propping him up and using him like a puppet.
The incident took place at the Lithonia, Georgia, outlet early January, when a reportedly drunk customer came in and fell asleep at the restaurant counter. Not only did the employees pour food on the man, but at one point, also placed a piece of cheese on the back of his head. One employee then held the customer's arms and propped him up, making it appear as if he was dancing.
According to ABC-affiliated television station WSB-TV, the customer had no idea what had happened until the video was shared on Instagram. The man's fiancée was the one who shared the video with the TV station.
"He went to go and get his head together, get his mind straight," his fianceé told WSB-TV. "He passed out during that time and they took advantage of him."
She also said the Instagram page from where she obtained the video had similar footages of different customers at the location off Evans Mill Road.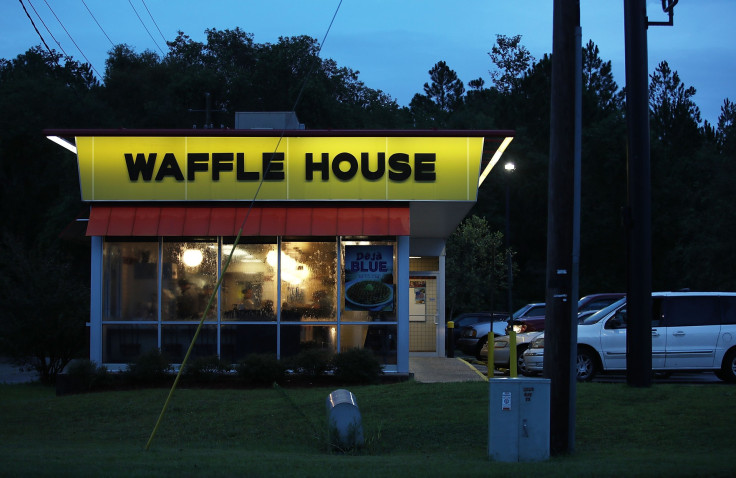 In a statement to Fox News, a spokesperson for Waffle House apologized to the humiliated customer.
"When we learned of this event we launched an investigation, and have terminated the employees involved. Their actions in no way represent our company or our thousands of Associates who strive to provide our customers with a positive experience daily," Pat Warner said.
A battery case was filed by the victim with DeKalb County police. However, no charges were filed so far.
In April 2018, a Waffle House in Alabama came under fire after a video surfaced showing a black woman being aggressively arrested by three white officers. Police were called to the scene by the Waffle House outlet after an argument between the woman and an employee. The woman had allegedly asked for plastic utensils and was told there would be a 50-cent charge, for which she argued she had earlier received the utensils for free. The employee at the Waffle House canceled her order, following which police were called to the scene. The Waffle House defended the police intervention saying it had information that "differs significantly" from claims by the woman.
© Copyright IBTimes 2023. All rights reserved.