Water Crisis: The Colorado River Is Drying Up, And The Next President Needs To Work Fast To Stop A Major Drought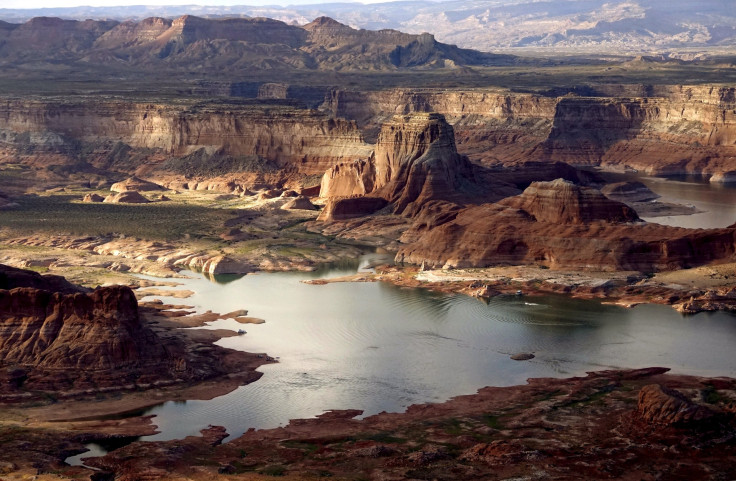 No matter who wins the White House Tuesday, the next president's administration will likely immediately face a pressing issue that gets very little national attention: What to do about the drying Colorado River that supplies water to millions of people in the American Southwest.
The next commander-in-chief will need to take immediate action and show leadership to ensure that the millions of people living in areas from Phoenix to Southern California continue to have access to water from the Colorado River now and in the future, a new study published Monday by the Colorado River Future Project (CRFP) at the Getches-Wilkinson Center for Natural Resources, Energy and the Environment at the University of Colorado at Boulder suggests. CFRP interviewed more than 65 important players interested in management of the river, including water managers, municipal and agricultural customers, conservationists and government officials from the Congressional, state and tribal levels.
"What we're seeing here is the impact of 16 years of drought and increasing demand throughout the system," Anne Castle, a former U.S. Department of Interior secretary for water and science and a senior fellow at CFRP, told International Business Times in a phone interview. "For all intents and purposes it's about a 50-50 chance that we will see actual reductions in" water deliveries starting in 2018, she said.
Whether that happens depends on if water levels in Lake Mead, which helps supply water for 25 million people across Nevada, Arizona and California, drop even a just little bit. The study findings show that, after decades of population and agricultural growth in the Southwest, there just doesn't seem to be enough water in the river to honor promised allotments to states in the region. Reductions, including a potential 11.4 percent ration cut for Arizona and a 4.3 percent cut for Nevada, may be necessary. California, under current agreements made between the stakeholders, would be spared.
If that happens, people could be affected differently. Depending on the individual municipality or area, those cuts could manifest in a variety of forms, including governments encouraging residents to only water lawns at times when water use is lowest or utilities raising prices for consumers who use the most water. In California, which has already been hit by a severe drought, past policies to curb water consumption at the local level have included the threat of stiff fines for failing to meet reduction goals.
The decision to cut consumption for states and municipalities is made according to previous agreements between hundreds of water rights holders in the region, including states, municipalities and tribal governments. The process is overseen and organized, but not controlled, by the federal government.
The current agreement, which is being renegotiated, will make cuts if the water level in Lake Mead — which sits above the Hoover Dam on the border between Arizona and Nevada — drops below an elevation of 1,075 feet above sea level. The levels vary naturally and at one point this year dropped to it's lowest point in recent history below 1,075 feet, according to NASA Earth Observatory measurements. Castle said the Bureau of Reclamation, which monitors the water for the stakeholders, has estimated there is a 48 percent probability that official measurements will drop below that level next year in August when the bureau performs an annual analysis.
Water advocates, noting there is no guarantee that Lake Mead will be replenished even with those cuts, have argued for reducing access for stakeholders earlier so that the reservoir can have a chance to replenish.
The two leading presidential candidates have made some pretty different comments on water scarcity in the West, though it is not sure how either would address the Colorado River water levels. Democrat Hillary Clinton has offered vague proposals in California to help with a drought there by investing in new water systems infrastructure. Republican Donald Trump, on the other hand, has dismissed claims that the California drought even exists and has called climate change a "hoax," which many scientists say has exacerbated the situation in California. The state's drought recently entered its sixth straight year and has broken records there, leading to drastic reductions in reservoir levels, increasing vulnerability to devastating wildfires and billions of dollars in agricultural infrastructure damages.
The United States and local stakeholders are also currently renegotiating with Mexico a treaty to share and manage the Colorado river, which needs to be renewed by 2017. Renewing or renegotiating the treaty — which the new study suggests should be a high priority of a presidential administration alongside figuring out new cutoff thresholds for the states mentioned above — would allow Mexico to continue storing some of its water in American reservoirs and allows the U.S. to reduce water deliveries across the border in times of extreme shortage.
Either way, the Southwest is facing dry years ahead and the necessity to implement smart policies to survive those conditions. But, it's not all bad news for municipalities hoping to keep on growing. Castle said that, while water cuts may sound horrible, in the Southwest those limitations definitely can and do work alongside big population growth. For instance, Las Vegas, which has implemented water reuse and conservation policies that are seen by many as a sterling example of what thirsty cities can do.
"In Nevada, the Colorado River flows through the Las Vegas area and, even though the population there has grown considerably, they're not using any more water and maybe even less water than they did several years ago," Castle said, referencing water recycling and conservation efforts taken in the city that have been met with acclaim. "There are ways for municipalities to grow their populations without using more water than they should be."
© Copyright IBTimes 2023. All rights reserved.