Weekend Box Office Predictions: 'Spongebob' To Absorb 'Jupiter Ascending,' 'Seventh Son'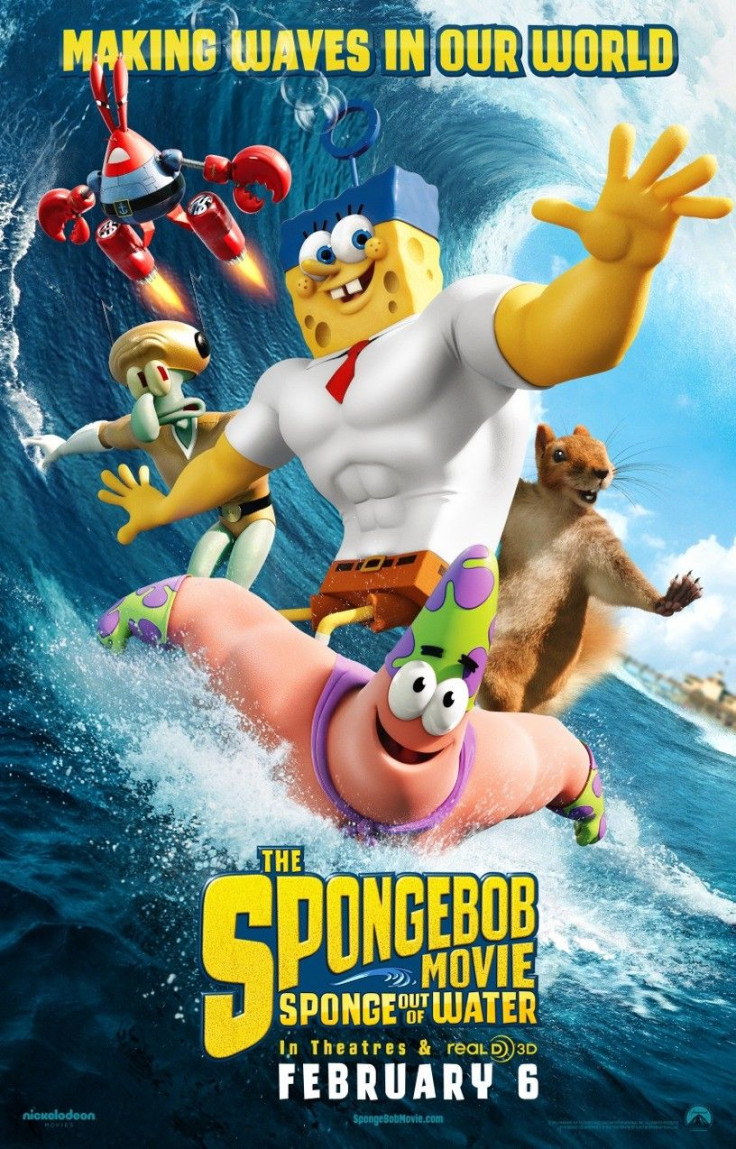 "Who lives in a pineapple under the sea?" Spongebob Squarepants! Who's set to dominate the box office this weekend? Spongebob Squarepants! Wait, really?
With a turn of fortuitous timing and a show of otherwise shaky competition, the animated-live action hybrid adaptation of Nickelodeon's "Spongebob Squarepants" stands to do big business in theaters this weekend. Other movies aimed at families, like "Paddington" and "Strange Magic," haven't quite resonated with audiences as the last big animated hit, "Big Hero 6." For grown-ups, January left several duds dead in the water like "Blackhat," and "The Boy Next Door." "The SpongeBob Movie: Sponge Out of Water" could even unseat surprise Oscar-nominated hit "American Sniper" from its current perch at the box office.
That's a lot of power from a kid's show with only one major celebrity cameo from "Shrek's" Puss-in-Boots, Antonio Banderas. But this is something that may work in its favor, since big star vehicles like Johnny Depp in "Mordecai" and Chris Hemsworth in "Blackhat" haven't earned their celebrity price tag. In fact, since the Spongebob franchise is now 15-years-old, that opens the possibility of tapping into the millennial sense of insta-nostalgia. If groups of college kids can rally for Disney rereleases, it's not so far-fetched to think they would buy tickets for Spongebob.
The silly brightly colored sponge and his anthropomorphic undersea friends are also poised to sink Wachowskis' big budget space opera "Jupiter Ascending" to the bottom of the sea. The Mila Kunis, Channing Tatum and Eddie Redmayne starring film received the ominous indignity of being bumped from last year's summer slate to the doldrums of mid-Awards season milieu. After a disastrous surprise screening at Sundance and similarly dismal reviews, the battleship Wachowski appears dead on arrival.
Fellow new release "Seventh Son" doesn't look to be much of a contender for moviegoers either. Its parent studio Warner Brothers has already acquiesced to a write down of $85 million, and as of now, boasts a 0% score on Rotten Tomatoes. Review reactions range from "worst movie of the year" to complaints about Jeff Bridges' incomprehensible dialog. Bridges and Julianne Moore's "The Big Lebowski" mini-reunion aside, Critics do not abide with the movie and its sloppy fantasy story.
Last year among similar conditions, "The LEGO Movie" surpassed expectations with the second highest February opening weekend with $69 million. Clearly, this is the good fortune (and amount of clams) Paramount hopes to replicate by placing "Spongebob" in the same weekend "LEGO" dominated last year. Are you ready, kids?
© Copyright IBTimes 2023. All rights reserved.