What Aaron Hernandez's Suicide Note To Fiancee Shayanna Jenkins Said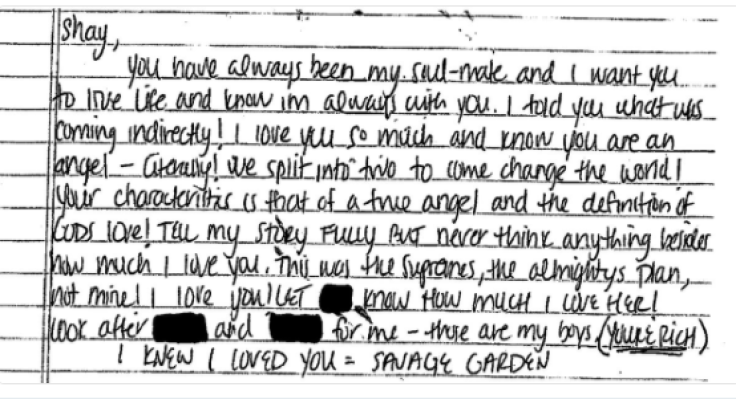 One of the suicide notes left behind by former NFL star Aaron Hernandez was released by prosecutors Friday. The letter was addressed to his fiancée Shayanna Jenkins-Hernandez.
"Shay,

You have always been my soul mate and I want you to live life and know I'm always with you. I told you what was coming indirectly! I love you so much and know you are an angel- literally! We split into two to come change the world and your characteristics is that of a true angel and the definition of God's love. Tell my story fully but never think anything besides how much I love you. This was the supremes, the almightys plan, not mine! I love you! Let [redacted] know how much I love her! Look after [redacted] and [redacted] for me – those are my boys (YOURE RICH).

I KNEW I LOVED YOU = SAVAGE GARDEN."
The letter was reportedly one of three left behind by Hernandez when he committed suicide inside his prison cell in late April. Hernandez was found hanged by a bedsheet in his cell at the Souza Baranowski Correctional Center in Massachusetts, where he was serving a life sentence for the 2013 murder of Odin Lloyd.
One other note was addressed to his daughter, while the third was written to a close friend in prison with whom Hernandez was reportedly in an intimate relationship. Hernandez's lawyer, Jose Baez, quickly slammed rumors of a relationship between the two after they emerged.
"Rumors of letters to a gay lover, in or out of prison, are false," Baez said in a statement. "These are malicious leaks used to tarnish someone who is dead… Notwithstanding my unambiguous statement that there were no such letters, representatives, on behalf of an individual named Kyle Kennedy, continues to advise the media such a gay love letter exists. Accordingly, on behalf of the family of Aaron Hernandez, I am reaffirming, unequivocally, no such letter to Mr. Kennedy, or any other individual, in or out of prison, exists. I urge anyone continuing to spread these malicious untruths to cease immediately."
Other reports said the final letter was actually addressed to Baez himself, and not a friend in prison.
A judge ruled shortly after Hernandez's death that the letters should be released to those whom they were addressed.
© Copyright IBTimes 2022. All rights reserved.
FOLLOW MORE IBT NEWS ON THE BELOW CHANNELS