What Americans Believe In: 'Refugees Welcome' Banner Hung On Statue Of Liberty As Reminder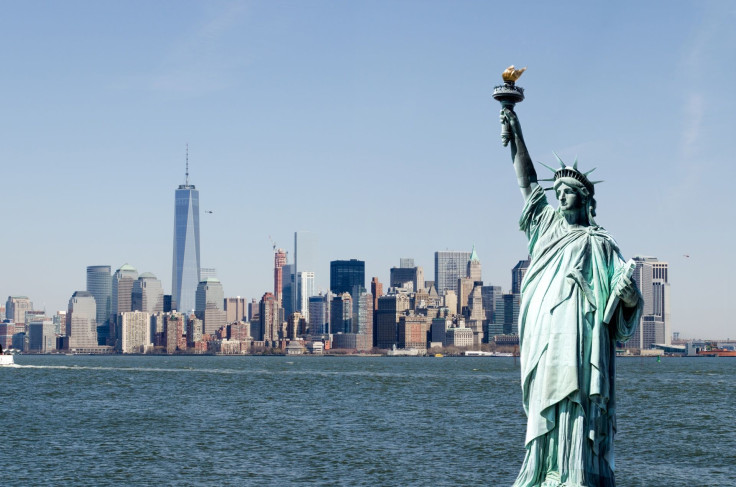 Activists taking issue with U.S. President Donald Trump's attitude toward immigrants and refugees unfurled a banner at the foot of the Statue of Liberty Tuesday, reading, "Refugees Welcome," but it was removed a short time later.
"The banner was hung today at about 12:45 PM. There were four people involved in hanging it. We have no group, but are just private citizens who feel that the principles that make America great are under attack. We wanted to send a reminder about the America we believe in," the people behind Alt Lady Liberty Twitter account told Curbed NY in a statement.
"The Muslim ban flies against everything we are as Americans. That's true of the unconstitutional original version, and the spirit of any edits they may make to it," a statement emailed to AM New York said. "We wanted to send a reminder about America when we're at our best — the country that's a beacon of freedom to the world, built by immigrants. Walling off countries or entire religions is against our values."
The 3-foot-by-20-foot banner was hung with nylon rope on the wall of the public observation deck, the National Park Service said. Rangers were sent in to remove it, and it was taken down about 1:42 p.m.
Lady Liberty, which has graced New York Harbor since 1886, has become a symbol for protesters in the weeks since Trump's now-suspended executive order barring travelers from seven Muslim-majority countries and suspending the U.S. refugee program was issued.
The order, which was suspended by a federal judge in Seattle, prompted widespread demonstrations at airports across the country and a series of lawsuits filed by states attorneys general and the American Civil Liberties Union.
Trump said last week his administration would not continue litigation to overturn the judge's order and instead would issue a new order that would pass constitutional muster. The new order could be ready as soon as this week.
The new order is expected to spell out that green card holders would not be subject to the ban and would address the due process issues cited by the 9th U.S. Circuit Court of Appeals when it upheld U.S. District Judge James Robart's temporary restraining order.
The original order barred refugees from Iraq, Iran, Libya, Somalia, Sudan and Yemen for at least 90 days and from Syria indefinitely. The refugee program was suspended for at least 120 days while "extreme vetting" procedures are developed.
© Copyright IBTimes 2023. All rights reserved.
FOLLOW MORE IBT NEWS ON THE BELOW CHANNELS