What Are The 11 'Good Witch' Movies? Hallmark Schedules Marathon Ahead Of Season 6 Premiere
Ahead of the Season 6 premiere of Hallmark's "The Good Witch," the network has scheduled a marathon of the title's movies for this weekend on its Movies and Mysteries channel. The show's star Catherine Bell announced the lineup on her Instagram Wednesday.
She wrote:" Before Good Witch: The Series.... there were the Good Witch movies! 11 total now [shining star emoji] all airing this Saturday on @hallmarkmovie channel. Starting at 6am!! Then SUNDAY night...it's time for Season 6 of Good Witch on @hallmarkchannel [hands raised emoji] #goodies"
Here's a look at all 11 of "The Good Witch" movies in order and their EDT airtime during the marathon.
Saturday
6:00 a.m.: "The Good Witch"
This film introduced Bell as Cassandra "Cassie" Nightingale. She's "a raven-haired enchantress with a hint of magic who moves into the town of Middleton's haunted Grey House." Upon opening up her shop, "Bell, Book and Candle," she must overcome the challenges thrown her way thanks to skeptical neighbors.
Also starring Chris Potter as Jake Russell
8:00 a.m.: "The Good Witch's Garden"
Just as Cassie gets settled into Middleton and is busy making a home of Grey House, a stranger comes to town with papers entitling him to legal ownership of Grey House. She's soon left without a home and begins to question whether or not she should stay in the town despite having the support of her boyfriend, Sheriff Jake Russell, and his kids.
Starring Bell, Potter, Peter MacNeil (George), and Catherine Disher ( Martha)
10:00 a.m.: "The Good Witch's Gift"
"Cassandra Nightingale always has a few tricks up her sleeve, but is surprised when her handsome sweetheart, Police Chief Jake Russell, proposes." However, things take a troubling turn when someone from her fiancé's past returns to Middleton.
Starring Bell, Potter, MacNeil and Disher
12:00 p.m.: "The Good Witch's Family"
Just as Cassie's settling into her new life as a wife and a stepmom, Cassie's long-lost cousin Abigail, "who whips up wickedness like a tornado," comes to town. Suddenly everyone's arguing, Jake has lost his job and Middleton seems to have flipped upside down.
Starring Bell, Potter, Sarah Power (Abigail) and Hannah Endicott-Douglass (Lori)
2:00 p.m.: "The Good Witch's Charm"
Cassie "is back to her bewitching ways, but this time she's also juggling a newborn daughter and her job as town Mayor...Hoping for a break, Cassie plans a much-needed vacation with her new family. But things go awry when a crime wave sweeps through town and an investigative reporter tries to ruin Cassie's image after a video of her magically disappearing turns up on the internet."
Starring Bell, Potter, Disher and Noah Cappe (Derek)
4:00 p.m.: "The Good Witch's Destiny"
Cassie's birthday takes a mysterious turn when her stepdaughter notices something peculiar. "Lori discovers disturbing parallels between Cassie and Cassie's great aunt, nicknamed the Grey Lady, who disappeared at her own birthday party years before."
Starring Bell, Russell, Endicott-Douglass (Lori) and Robin Dunne (Drew)
6:00 p.m.: "The Good Witch's Wonder"
Cassie finds herself overwhelmed with planning her step son's wedding day, especially when he and his bride unexpectedly push up the date. Not to mention she's helping the mayor with a silent auction. "Needing help in the store, Cassie immediately hires Audrey as her new store associate and she even pitches in and helps Cassie organize the auction. But, Audrey is hiding a secret past and suspicions start to swirl around her when the donated auction items are missing."
Starring Bell, Potter and Rachel Wilson (Audrey)
8:00 p.m.: "Good Witch Halloween"
"With Halloween fast approaching, Cassie and the town of Middleton are hard at work preparing for the annual Harvest Festival. This year, Cassie is transforming Grey House into a delightful haunted house, and when a handsome stranger checks in, the family suddenly find themselves on edge."
Starring Bell, Disher, Bailee Madison (Grace) and James Denton (Dr. Sam Radford)
10:00 p.m.: "Good Witch: Secrets of Grey House"
"The author of a series of magic-and-romance-filled novels comes to Grey House to celebrate the release of her newest book, titled 'The Enchantress Unites.' But it's Cassie who ends up doing the uniting, bringing together the people of Middleton to put on the special event while also coming to a special realization about Sam."
Starring Bell, Madison and Denton
Sunday
12:00 a.m.: "Good Witch: Spellbound"
In this Halloween special, Cassie and Sam must save the town of Middleton from a curse after "a long-forgotten prophecy is unearthed in the basement of city hall."
Starring Bell, Madison, and Denton
2:00 a.m.:"Good Witch: Tale of Two Hearts"
"Cassie's precious family heirloom, a beautiful red ruby, goes missing from the History of Halloween in Middleton museum exhibit just in time for the anniversary festival."
Starring Bell, Denton, Madison, Power, Disher and Rhys Matthew Bond (Nick)
4:00 a.m.: "Good Witch: Curse From A Rose"
"The Good Witch meets her match when Cassie's long-lost college roommate, Autumn Delaney, makes an unexpected visit to Grey House on a mission to disrupt Middleton's Halloween festivities."
Starring Bell, Denton, Power, Kylee Evans (Stephanie), Scott Cavelheiro (Adam) and Marc Bendavid (Donovan Davenport)
Tune in to the Season 6 premiere of "The Good Witch" Sunday at 9 p.m. EDT.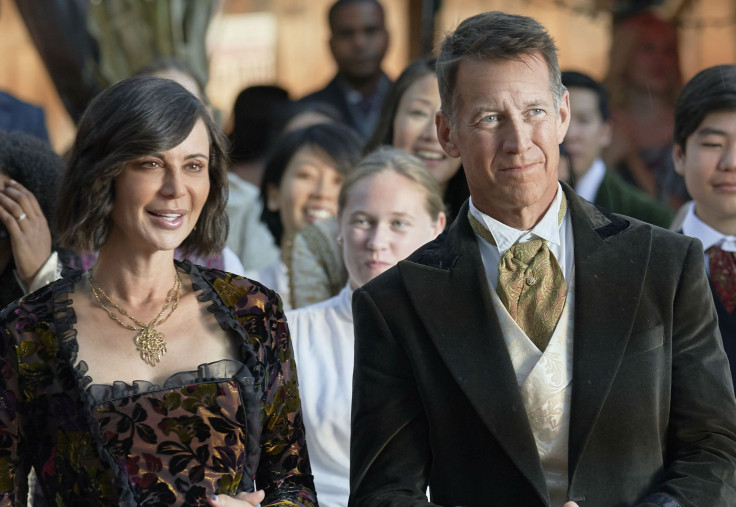 FOR FREE to continue reading
✔️ Unlock the full content of International Business Times UK for free
offer available for a limited time only
✔️ Easily manage your Newsletters subscriptions and save your favourite articles
✔️ No payment method required
Already have an account? Log in
© Copyright IBTimes 2023. All rights reserved.