What Are Paul Manafort's Charges? Trump Campaign Manager Surrenders To FBI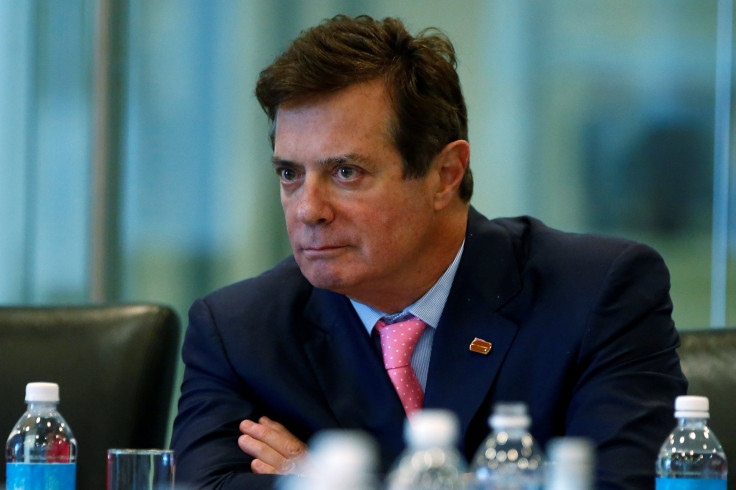 President Donald Trump's former campaign chairman Paul Manafort and his business associate turned themselves into the FBI Monday after being indicted on 12 charges.
"Manafort used his hidden overseas wealth to enjoy a lavish lifestyle in the United States without paying taxes on that income," reads the indictment of Manafort and Gates.
The charges stem from the investigation conducted by the Justice Departments' special counsel, Robert S. Mueller III. Manafort and his associate Rick Gates are accused of several financial crimes including money laundering and conspiring against the U.S. Mueller was brought in by that Justice Department to investigate the possibility of collusion between Trump and his campaign and Russia.
Manafort and Gates were charged with one count of conspiracy against the U.S., one count of conspiracy to launder money, seven counts of failing to disclose foreign bank accounts and assets, one count of failing to register as a foreign principal of Ukraine and two counts of making false statements the government.
The full indictment can be viewed here.
Manafort was a longtime Republican strategist and signed on to Trump's campaign in March 2016, and was quickly promoted to lead it. Manafort was fired only a few months later after reports surfaced that Manafort has accepted more than $12 million in undisclosed payments from Ukraine's former pro-Russia president, Viktor F. Yanukovych.
U.S. intelligence agencies have concluded that Russian president Vladimir Putin and his government led a stealth effort to influence the U.S.'s presidential election last year through propaganda and hacking.
Trump responded to Manafort's indictment on Twitter.
"Sorry, but this is years ago, before Paul Manafort was part of the Trump campaign. But why aren't Crooked Hillary & the Dems the focus????? ....Also, there is NO COLLUSION!" said Trump Monday across two Tweets.
Trump has long maintained that there was no collusion between his campaign and Russia.
Separately, it was announced Monday that a former Trump campaign adviser struck a plea deal in order to cooperate with government investigations. George Papadopoulos, who advised the Trump campaign on policy, plead guilty to lying to the FBI about his contacts with a Kremlin-connected Russian. In exchange for the guilty plea and continued cooperation, Papadopoulos's sentencing judge will take into account his cooperation when deciding on a punishment.
© Copyright IBTimes 2022. All rights reserved.
FOLLOW MORE IBT NEWS ON THE BELOW CHANNELS