What Did Prince William Say About Coronavirus? 'Spreading' Comment Upsets Fans
Prince William and Kate Middleton are aware of the threat of coronavirus making its way around the globe, causing nations to discuss travel restrictions. The royal couple discussed the matter with healthcare professionals after traveling to Dublin, Ireland -- and the irony of them traveling wasn't lost on Prince William, who made a joke about the outbreak that some royal watchers have deemed insensitive.
"I bet everyone's like 'I've got coronavirus, I'm dying', and you're like 'no, you've just got a cough,'" Prince William joked with Joe Mooney, a paramedic with the National Ambulance Service, on Tuesday. William's comment came during an event he and Middleton were attending at Dublin's Guinness Storehouse. The event was hosted by Britain's Ambassador to Ireland, Robin Barnett, according to Insider.
The Duke of Cambridge continued his conversation with Mooney, asking, "Does it seem quite dramatic about coronavirus at the moment? Is it being a little bit hyped up do you think in the media?" After Mooney explained his thoughts on the matter, Prince William continued a series of coronavirus-related jokes.
"By the way, the Duke and Duchess of Cambridge are spreading coronavirus," William teased. "Sorry ... We're keeping an eye on that, so do tell us if we need to stop."
A video of the interaction, provided by The Sun, can be viewed below.
This joke especially didn't sit well with some, as William and Kate are visiting Ireland until Thursday, shaking hands and meeting face-to-face with various people in the process.
Upon hearing Prince William's coronavirus jokes, Twitter users had a lot to say on the matter. One user pointed out the callousness the royal couple has allegedly exhibited in the past.
Another user said that if it was Meghan Markle and Prince Harry who had made the coronavirus jokes, the situation would be much different and they would be "eviscerated" in the media.
Others just simply asked if it's wrong to make jokes.
The event culminated in Prince William and Kate Middleton having a pint of Guinness and a speech given by the royal, in which he revealed he was going to test the theory that the beer "tasted even better in Ireland than overseas."
At press time, the Duke hasn't responded to his online critics.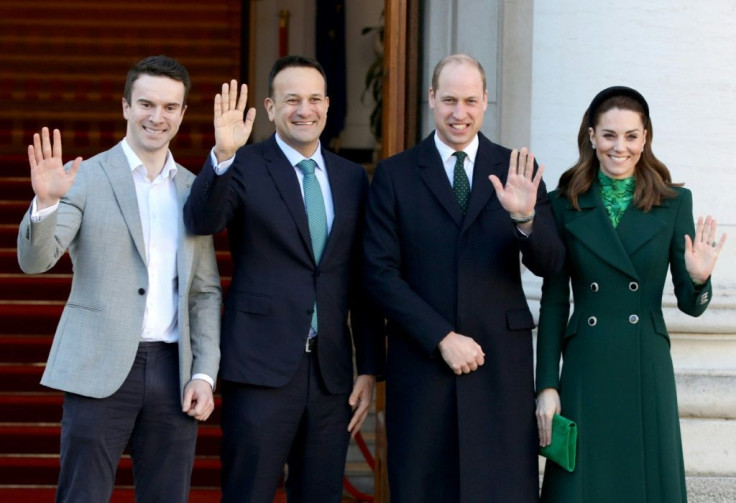 © Copyright IBTimes 2023. All rights reserved.