What Does Recuse Mean? Jeff Sessions' Announcement About Trump, Russia Investigations Explained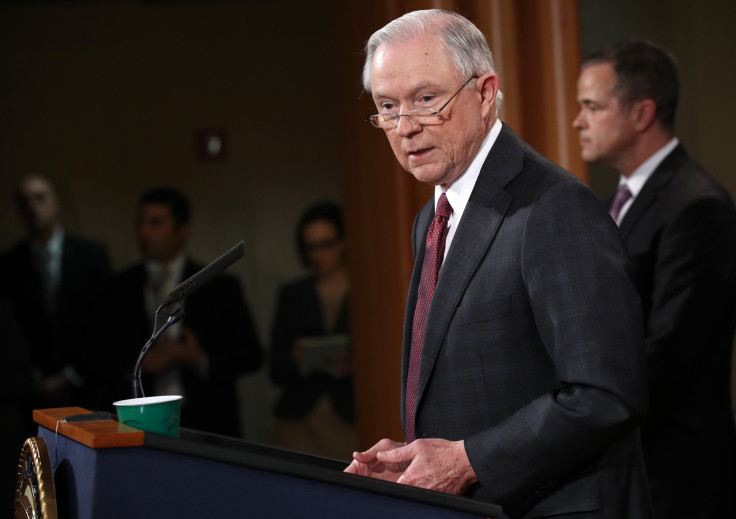 Attorney General Jeff Sessions recused himself Thursday from any investigations into Donald Trump's presidential campaign and its alleged contact with Russians. Sessions' announcement, which came a day after reports surfaced that he didn't disclose that he met twice with a Russian ambassador last year, was not only divisive — it also set off a wave of people asking what the word "recuse" meant, according to Merriam-Webster.
"During the course of the confirmation proceedings on my nomination to be attorney general, I advised the Senate Judiciary Committee that '[i]f a specific matter arose where I believed my impartiality might reasonably be questioned, I would consult with Department ethics officials regarding the most appropriate way to proceed,'" Sessions said at a news conference. "Having concluded those meetings today, I have decided to recuse myself from any existing or future investigations of any matters related in any way to the campaigns for president of the United States."
"Recuse" is defined as "to disqualify (oneself) as judge in a particular case," according to Merriam-Webster's website. More broadly, it means " to remove (oneself) from participation to avoid a conflict of interest."
In Sessions' case, Democrats and Republicans alike called for recusal because the attorney general's role in the Trump campaign and meetings with Russian ambassador Sergey Kislyak raised concerns that he might not be objective in the probe into whether the Kremlin interfered in the election, the New York Times reported.
After initially denying it, Sessions admitted Thursday that he did meet with the ambassador. He added that he'd taken no action on any investigation-related matters, "but when you evaluate the rules I feel like I am — I should not get involved investigating a campaign I had a role in," CBS News reported.
The word recuse comes from late Middle English and the Latin term "recusare," meaning to reject a cause, according to the Oxford Dictionaries.
© Copyright IBTimes 2022. All rights reserved.
FOLLOW MORE IBT NEWS ON THE BELOW CHANNELS