What Happened To Joe Perry? Video Of Guitarist's Rumored Heart Attack Surfaces After Collapsing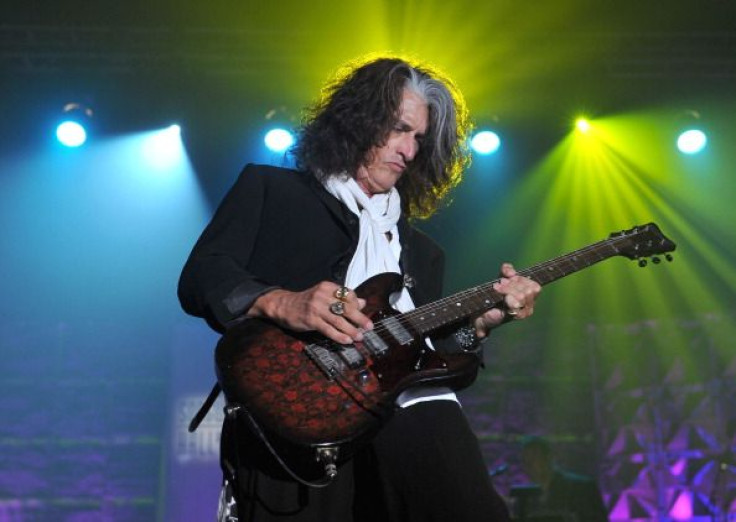 When iconic guitarist Joe Perry collapsed during a performance with the Hollywood Vampires Coney Island Amphitheater in Brooklyn Sunday night, fans wondered what happened to the musician. Rumors soon swirled the 65-year-old rocker suffered from a heart attack.
A fan who was at the concert shared a video of Perry staggering off stage. "#JoePerry collapsed on stage just now!" she wrote. "He had to sit on drum kit and then went behind a small wall and passed out. FDNY and NYPD carried him off quickly."
While a specific reason wasn't given for Perry's apparent illness, his rep said the star guitarist was doing well. "Thanks to all of the fans reaching out and asking about Joe. He is stable right now, with family and is under the best care," his rep wrote Sunday on Perry's official Twitter and Facebook pages. The post garnered more than 10,000 reactions on Facebook and thousands more on Twitter.
Perry left the stage after the first song while the rest of the band continued to play, former host of "That Metal Show" Eddie Trunk tweeted from his official acount. The Aerosmith guitarist was treated backstage by emergency medics, The Hollywood Reporterreported.
"Apparently the band is continuing to play. @JoePerry sat down on the riser and then was taken away by EMTs," Trunk said. "Be well Joe! More when I know..."
Hollywood Vampires also said Perry was doing better. "Joe Perry is stable and resting. His brother Vampires and fans wish him a speedy recovery," they tweeted.
Alice Cooper, who sings for Hollywood Vampires, issued an independent statement. "Thanks to everyone asking about our brother @JoePerry," Cooper wrote to his 664,000 followers. "He is stable right now, with family and is under the best care."
"Alice Through The Looking Glass" actor Johnny Depp, who also plays in the band, did not issue a statement.
Follow me on Twitter @mariamzzarella
© Copyright IBTimes 2023. All rights reserved.