What Happens To Trump's Businesses When He Becomes President? At Press Conference, Conflict Of Interests Dismissed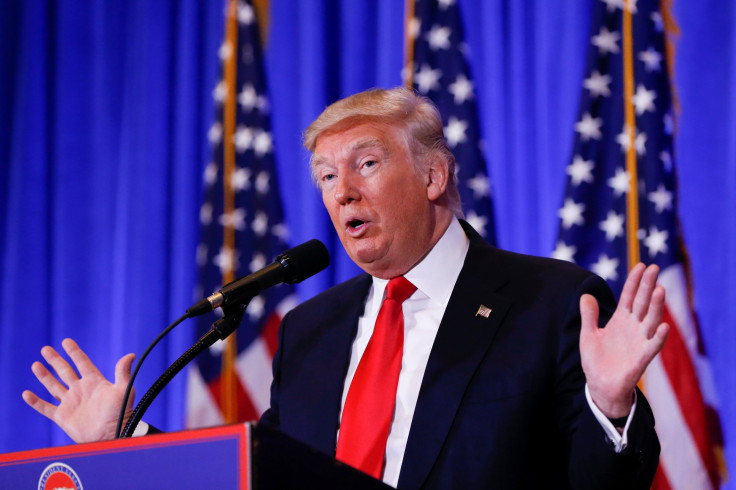 Donald Trump will "isolate" himself from his business empire by turning his vast holdings over to his two adult sons to avoid conflicts of interest, the president-elect announced Wednesday at Trump Tower in New York. Trump made the announcement during the first press conference since he was elected president on Nov. 8.
Noting that the president is exempt from laws that prevent conflicts of interest, Trump insisted that he still wanted to "isolate" himself from his businesses to avoid any perception he was using the presidency to enrich himself.
"I can't have conflicts of interest because I'm president," Trump said. "But I don't want to take advantage."
Eric and Donald Trump, Jr. will take over the Trump empire, Trump's attorney, Sherri Dillon, explained during the press event. Dillon said Trump would resign from all positions connected to his business interests and would put his holdings in a trust, which would be administered by his sons and a senior Trump Corporation official. No foreign deals would be made by Trump companies during a Trump administration, Dillon said. Domestic deals would require the signature of an "ethics" advisor. The advisor's identity has not yet been named.
Trump's business holdings are vast and include 500 businesses in more than two countries around the world, according to a 2015 filing with the Federal Election Commission. The filing reported that the real-estate mogul had $10 billion in assets and earned $362 million in 2014. These vast holdings represent potential conflicts of interest while setting policy and negotiating with foreign entities.
However, the full extent of Trump's interests can't really be known, as Trump has broken with presidential tradition and refused to release his tax returns.
"The only ones who care about my tax returns are reporters," Trump explained Wednesday after he insisted, once again, that he would not release his tax returns. "I won."
The president-elect initially said he wasn't going to step away from his business interests, arguing that voters knew of his vast empire, and elected him anyway.
But Trump later said he planned on turning his businesses over to his adult sons. The U.S. Office of Government Ethics said in a December letter that would not be enough.
"Transferring operational control of a company to one's children would not constitute the establishment of a qualified blind trust, nor would it eliminate conflicts of interest," said the letter, written by OGE Director Walter M. Shaub, Jr.
At the end of Wednesday's press conference, Trump said he would only review the performance of his business holdings after his presidency ended. If it looked good at that time, he would tell his sons "good job," Trump said. If his empire had shrunk under his sons' leadership, Trump said he would tell them "you're fired," echoing the catchphrase from his reality TV show "The Apprentice" and ending the press conference.
Wednesday's press conference was the longest any president-elect has ever waited to give a press conference since 1976. Trump initially scheduled his first post-election press conference for Dec. 15, at which time he said he would lay out plans to divest himself from his businesses in order to focus on the presidency. But Trump canceled that press conference, citing the need for more time to focus on assembling his cabinet.
In 2008, Barack Obama gave a press conference just three days after winning the presidential election. In 2012, he waited an unusually long eight days after defeating Mitt Romney. George W. Bush gave a press conference three days after the 2000 race was decided by the Supreme Court, and only two days after he defeated John Kerry to win re-election in 2004.
Throughout the presidential campaign, Trump criticized opponent Hillary Clinton for not holding a press conference. At one point, the Democratic nominee went 276 days without holding a press conference.
© Copyright IBTimes 2023. All rights reserved.
FOLLOW MORE IBT NEWS ON THE BELOW CHANNELS