What Michelle Obama 'Threatened' To Do To Malia, Sasha During College
KEY POINTS
Michelle Obama threatened to do one thing to her daughters
The ex-FLOTUS joked about buying an apartment near Malia and Sasha's school
Michelle Obama doesn't want to feel sorry for her kids
Michelle Obama previously revealed one of the empty and hilarious threats she has given her daughters, Malia and Sasha.
In 2017, the ex-FLOTUS spoke with Entertainment Tonight where she discussed her children's lives post-White House. Her eldest daughter, Malia, was just 10 years old when Barack Obama was named as the president of the United States.
This means that the former first lady's youngest daughter, Sasha, was just 7 years old at that time. When Malia turned 18 years old, the Obamas left the White House, and they have been trying to lead a very normal life.
Now that Malia and Sasha are both in college and living independently, Michelle revealed that she used to threaten them that she would buy an apartment close to their campus so that she could her daughters all the time. The ex-FLOTUS hilariously revealed that she used to also tell her girls that she would sit in their classes.
"I'm going to be happy to see them thriving on campus, work-study jobs, traveling and having all these wonderful independent experiences that are going to make them phenomenal people," Michelle said.
Meanwhile, despite their family's status, Michelle said that she and her husband have tried their best to not treat Malia and Sasha too preciously. They also stopped themselves from feeling sorry for their daughters because they seemingly lived in a bubble for almost half of their lives.
"We could've felt bad for them, and there would've been a truth there. But our view was this is their life, and we can't apologize for the life they have because a whole lot of it is good," Michelle told InStyle.
In related news, Barack's wife also made headlines after she uploaded some of the highlights of her past decade. The photos include a family portrait, images with her husband, Barack, the family's dogs, and some photos during her public engagements and book tour.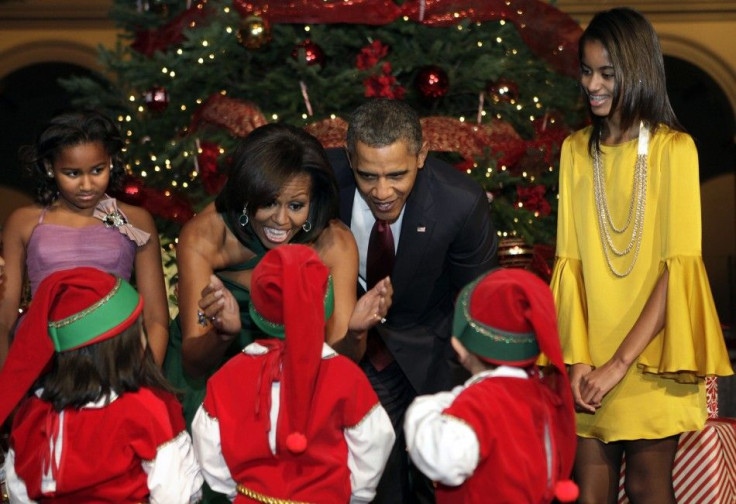 © Copyright IBTimes 2023. All rights reserved.