What Is The 'October Surprise' 2016? Wikileaks Founder Julian Assange Promises Leaked Information About US Election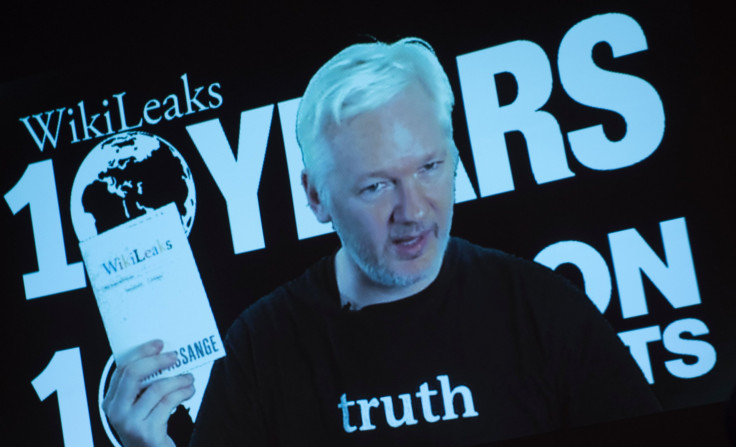 Should Hillary Clinton be worried?
Wikileaks founder Julian Assange promised weekly information drops that will affect the November election via a video feed during a press conference in Berlin Tuesday to celebrate the controversial journalism organization's 10-year anniversary. And though Assange did not confirm if the information he said he plans to leak will affect one or both major party candidates, Wikileaks has not been kind to Democratic nominee Hillary Clinton as of late.
"The documents themselves are revealing, but also the government/state reactions to the releases are revealing also," Assange said.
Tuesday's press conference was originally scheduled to take place from Assange's balcony at London's Ecuadorian embassy, where he has been staying to avoid extradition for criminal charges since 2012, until the last-minute change to Berlin. Many expected the conference to feature the U.S. election "October surprise" Assange has been teasing for months. But none came. Instead, Assange said WikiLeaks would publish previously unreleased material weekly for the next 10 weeks. An exact release schedule was not given.
"There is enormous expectation in the United States," Assange said. "Some of that expectation will be partly answered; but you should understand that if we're going to make a major publication in relation to the United States at a particular hour, we don't do it at 3 a.m."
WikiLeaks has been responsible for the release of millions of sensitive emails and documents related to U.S. policy regarding Guantanamo Bay, military operations in Iraq and Afghanistan and diplomatic cables from U.S. embassies in various countries around the world.
However, Wikileaks' target in recent months has been Clinton. The organization released thousands of internal emails from the Democratic National Committee just ahead of the 2016 Democratic National Convention in August. The emails seemed to suggest the DNC conspired to keep Bernie Sanders from winning the nomination. The revelations led to the resignation of DNC chairwoman Debbie Wasserman Schultz.
Assange has followed that leak with multiple disparaging comments about the Clinton campaign, including a suggestion that DNC staffer Seth Rich, who was murdered outside of his apartment in July, was complicit in Wikileaks' attainment of the leaked emails, implying he could have been killed as part of a cover-up.
Roger Stone, an adviser to GOP presidential nominee Donald Trump, appeared confident Tuesday that Wikileaks' upcoming released would be damaging to the Clinton campaign, though Assange denies that he is targeting one candidate.
© Copyright IBTimes 2023. All rights reserved.