What Is Pansexual? Miley Cyrus Announcement Could Help LGBT Youth Find Community, Spread Awareness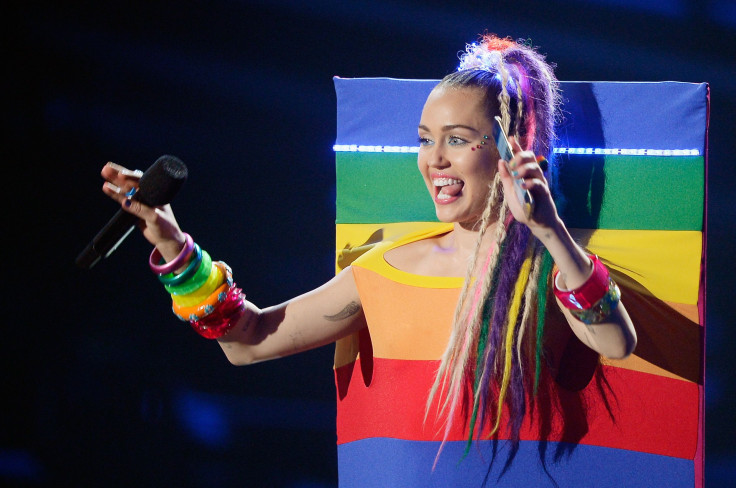 Miley Cyrus' hosting antics during Sunday night's MTV Video Music Awards may be dominating the news cycle, but it's her upcoming interview with a British magazine that's capturing the attention of lesbian, gay, bisexual and transgender advocates. In a recently released excerpt from Elle UK's forthcoming October cover story on Cyrus, the musician described herself as "pansexual." The cover boasts a bold headline with her name and "Sexuality: The New Frontier."
"I'm very open about it – I'm pansexual," Cyrus said, using a term that includes attraction to anybody, even if they're not in the male-female gender binary. "But I'm not in a relationship. I'm 22, I'm going on dates, but I change my style every two weeks, let alone who I'm with."
Advocates within the LGBT community have celebrated Cyrus' coming out, which they say could have a particularly important impact on young Americans. Aside from spreading a celebrity-endorsed message of acceptance, they say her announcement could introduce people to a lesser-known sexual identity and call attention to the changing language used to discuss sexuality.
"The more role models that youth can have and see themselves in as they're growing up and coming to terms with their own sexuality, the better," said A.J. Walkley, a board member for BiNet USA, an Arlington, Virginia-based nonprofit network of bisexual advocacy groups. "I know that there are teens looking at her and taking some guidance from her."
Cyrus, famous for starring in Disney Channel's "Hannah Montana" show, has been in the spotlight for years. Recently, she has become known for risqué stunts, like her 2013 VMAs performance when she twerked against singer Robin Thicke. Over the past decade, she's dated celebrities like Nick Jonas, Patrick Schwarzenegger and Liam Hemsworth. But her most recent rumored partner was female: model Stella Maxwell.
Miley Cyrus | FindTheBest
Cyrus publicly addressed her sexuality in a June interview with Paper magazine. At age 14, she said, she told her mother she loved girls like she loved boys. Her own gender was fluid, too -- Cyrus said she didn't "relate to being boy or girl." "I am literally open to every single thing that is consenting and doesn't involve an animal and everyone is of age," she said. "Everything that's legal, I'm down with."
More than 7 percent of millennials, or people between the ages of 18 and 35, identify as LGBT, leading them to be nicknamed "the gayest generation." But that umbrella term includes a diverse array of orientations, said Camille Holthaus, the chair of the Bisexual Organizing Project in Minneapolis. Pansexual is among them.
The terminology can be tricky. Whereas bisexual people are typically attracted to both males and females, pansexual people are attracted to anyone -- including people who consider themselves outside the gender spectrum. The term pansexual comes from the Greek prefix "pan," which means "all."
Holthaus said she was excited that Cyrus chose the pansexual label because it could make the term more popular. In turn, young people could congregate around it. With so many different identities, it's helpful for kids to adopt a specific label they can use to seek out peers, she said.
As opposed to linking up with a general LGBT group, teens might be able to find a pansexual subset where members better understand what they're going through. "It can take people a long time to find other people like them," Holthaus said, adding that Cyrus' use of the term is "really going to raise awareness that that identity exists and is used and is valid."
It also could start a conversation among straight Americans because Cyrus is a mainstream star. Heather Benjamin, co-president of the Bisexual Resource Center in Boston, said her co-workers of all ages came up to her after the news about Cyrus broke and asked what pansexual meant. That's progress. "This allows the population to understand that there's more than just these four letters of the alphabet and identities," Benjamin said.
Cyrus' decision also raised some concerns. Holthaus said she worried that because the musician is such an outspoken, famous figure, young people who are figuring themselves out might think that they must go public like Cyrus in order to be pansexual.
She could also face scrutiny because of her wild reputation and age, said Wesley Thomas, a program coordinator for LGBTQ health and rights at the sexuality education nonprofit Advocates for Youth in Washington, D.C. He added that's something that most LGBT youth go through -- families or friends telling them their sexuality is just a phase.
However, Cyrus is evidence that young people are using more nuanced ways of describing themselves, pulling in factors like spirituality and intellect in addition to physical attraction, Thomas said. "Young people know exactly what they want and who they are, and they're crafting language to represent that," he said.
© Copyright IBTimes 2023. All rights reserved.