Miley Cyrus' Craziest MTV VMA Hosting Moments: From Wardrobe Malfunctions To Smoking Pot [VIDEO]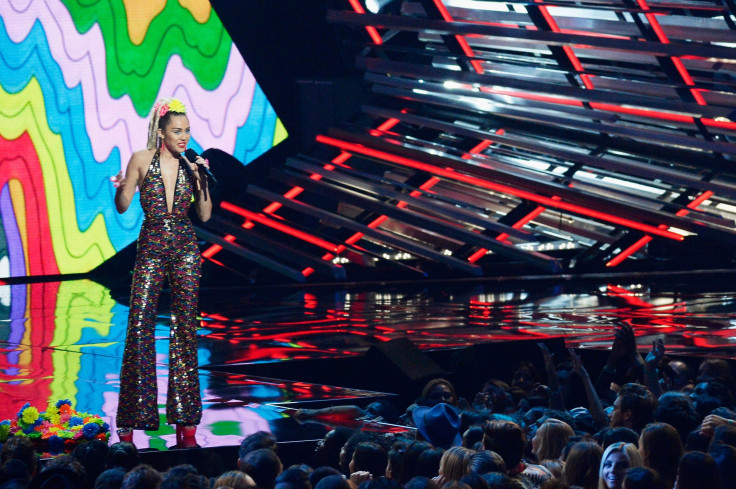 The MTV Video Music Awards have always been all about the videos and performances. In fact, the show had not even bothered to book a host the past two years. However, this year MTV changed it up, tapping controversial singer Miley Cyrus to emcee the unpredictable ceremony. That decision left many fans wondering what would Miley Cyrus, who is known for her wild antics on the VMA stage, would do with the spotlight.
Here are Miley's 9 wildest moments at the 2015 MTV Music Video Awards:
1. Miley Makes An Entrance
Miley Cyrus did not waste any time getting weird. The singer kicked things off with an unforgettable entrance. Cyrus made her introduction sliding down a rainbow, swirl slide in the middle of the stage.
2. Miley Reveals Her Instagram Secrets
Miley Cyrus is one of the most popular -- and creative -- celebrities on Instragram, and at the 2015 VMAs, Cyrus revealed there is a team of people who help her come up with her videos. She then threw to a video where angry comedians Ike Barinholtz and Andy Sandberg lectured Cyrus about how they had been responsible for all her most popular posts. They then had some advice on how to create the best Video Music Awards Instagram post involving some Smurf-ripoffs, Bollywood dancers and Rita Ora covered in spaghetti. Needless to say, Cyrus delivered.
3. Miley Cyrus Vs. Nicki Minaj
Miley Cyrus had some help creating one of the VMA's wilder moments. While accepting the award for Best Hip Hop Video, Nicki Minaj called out Cyrus over some comments Cyrus made in a New York Times interview saying she did not approve with Minaj's Twitter rant and subsequent feud with Taylor Swift over her Video of the Year snub.
"Now back to this b---- that had a lot to say about me the other day in the press," said Minaj, tossing back to Cyrus. "Miley what's good?"
The host retorted, "Hey we're all in this industry. We all do interviews and we all know how they manipulate s---. Nicki, congratu-f-------lations."
Some reports have alleged that the pair were joking or the moment was staged, but it appeared the two musicians had a whole lot of "bad blood" between them without any help from Taylor Swift.
4. Miley Smokes Weed
Going to commerical break, Cyrus tossed to a video of a sleepover she had with rapper Tyga. In the video, Cyrus and Tyga light up and smoke marijuana after Cyrus's dad, singer Billy Ray Cyrus, makes everyone go to bed. At this moment it was clear a pro-marijuana Cyrus would be a theme of the night.
5. Miley Hits On Justin Bieber
After Justin Bieber took the VMA stage for his first live performance in more than two years, Cyrus appeared to be speechless, threatening to take off her jacket after the singer's hot and heavy crooning. Cyrus could not resist the opportunity to chat up the bad boy popstar. "Call me when you're legal, Justin," Miley cooed. Justin Bieber is 21.
6. Miley Cyrus Makes Pot Brownies With Snoop Dogg
Coming back from another commercial break, Cyrus bumped into rapper Snoop Dogg backstage. Both being very public proponents of legalizing marijuana, the two snuck away to eat some pot brownies, of course! However, sometime after Snoop Dog transformed into Cyrus' pet pig, Cyrus realized something was off. She snapped back to reality and a very confused and not-at-all-a-pig Snoop Dog, but it was fun while it lasted.
7. Miley Loves Kim Kardashian
Everyone was a little stunned after Kanye West's 10-minute long Video Vanguard award acceptance speech, which ended in him declaring he would run for president in 2020. However, Cyrus was a little more shell-shocked than most. Appearing after the speech, she vowed to vote for West over Donald Trump and complained he had not passed her the marijuana she alleged he smoked before his speech. The moment everyone will be talking about Monday, though, is Cyrus' comments about West's wife, reality star Kim Kardashian. Cyrus, referencing the transparency in parts of the pregnant Kardashian's dress, said she was jealous of Kardashian's forthcoming baby, miming breastfeeding motions. "One thing [Kanye West] and I have in common is that we both love Kim Kardashian," Cyrus asserted. Message received.
8. Miley's Wardrobe Malfunction
During an awkward toss to a commerical break, Miley's bare chest was showing over a quick-change curtain. She was then overheard on her microphone saying, "Are my t--- out?" before the show cut to commerical. It seems Cyrus had a Janet Jackson moment of her own in the show's final moments.
9. The Grand Finale
Miley took the stage to close out the VMAs with an unforgettable performance. Backed by alt-rock group The Flaming Lips and flanked by dancers sporting colorful, eyeball-covered leotards, Cyrus brought the house down with her trademark tongue out, plenty of censored cursing, and some not-safe-for-children dance moves. She ended with an announcement her new album was out for free online and available for download immediately. She then thanked fans for "watching the f------ VMAs" and promised: "I'll see you next year." After 2015's wild show, we hope so.
What was your favorite Miley Cyrus moment at the 2015 MTV Video Music Awards? Tweet your thoughts to @Ja9GarofaloTV.
FOR FREE to continue reading
✔️ Unlock the full content of International Business Times UK for free
offer available for a limited time only
✔️ Easily manage your Newsletters subscriptions and save your favourite articles
✔️ No payment method required
Already have an account?
Log in
© Copyright IBTimes 2023. All rights reserved.