What Religions Are The 2016 Presidential Candidates? Republican And Democratic Faiths Explained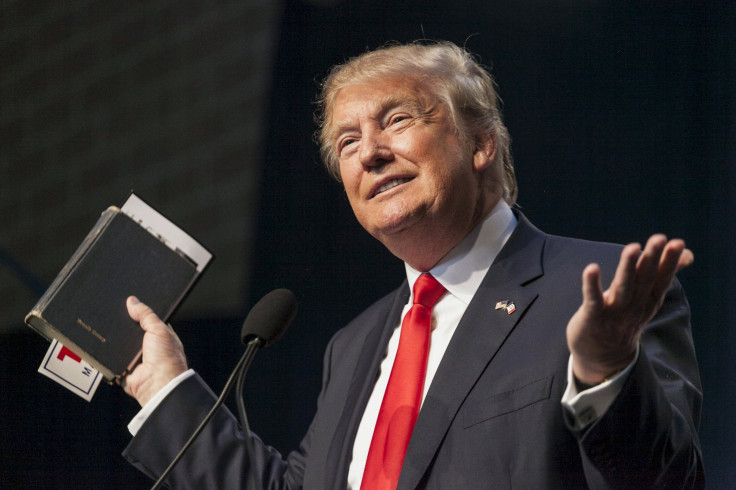 Tune in to a 2016 presidential-campaign rally, and it's likely the candidate will be weaving religious beliefs into his or her speech. Among some of the candidates, faith appears to be a fundamental element not only of their lives but also of their campaigns.
Some of the candidates' paths to faith are more complicated than others, as they either deepened or found their faith at different points in their lives. Here we take a look at how each candidate identifies religiously, as well as at the religions of their children, spouses and parents.
Donald Trump
The Republican front-runner in opinion polls grew up Presbyterian and has said the Bible is his favorite book, although his devoutness was questioned after he was not able to name the biblical passage he liked the best. He has frequently invoked his Christian beliefs on the campaign trail, but that has not always gone well for the businessman. He once referred to the Second Epistle to the Corinthians in the New Testament as "Two Corinthians" instead of Second Corinthians. "I'm a Protestant; I'm a Presbyterian," Trump told the Christian Broadcasting Network in 2012. "And you know I've had a good relationship with the church over the years. I think religion is a wonderful thing. I think my religion is a wonderful religion."
Trump married his third and current wife, Melania Trump, née Knauss, in 2005 at an Episcopalian church in Palm Beach, Florida. They did not participate in the customary preceremony requirement of six weeks of religious training, according to Bloomberg News.
Trump's daughter, Ivanka Trump, converted to Judaism in 2009 before her marriage to real estate developer Jared Kushner. In an interview last year, she told Vogue she observes Shabbat and does not use her cell phone on the day of rest. "I really find that with Judaism, it creates an amazing blueprint for family connectivity," she said. Her real estate mogul father is supportive of her faith. Before declaring his presidential candidacy last year, Trump said Ivanka's conversion "wasn't in the plan, but I'm very glad it happened."
Hillary Clinton
The Democratic candidate identifies as a Methodist, as she was raised, and she has spoken about the Bible's influence in her life. "The Bible was and remains the biggest influence on my thinking," the former U.S. secretary of state said in a 2014 Sunday Book Review interview in the New York Times. "I was raised reading it, memorizing passages from it and being guided by it. I still find it a source of wisdom, comfort and encouragement."
Her husband, former President Bill Clinton, considers himself a Baptist, but the couple attended the Foundry United Methodist Church in Washington when he was in the White House. Their daughter, Chelsea Clinton, married hedge funder Marc Mezvinsky, who is Jewish, in an interfaith ceremony in 2010. The couple has not publicly discussed which religion they are raising their 1-year-old daughter, Charlotte.
Bernie Sanders
The U.S. senator from Vermont grew up Jewish, but has said he is not very observant. "I'm proud to be Jewish," Sanders said at an event hosted by the Christian Science Monitor. But, he added, "I'm not particularly religious."
However, the Democratic candidate has said religion helped shape his view of politics. His father, who was a Polish Jew, lost several relatives in the Holocaust. "A guy named Adolf Hitler won an election in 1932," Sanders told the Christian Science Monitor. "He won an election, and 50 million people died as a result of that election in World War II, including 6 million Jews. So what I learned as a little kid is that politics is, in fact, very important."
Sanders told CNN host Anderson Cooper at a town hall event Feb. 3 that his "spirituality is that we are all in this together" when it comes to issues such as homelessness and poverty.
Sanders' wife, Jane, is not Jewish. "Faith is important to us, personally," she told the Huffington Post. "I'm a Catholic, he's Jewish, and our basis, our foundation come from the tenets of those faiths."
Ted Cruz
The U.S. senator from Texas identifies as a Southern Baptist, often referencing his religion when speaking with supporters. Cruz's faith was influenced by his father, Rafael Cruz, who became a born-again Baptist pastor. Both Rafael and Eleanor, Cruz's mother, grew up Catholic, but Rafael turned to the Baptist church after Ted was born. Rafael believes in Christian dominionism, and he has said his son's decision to run for the GOP presidential nomination was based on a message received from God by Ted's wife, Heidi, who was born to Seventh-day Adventist missionaries.
"My son Ted and his family spent six months in prayer seeking God's will for this decision," his father said. "But the day the final green light came on, the whole family was together. It was a Sunday. We were all at his church, First Baptist Church in Houston, including his senior staff. After the church service, we all gathered at the pastor's office. We were on our knees for two hours seeking God's will. At the end of that time, a word came through his wife, Heidi."
Marco Rubio
The U.S. senator from Florida has tried on three different religions for size. His parents had him baptized as a Roman Catholic, and the Republican candidate now practices Catholicism, but he has also explored the Mormon and Southern Baptist churches. After his family moved from southern Florida to Las Vegas, Rubio briefly was converted to the Church of Jesus Christ of Latter-day Saints at the age of 8. "My mother desperately wanted to give her kids a wholesome environment," he told Christianity Today in 2012. "We had extended family members who were and remain active members of the LDS church, which does provide a very wholesome environment." Three years later, however, his family returned to practicing Catholicism.
Rubio was married in a Catholic church and his children were baptized as Catholics, but he has has been linked to the Christ Fellowship Church, an evangelical Protestant megachurch affiliated with the Southern Baptist Convention, where he attends services, according to ThinkProgress.
John Kasich
Ohio Gov. John Kasich grew up as a Roman Catholic, and was even an altar boy, but he drifted away from his faith as he became older. It was not until his parents died in a car accident when he was 35 that he turned to Catholicism again. "I have found that even though the pain still comes, there is where I have to go," Kasich said at a CNN town hall event in South Carolina Thursday. The GOP candidate now attends St. Augustine's Anglican Church in Westerville, Ohio, according to MSNBC.
Ben Carson
Retired neurosurgeon Dr. Ben Carson was baptized twice in the Seventh-day Adventist faith, according to his book "Gifted Hands." He was baptized the second time after telling a pastor at age 12 that he did not understand his first baptism and would like to have the experience again. Referring to the church's teachings, the Republican candidate has said he is a creationist and "proud of the fact that I believe what God has said ... that I believe in a literal six-day creation." Carson and his wife attend the Spencerville Seventh-day Adventist Church in Silver Spring, Maryland.
FOR FREE to continue reading
✔️ Unlock the full content of International Business Times UK for free
offer available for a limited time only
✔️ Easily manage your Newsletters subscriptions and save your favourite articles
✔️ No payment method required
Already have an account?
Log in
© Copyright IBTimes 2023. All rights reserved.