'What We Do In The Shadows' Movie Review: The Vampire Comedy Worth Hunting Down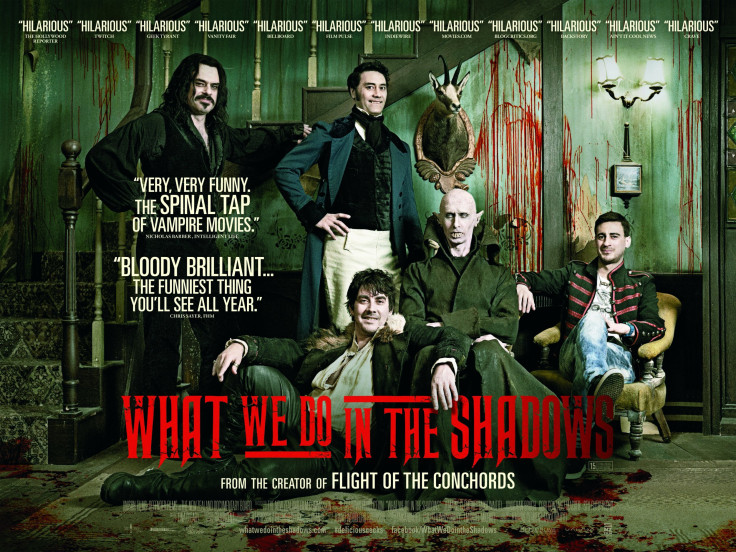 Have we reached peak vampire saturation yet? Culturally, we never seemed to get past Bram Stoker's monster without a remake every other decade, but over the years we've managed to romanticize vampires into sex symbols like Kiefer Sutherland in "The Lost Boys," Gary Oldman in "Bram Stoker's Dracula," Tom Cruise in "Interview with a Vampire," and of course, a glittery Robert Pattinson in the "Twilight" series. Even the eternal silent terror of F. W. Murnau's "Nosferatu" witnessed resurgence with a namesake Werner Herzog movie and a very popular cameo on "Spongebob Squarepants." It's difficult to imagine at one point, that Bela Legosi was once considered the end-all, be-all iterations of the dreaded Count.
Writers and directors Jemaine Clement and Taika Waititi have something completely different in mind for the scores of vampire lore they're tapping into for their latest film, "What We Do in the Shadows." The former "Flight of the Conchords" stars utilize a mockumentary style of filmmaking to follow a documentary crew shooting four vampire flatmates in New Zealand as they cope with a seemingly unending undead existence (your standard roommate problems) and modern vampire trifles like where to meet potential victims if you can't get invited into clubs.
As silly as the concept sounds, it works. Clement and Waititi are clever enough writers to progress the relationship between the roommates and add humorous throwaway lines you might miss if you're laughing too hard. They have fun with their vampire subjects by basing each of the flatmates as a different vampire type. The romantic one embodied by Waititi, Viago, is played up like a fussy dandy who doesn't like to see blood stains on his couch after a kill. Clement plays a variation of Vlad the Impaler as Vladislav the Poker who has the partial ability to change into different animals and is described by roommates as a pervert. Deacon (Jonathan Brugh) is the bad boy of the group until a bumbling modern kid named Nick (Cori Gonzalez-Macuer) is bitten by the fourth vampire roommate based on Nosferatu, Petyr (Ben Fransham).
"What We Do In The Shadows" is a witty gem of a movie. Mixing horror comedy with reality-TV tropes and Christopher Guest's mockumentary style storytelling, Clement and Waititi have created something that's genuinely fun and entertaining to watch. So, if you're looking for a new way to enjoy vampires or see them in a different light, sink your teeth into "What We Do in the Shadows."
© Copyright IBTimes 2023. All rights reserved.