What And When Is The Catholic Synod? Key Facts About The 3-Week Meeting Of Bishops In Rome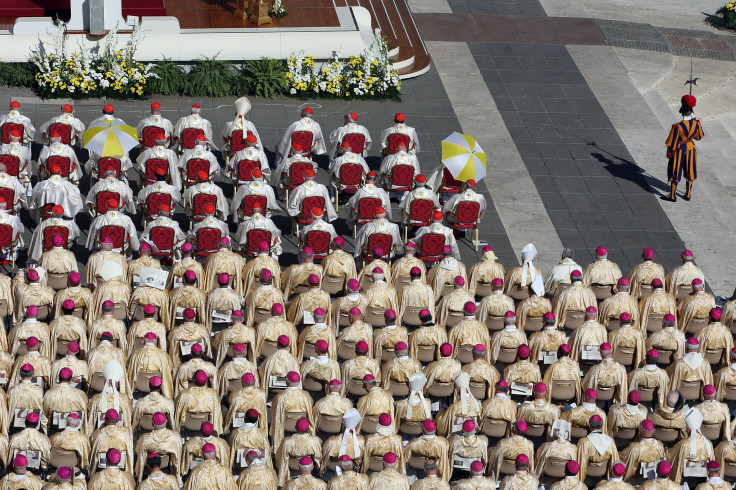 On Sunday, the Vatican kicks off its Synod of Bishops, a three-week gathering that has the potential to change church doctrine on hot-button family issues like divorce and homosexuality and serve as a defining moment for Pope Francis' papacy.
Officially titled "The Vocation and Mission of the Family in the Church and the Contemporary World," the synod will run from Oct. 4 to Oct. 25, convening 279 Roman Catholic bishops from more than 120 countries.
Given that the bishops in attendance will represent a diversity of views, there are bound to be clashes over which course the church should take on sensitive issues. Traditional church teachings consider both divorce and homosexuality to be sinful, but those policies are often seen to be at odds with modern life.
"We are at sea, in choppy waters even," Cardinal Lorenzo Baldisseri, secretary general of the synod, told the Associated Press.
This synod follows the first round of discussions that occurred at a similar event a year ago called the Extraordinary Synod, which looked at the "pastoral challenges of the family in the context of evangelization." During that meeting, there was discussion of the church potentially recognizing the value of committed same-sex relationships.
Francis has said that he wants to encourage debate at this synod. According to Raymond Arroyo, managing editor of EWTN, a global Catholic media network, the first week will consist mostly of bishops doing readings on the subjects at hand. The following week, they will discuss teachings on the family. It's in the third week when the bishops will touch on thorny issues like divorce and remarriage for Catholics.
The Vatican said Friday that written observations made during the synod will be made public, but the statements will not be attributed by name.
© Copyright IBTimes 2022. All rights reserved.
FOLLOW MORE IBT NEWS ON THE BELOW CHANNELS