What Will Happen To Abortion Rights? After Women's March, One State Bans Common Second-Trimester Abortion Procedure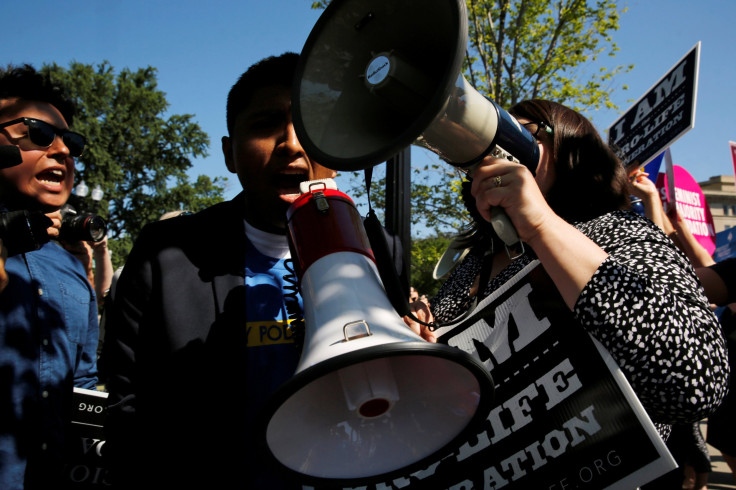 Just days after millions of women marched in support of a variety of measures including reproductive rights, Arkansas Gov. Asa Hutchinson approved a law Thursday to ban second-trimester abortions, outlawing a commonly used abortion procedure.
The procedure, known as dilation and evacuation, is legal in most states. It involves dilating the cervix and surgically removing the fetus from the uterus. Only two states — Mississippi and West Virginia — have similar policies. In Alabama, Kansas, Louisiana and Oklahoma, bans have been placed on hold because of legal challenges.
The ban in Arkansas will not go into effect until April or May, 90 days after the Arkansas Legislature finishes its session.
The bill was approved by the Arkansas Senate, which has a Republican majority, with a vote of 25-6 Thursday. Gov. Hutchinson, also a Republican, signed it into law only hours later.
"It's a very savage procedure, it's cruel and barbaric and it's something I don't think should exist in a civilized society," said former Arkansas lawmaker Andy Mayberry, who is now the president of the state's Right to Life organization.
But the American Civil Liberties Union argued that the ban is unconstitutional and that it will be challenged in court.
"It's an empty gesture that's going to cost the state tens of thousands of dollars in litigation fees and costs," said Rita Sklar, executive director of the ACLU of Arkansas.
Out of 3,771 abortions performed in Arkansas in 2015, the dilation and evacuation procedure was used 638 times, according to the Arkansas Department of Health.
Abortion has historically been a contentious issue in the United States, but pro-abortion rights groups are especially worried now that they are facing a GOP-controlled Congress and Republican White House. Both House Speaker Paul Ryan and President Donald Trump have spoken about taking away federal funds from Planned Parenthood as long as the organization provides abortion services.
Anti-abortion activists will rally in Washington, D.C., this weekend for the 2017 March for Life.
© Copyright IBTimes 2023. All rights reserved.