What Will Joe Biden Do After The White House? Vice President Plans To Coordinate Cancer Moonshot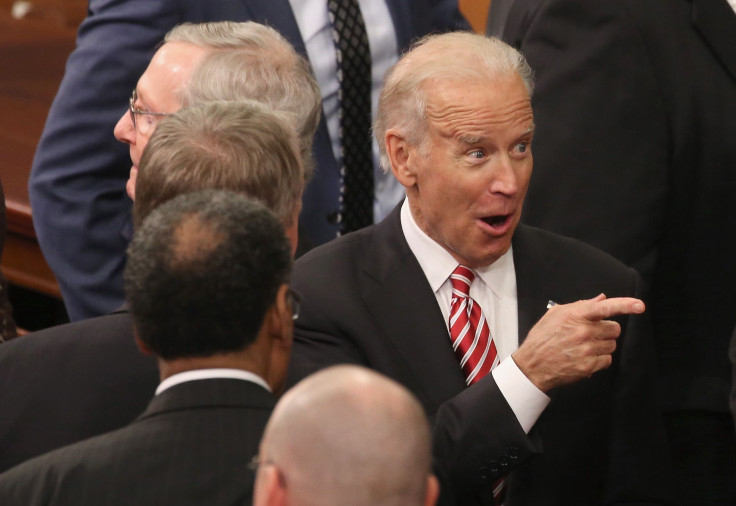 Tuesday's vice presidential debate and subsequent news coverage might leave some wishing Joe Biden could just stick around for another four years (or forever). But the ice cream-eating, gesture-making, meme-inspiring, TheOnion.com-parodying veep must leave the White House at some point, and his departure is quickly approaching.
Biden, who turns 74 in November, ruled out a presidential run last year after his son, Beau, died of brain cancer. He spent much of his announcement speech talking about the disease, at one point saying that he believes "we need a moonshot in this country to cure cancer."
Biden said repeatedly that he regrets not running for president. He endorsed Democratic nominee Hillary Clinton, but told STAT last month that he does not plan to join her administration.
"What Hillary talked about is, as I understood it, me being able to have the same authority over elements of her administration from the outside that I have now from the inside, to be able to coordinate those efforts," he said.
Biden has reportedly decided to work with scientists and charities to cure cancer. "I'm going to stay involved in this effort as long as I'm alive," he told STAT.
Biden started working in politics in 1972, and served as U.S. senator from Delaware for 26 years before succeeding Dick Cheney as vice president. When he leaves office in January, Biden could work with the University of Delaware or serve as a special envoy, the Associated Press reported.
The vice president has previously said he doesn't have any stocks or bonds, though his wife has a few savings accounts, according to PolitiFact. The veep and Dr. Jill Biden have a house in Wilmington, Delaware, that they once considered selling to pay for Beau Biden's cancer treatment. In 2008, Zillow estimated the Bidens' home was worth about $2.9 million.
Once they leave the White House, it's anyone's guess as to whether President Barack Obama and Biden will hang out. But they have grown close while in office.
Biden adviser John Marttila told the New Yorker in 2014 that "Joe and Barack were having lunch, and Obama said to Biden, 'You and I are becoming good friends! I find that very surprising.'" Biden reportedly responded, "You're f---ing surprised!"
Plus, nobody can forget the time Obama made Biden a friendship bracelet.
© Copyright IBTimes 2023. All rights reserved.