What Will Trump Do About Muslims? Call For Total Ban Has Morphed To A Proposal For 'Extreme Vetting'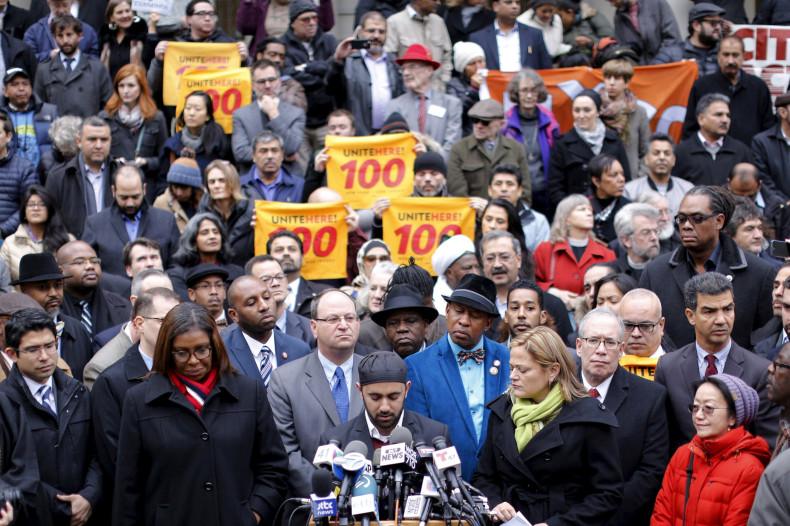 Republican Donald Trump stoked the fires of xenophobia during the presidential campaign, calling for a ban on Muslim immigrants to reduce the chances of terrorist attacks in the United States.
Trump's initial call last year would have kept any Muslim from entering the country, something that would have kept diplomats from entering as well as American-Muslims who had traveled overseas from returning.
"Donald J. Trump is calling for a total and complete shutdown of Muslims entering the United States until our country's representatives can figure out what is going on," the Trump campaign said in a press release shortly after the San Bernardino, California, mass shooting in December, perpetrated by a married couple inspired by the Islamic State group.
In January, he refused to soften his stance, saying, "Look, we have to stop with political correctness. We have to get down to creating a country that's not going to have the kind of problems that we've had with people flying planes into the World Trade Centers, with the — with the shootings in California, with all the problems all over the world. … We have to find out what's going on."
By May, Trump said his ban would be "temporary" and a suggestion "until we find out what's going on."
In June, following the mass shooting at the Pulse nightclub in Orlando, Florida, by an ISIS sympathizer, Trump patted himself on the back, saying he was right to call for the "pause."
"We have to do it," he said. "It will be lifted, this ban, when and as a nation we're in a position to properly and perfectly screen these people coming into our country."
That later was revised to suspend immigration "from areas of the world where there is a proven history of terrorism against the United States, Europe or our allies."
By the time the debates rolled around, Trump said he would impose a yet-to-be-devised "extreme vetting" process more stringent than the two-year process currently being employed in which biographical data and other information is compiled on asylum seekers who are then interviewed in person before being accepted into a relocation program.
"It's called extreme vetting. We are going to areas like Syria where they're coming in by the tens of thousands because of [President] Barack Obama and [Democrat] Hillary [Clinton]," Trump said during the second of three debates in which he participated with Clinton.
"I believe in building safe zones. I believe in having other people pay for them. As an example, the Gulf states who are not carrying their weight but they have nothing but money and [can] take care of people."
Trump's proposed ban has been condemned by both Republicans and Democrats as "offensive" and "unconstitutional." It inspired numerous editorial cartoons featuring the Statue of Liberty crying, turning her back or sporting a new motto.
© Copyright IBTimes 2022. All rights reserved.