What's Next For Black Lives Matter? On MLK Anniversary, Movement Joins Fight For $15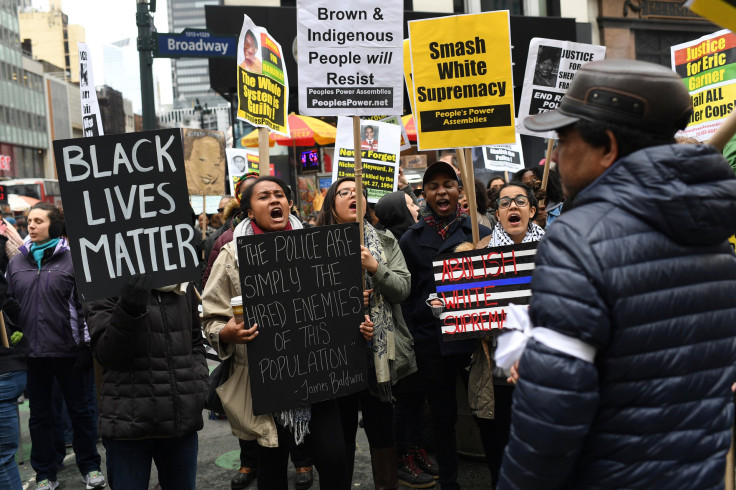 Forty-nine years after Dr. Martin Luther King Jr. was assassinated in Memphis, Tennessee, Black Lives Matter activists have partnered with Fight for $15 groups to schedule nationwide protests to raise the minimum wage, reflecting King's turn toward economic justice issues before his death in 1968.
"Fight Racism, Raise Pay" protests are scheduled for more than two dozen cities across the United States on Tuesday. The flagship protest will take place in Memphis, where activists representing the Movement for Black Lives, the broader social justice movement of which Black Lives Matter is a part. Activists fighting for a $15 minimum wage will converge on the Lorraine Motel, the location of King's assassination. The union between the two groups mirrors the message that King adopted in the last year of his life when he helped organize the Poor People's Campaign: Racism and economic exploitation are inextricably linked.
Read: Confederate Flag Grab On Live TV Leads To Charges For South Carolina Activist
"White supremacy and corporate greed have always been linked in America," Chelsea Fuller of the Movement for Black Lives said in a statement. "The fast-food workers who are going on strike for $15 an hour and the right to a union are resisting the same institutional racism and oppression that fuels police violence across the country."
At the time King was assassinated by James Earl Ray on April 4, 1968, the civil rights icon was supporting black sanitation workers in Memphis on strike against poor pay and dangerous work conditions. Just a few months before, King and the Southern Christian Leadership Conference launched the Poor People's Campaign, which called for a focus on economic issues, including a raise in the minimum wage.
"The president and the Congress have a primary responsibility for low minimum wages, for a degrading system of inadequate welfare, for subsidies for the rich and unemployment and underemployment of the poor, for a war mentality, for slums and starvation, and racism," King wrote in a statement announcing the campaign. "Poor people who encounter racial discrimination every day in every aspect of their lives cannot be fooled by patronizing gestures and half-way promises."
Congress set the current federal minimum wage at $7.25 an hour in 2009. However, 29 states have set their own minimum wages above the federal minimum level. Massachusetts and Washington have instituted the most generous minimum wage of any states, at $11 an hour. The District of Columbia set its minimum wage at $11.50 an hour.
In an op-ed published by Time on Monday, Rev. William Barber, one of the organizers of the protests, cited a National Employment Law Project report that found while 42.4 percent of all workers earn less than $15 an hour, nearly 60 percent of Latino and 54 percent of black workers earn less than that figure.
"The twin-forces of white supremacy and unchecked corporate greed have gained newfound power and influence in our democracy," Barber wrote. Barber noted that King also saw the potential of an alliance between labor and civil rights activists.
"The two most dynamic and cohesive liberal forces in the country are the labor movement and the Negro freedom movement," King said. "Together we can be architects of democracy."
The protest comes a week after a Fight for $15 group in Memphis filed a civil rights lawsuit accusing the Memphis Police Department of intimidation and harassment of activists. Fight for $15 was started by a group of fast food workers in New York City who struck in pursuit of fair wages in 2012. The movement has since spread across the country, but it's greatest success remains close to home. In April 2016, New York Gov. Andrew Cuomo signed a plan to raise the minimum wage in New York City to $15 an hour by 2018, and $12.50 across the rest of the state by 2020, with indexed increases scheduled to follow that would bring the state minimum wage to $15 shortly after.
But while fast food workers fight for higher wages, fast food companies are rolling out technology that will reduce the need for workers. Some industry leaders blaming the Fight for $15 campaign for increased investment in job-killing technology.
© Copyright IBTimes 2023. All rights reserved.
FOLLOW MORE IBT NEWS ON THE BELOW CHANNELS