'When Calls The Heart' Season 6 Premiere Recap: Elizabeth Balances Baby, Teaching
A lot's changed in Hope Valley since Jack Thornton's (Daniel Lissing) heartbreaking death at the end of Season 5 of "When Calls the Heart" last year. One of the biggest things to come in the months since then was the birth of his and Elizabeth's (Erin Krakow) son, Jack, at the end of the 2018 Christmas special.
It's now four months later, and, in the Season 6 premiere of the Hallmark drama on Sunday, Elizabeth's learning more about her new life as a single mother. She adds a new variable to that equation when she decides she's ready to return to her teaching job. Realizing she can't do it all alone, though, she asks for help from her community, and, as usual, Hope Valley is there for her. She ends up hiring Laura (Genea Charpentier) as a full-time nanny so she can get extra money for her family and go to correspondence school.
Baby Jack was the big newcomer in "The Greatest Christmas Blessing," but the big newcomer in episode 1 of "WCTH" Season 6 is the telephone. Abigail (Lori Loughlin) reveals the town will be getting the invention soon, which causes Bill (Jack Wagner) to be nervous but Rosemary (Pascale Hutton) to prepare by getting the town band to perform in celebration. There are issues with the telephone at first, but, by the end of the episode, the town receives its first call.
While there's a lot of commotion going on with the baby and the telephone, there's also a fight for the town saloon happening. Current owner Tom (Bill Dow) has out-of-town family issues he's dealing with, and Lee (Kavan Smith) tells him people are happiest when they're with family, causing him to put his business up for sale and move out of town.
Both Henry (Martin Cummins) and Bill are interested in buying it, but there are obstacles for both of them. Henry needs Lee as a partner, and Bill needs Abigail to buy his cafe shares. When Abigail's unable to, Bill goes to ask Lee to be his partner for the saloon, too. Since Lee can't figure out who he wants to go into business with, he tells them they should just partner together. Unfortunately, when Henry and Bill go to tell Tom, he reveals an out-of-town buyer has already purchased the business.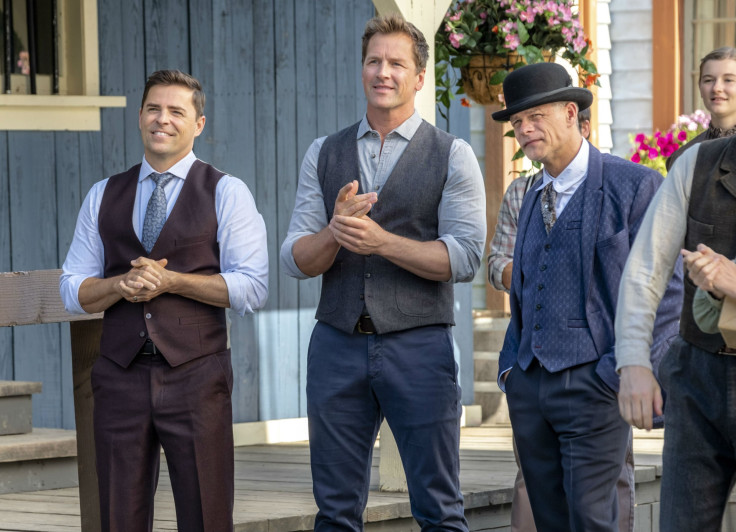 Meanwhile, Jesse (Aren Buchholz) and Clara (Eva Bourne) are doing well together, and he's even bought land for them to have a home on in the future. Another romantic relationship might be happing on "When Calls the Heart" soon, too, as Carson (Paul Greene) and Faith (Andrea Brooks) spend some time together helping Ned (Hrothgar Mathews) with a little bump on his head. Always wanting to be a matchmaker, but so far unsuccessful in the position, Rosemary realizes Carson and Faith might be good for each other and tries to get them together by inviting them to dinner at her home.
What's to come of Carson and Faith's relationship? How will it work out with Laura as baby Jack's nanny? How will the telephone change Hope Valley? Who really is this mysterious new saloon owner? Find out as Season 6 of "When Calls the Heart" unfolds on Hallmark Channel on Sundays at 8 p.m. EST.
© Copyright IBTimes 2023. All rights reserved.