When Does 'Wet Hot American Summer: 10 Years Later' Premiere On Netflix?
The Camp Firewood gang is mostly back in Netflix's newest series, "Wet Hot American Summer: 10 Years Later," and fans will be able to get their official binge-watching on by the early AM hours on Friday, Aug. 4.
The streaming service will drop eight episodes of the show on Friday, likely at 3 a.m. EDT, which is usually when new episodes become available of their original shows. The new series serves as a follow-up to both the film, "Wet Hot American Summer" and the Netflix prequel series from 2015, "Wet Hot American Summer: First Day of Camp."
Read: What's New On Netflix In August 2017?
The new series picks up in 1991, 10 years after the film left off, with the Camp Firewood gang meeting up again at both the camp and in New York for a reunion none of them will forget.
Most of the cast from "First Day of Camp" are expected to be reprising their roles in the new series, including Elizabeth Banks as Lindsay, Michael Ian Black as McKinley Dozen, Janeane Garofalo as Beth, Joe Lo Truglio as Neil, Ken Marino as Victor Pulak, Christopher Meloni as Gene Jenkinson/Jonas Jurgenson, A.D. Miles as Gary, Marguerite Moreau as Katie, Zak Orth as J.J, Amy Poehler as Susie, Paul Rudd as Andy Fleckner, Marisa Ryan as Abby Bernstein, Molly Shannon as Gail Dana Starfield, Michael Showalter as Gerald "Coop" Cooperberg, Chris Pine as Eric, Kristen Wiig as Courtney, Josh Charles as Blake McCarthy, Lake Bell as Donna Berman, Jason Schwartzman as Greg, H. Jon Benjamin as Mitch/Can of Mixed Vegetables, David Hyde Pierce as Henry Neumann, Samm Levine as Arty, John Early as Logan St. Bogan, Rich Sommer as Graham, Eric Nenninger as Warner, Nina Hellman as Nancy, Beth Dover as Shari and David Wain as Yaron.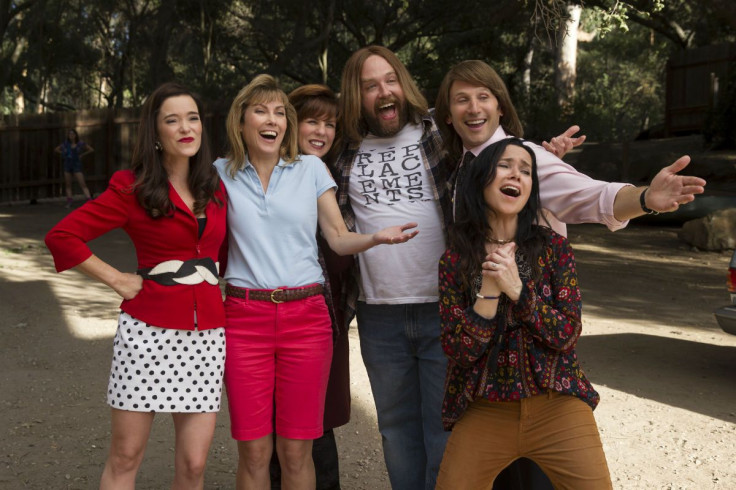 The new show will also feature new characters, including Mark Feuerstein as Mark, Alyssa Milano as Renata, Skyler Gisondo as Jeremy "Deegs" Deegenstein, Jai Courtney as Garth MacArthur, Marlo Thomas as Vivian, Joey Bragg as Seth, Anne-Marie Johnson as Burkhart, and Chris Redd as Mason.
Read: What You Should Know About "Wet Hot American Summer: 10 Years Later"
Adam Scott will also be joining the cast this time around, replacing Bradley Cooper in the role of Ben, after Cooper was unable to participate due to a scheduling conflict.
The change to the character's look was explained in a preview clip of the series which was released. In the scene, Ben and McKinley arrive to meet up with some of their old friends, with Renata, their babysitter, and their child, in tow. When Ben sees Susie again, he asks her if she's noticed how his face looks a little different from the last time she saw him, to which she questions if he had a certain condition fixed.
"Hey, um, I don't know if you've noticed, but I..." Ben says.
"I did," Susie solemnly states. "Did it fix your deviated septum?"
"It did," he says.
"Then that's all that matters," Susie replies before hugging him.
"Wet Hot American Summer: 10 Years Later" debuts on Netflix on Friday, Aug. 4.
© Copyright IBTimes 2023. All rights reserved.