Jim Bob Duggar Teases Pregnancy For Joy, Not Jinger, On 'Counting On'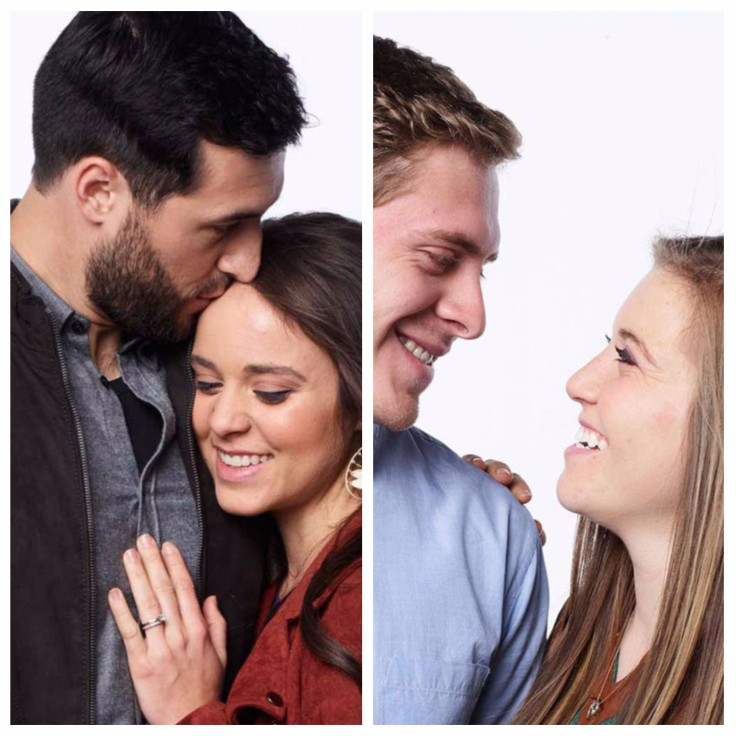 Jim Bob Duggar has eight grandkids but it appears he's ready and willing to welcome a few more. During part two of TLC's "Counting On" tell-all finale special Monday night, the Duggar patriarch dished on his newlywed daughters Jinger Vuolo and Joy-Anna Forsyth's potential future pregnancies.
After being welcomed to the reunion stage by host Stephanie Oz as "surprise guests," Jim Bob and his wife, Michelle Duggar, made a cameo during the installment. With their daughter Jessa Seewald's two kids in tow, Jim Bob and Michelle discussed being grandparents and seeing their own kids grow up.
READ: Jana Duggar's Dating History, 4 Men She's Reportedly Courted
"We've got more grandbabies on the way," Michelle commented during the show. When asked by Oz how many more they expect, Jim Bob revealed if each of their 19 kids spawned five children, that would make them grandparents to over 100. "It's possible we could have 200," he added.
When asked to tease the upcoming season of "Counting On," which premieres in September, Jim Bob said viewers should expect to see Joseph Duggar's wedding prep with Kendra Caldwell and a potential pregnancy announcement.
"It's probably going to be Joseph and Kendra, maybe their relationship, maybe getting a little closer and then, who knows? Maybe Joy and Austin will have a little one on the way. You never know what will happen," he said.
When Joy interjected, telling her dad Jinger and Jeremy, who were married first, could also be expecting a baby soon, Jim Bob corrected himself. "Maybe Jinger and Jeremy," he added.
Jinger and Jeremy, have been at the center of pregnancy rumors for months, didn't respond to Jim Bob's comment but both smiled and nodded after he spoke.
While several of their children have started families of their own, Michelle said she tries to get her brood together often. "Thankfully, we try to get together at holidays and then we've tried to plan a few opportunities," she said.
When they're not spending time with their older children, the couple enjoys watching their adventures on "Counting On." "We didn't get to go on any of the honeymoon trips," Michelle said with a laugh. "It was fun to watch that footage and see where different ones went and all the fun things they got to see."
While babies could be on the horizon for Jinger and Jeremy, the latter seemed surprised about parenthood. During the episode, Jessa and Ben Seewald opened up about who is on diaper duty on their home and shared they go through seven diapers a day for each of their two children, a number which shocked Jeremy. "He uses that many diapers!" he said, revealing he'd expect just a few for each child or "max four if he had a big lunch."
READ: Joy And Austin Find Their 'Dream Home'
Jinger and Jeremy first opened up about their plan for parenthood during part one of the tell-all. After revealing they had just purchased their first home in Texas, they shared that their abode had four bedrooms, including room for a nursery.
Friends of the Duggar family have also dished on Joy and Austin's baby plans. Prior to their May wedding, the Duggar Family Blog reported the pair was planning to build a home in Arkansas after marrying and that "it might not be too long before they enter parenthood."
© Copyright IBTimes 2023. All rights reserved.