When Is Shark Week 2014? Programming List Released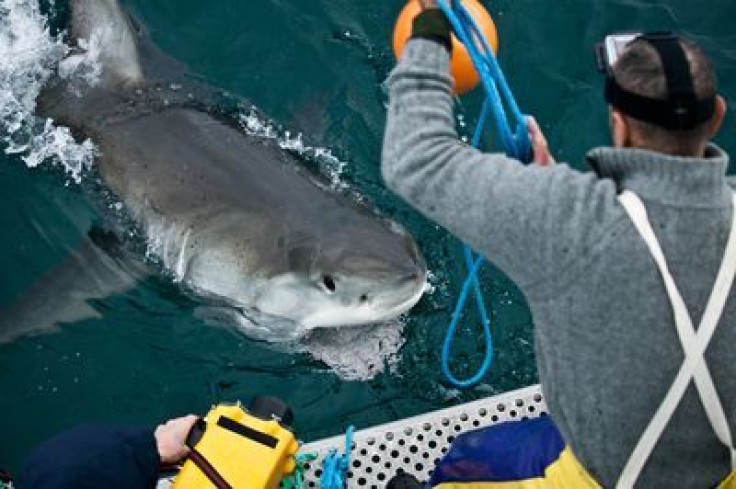 Cue the "Jaws" theme song, my fishy friends, because Shark Week is about to breach our TVs with more exciting ocean-themed action. The beloved Discovery Channel summer series returns on Sunday, Aug. 10, for its 27th annual weeklong production.
"Building upon last year's 11 shark-filled specials, a whopping 13 Shark Week shows coupled with a live talk show each night gives this year's Shark Week the most premiere hours ever featured in the event's 27-year history," a press release for Shark Week explained. Now that's something we can sink our teeth into!
Shark Week will be stuffed to the gills with even more programming than ever before! And lucky for you, we've got all the juicy details about the jaw-dropping 2014 series below:
"Shark After Dark" will return with Josh Wolf as the late-night talk show's host to discuss all things shark-related with celebrity guests and shark experts. This will give Shark Week fans a chance to interact live on-air every night with tweets and questions for the show's panel after the programs air.
The programs include:
"Sharkageddon" – This program will uncover the reasons behind the mysterious shark invasion occurring in Hawaii, an island known as an idyllic vacation destination.
"Lair of the Mega Shark" – Follows famous shark experts Jeff Kurr and Andy Casagrande as they head to New Zealand on a "life-or-death mission to investigate the sightings of a 20-foot Great White." The large shark allegedly resembles the legend of a giant great white called the "lord of the sharks."
"Zombie Sharks" – For all you undead-loving fans, this program will explore "tonic immobility that can be achieved in sharks." Tonic immobility is a "catatonic zombie-like state" that sharks undergo, particularly when turned over, and apparently orca whales have figured out how to induce it in the ocean's greatest predator -- hence the recent spike in orca attacks on great whites.

Professional driver Eli Martinez will look into this phenomenon by attempting to be the "first person to induce underwater tonic immobility in a massive great white shark."
"Alien Shark: Return to the Abyss" – Shark researcher Paul Clerkin heads to the Indian Ocean in this Shark Week program to plumb the depths in hopes of finding a shark species that scientists never even knew existed. He hopes to get a peek at the last known group of bioluminescent sharks in the world.
"Monster Hammerhead" – This program will trail the legendary hammerhead that's been swimming along the Florida shoreline for the past 60 years.
"Spawn of Jaws 2: The Birth" – Dr. Michael Domeier will attempt to solve "one of the greatest mysteries of shark science": the birthing grounds of great whites. He hopes to tag a pregnant female shark to learn where she gives birth to her puppies. And you thought Sex Ed was only for high school students.
"Great White Matrix" – Legendary shark attack survivor Paul de Gelder and cameraman Andy Casagrande will go on an expedition to the deadly, shark-infested waters of Australia. Their mission is to "investigate a series of bizarre shark attacks" in the area, which is swarming with great white sharks.
"Air Jaws: Quest for Colossus" – Jeff Kurr and his team hope to track down the missing "mega-shark" known as Colossus.
"Jaws Strikes Back" – Marine biologist Greg Skomal and his team will travel to the remote Pacific island of Guadalupe to watch the largest great white sharks on earth hunt down two-ton mega seals.
"I Escaped Jaws 2" – If you love shark-survivor stories, then this is for you. This special feature tells stories from the perspective of survivors, featuring first-person interviews and actual footage of the attacks. You'll get to see how the survivors narrowly escaped the jaws of death.
"Shark of Darkness: Submarine Returns" – This program will explore the legend of a submarine-sized great white that is supposedly terrorizing the coast of South Africa. Locals are convinced this 30-foot shark is responsible for countless attacks, but its existence has never been proven… until now.
"Megalodon: The New Evidence" – Finally, some Megalodon news! This feature will present new evidence and interview footage that proves this rumored animal exists. What else could have attacked a fishing vessel off the coast of South Africa and killed all on board in April 2013?
Which program are you most excited to see? Sound off in the comments section below and don't forget to tune in to Shark Week when the Discovery Channel series returns August 10. You can also keep track of how many days, hours and seconds are left until the 27th annual series returns with the official Shark Week 2014 countdown clock here.
FOR FREE to continue reading
✔️ Unlock the full content of International Business Times UK for free
offer available for a limited time only
✔️ Easily manage your Newsletters subscriptions and save your favourite articles
✔️ No payment method required
Already have an account? Log in
© Copyright IBTimes 2023. All rights reserved.