Where To Buy Ugly Christmas Sweaters 2014: 9 Stores With Holiday Shirts In Every Price Range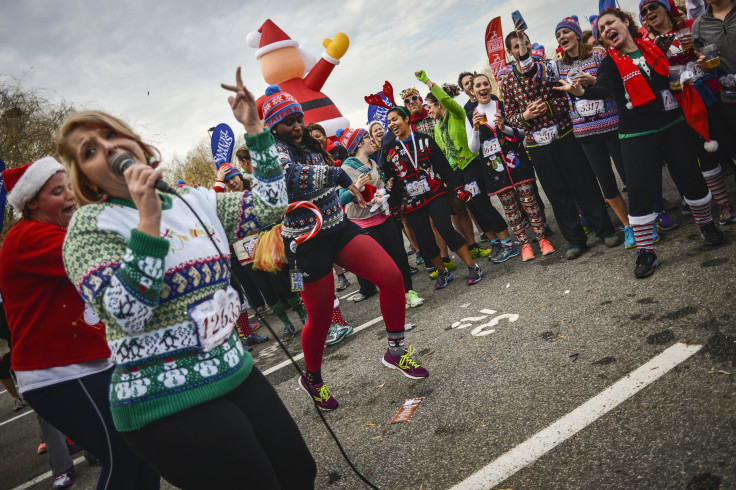 Ugly Christmas sweater season is upon us! The temperature is dropping and holidays are approaching. Whether you're trying to stay warm or attending a winter party, we've got numerous options to keep you hip and in the Christmas spirit. Be the talk of the party and rake in the compliments with these cheesy (and even racy) options from nine stores:
Forever 21
Look no further for a dancing reindeer sweater. Forever 21 has shirts in men, women's and plus sizes. Prices range from $19.90 for a Christmas tree design to $29.90 for a light-up reindeer top.
Kmart
Feeling a little sassy? Then Kmart is the place for you. The juniors department is selling a define "good" sweater that is currently on sale for $14.99 through Dec. 6. Meanwhile, men can bring the laughs with the Dear Santa, I can explain T-shirt for an affordable $6.99.
Kohl's
Kohl's is the hot spot for all your ugly Christmas sweater needs this year. From juniors to the men's department, the clothing superstar has shirts in every price range. For women, the hot ticket item at Kohl's is the reindeer with glasses sweater from It's Our Time. The original price for the shirt is $48, but the sale price varies. For men the options are endless -- from a "Despicable Me" Holiday Cheer sweatshirt, a snowman with sunglasses and even sports-themed ugly sweaters.
If none of those options is suitable, try out the Ugly Christmas Sweater Kit. The kit is for men, and sizes range from XS to XXL. Besides a long sleeve crewneck top, the kit includes glitter gel, pipe cleaners, beads, stencils and felt to create your own masterpiece.
Macy's
Macy's is jumping aboard the Grumpy Cat bandwagon this season. If you loved Lifetime's "Grumpy Cat's Worst Christmas Ever," then you won't be able to pass up this graphic sweatshirt featuring the famous Internet meme sporting a Santa hat.
But tops aren't the only holiday-themed items that Macy's offers. Christmas lovers can also invest in Santa Claus, penguin or reindeer leggings.
Sears
Men and women can both shop for Christmas tops at Sears this season. The department store has generic Santa or snowman shirts for female shoppers, but men can take it up a notch with some creative designs like the Sharky Ugly Christmas Sweater, a 3D reindeer, or the wildly inappropriate humping reindeer shirt.
Spencer's
Santa won't have to think twice about his naughty or nice list thanks to these shirts from Spencer's. If profanity and risqué is your thing, check out the array of inappropriate ugly Christmas sweaters available online.
Target
Target is offering ugly Christmas sweaters for men, women and children. Men can show off their funny side with Christmas gnomes and funny sayings like Take me gnome tonight. Although the most impressive for men is the Light Up Ugly Sweater that features candy canes and ornaments. No battery is needed for the shirt, but it will cost you a pretty penny at $49.99.
Women have options like the angry Bah Humbug! cat sweater or a red Christmas tree sweater with pom-poms. Prices range from $14.99 to $24.99 depending on sales.
Meanwhile in the infant/toddler section, tops include designs with dinosaurs unwrapping presents, a sunglass rockin' Santa and smiling reindeer. Prices for shirts in all sections vary from $9 to $54, based on sales.
Urban Outfitters
If you're into Christmas gnomes, then you won't want to miss Urban Outfitters. The site offers a few options with skiing gnomes. However if you're on a budget then you might want to steer clear. Christmas gnome shirts are currently priced at $69 online.
Walmart
Walmart is the mecca of ugly Christmas clothing -- not just sweaters. Vests, long-sleeve tees, sweatshirts and more are all available for unbeatable prices. Highlights include the Owl I want for Christmas is you cardigan for a cool $19.84 and the Bah Hum Pug sweater vest for $19.44.
Tweet your ugly Christmas sweater photos to @AmandaTVScoop.
© Copyright IBTimes 2023. All rights reserved.