Where To Buy Ugly Christmas Sweaters 2016: Kohl's, Walmart And Other Stores That Sell Cheap Holiday Shirts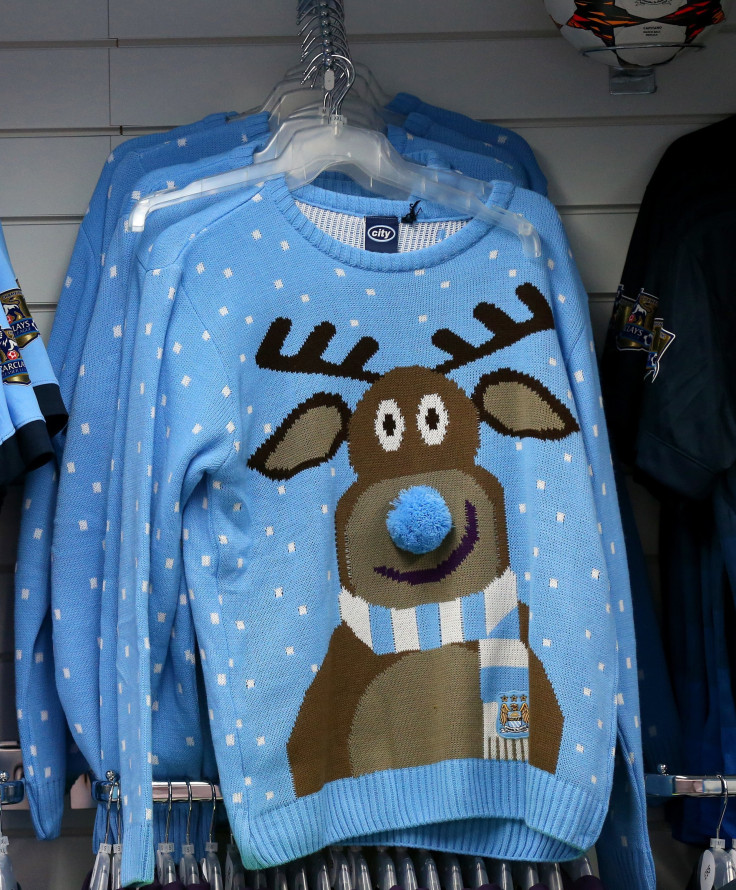 Christmas is fast approaching, which means it's almost time for presents, cookies and … ugly holiday sweaters! If you'll be attending an ugly sweater party at your job or you're just in the mood to walk around in one of these hilariously unattractive shirts, then you should hurry up and head over to your nearest retail store.
With the popularity of ugly Christmas sweaters on the rise, several retail chains are now selling sweaters and shirts that you typically would want to bury all the way in the back of your closest. Below we rounded up a few of the stores selling the funniest and ugliest holiday sweaters. And bonus: they won't break the bank!
Kohl's: Nothing says ugly Christmas sweater more than a shirt that lights up. For those ladies looking add to shine to their holiday sweater, Kohl's has a light-up Christmas crewneck sweater on sale for $29.99. You can choose from a blue Ho Ho Ho Santa sweater that has lights around Santa's shades, a red Cool Snowman sweater that has lights around Frosty's shades or a red Christmas tree sweater that has cute little festive lights on it.
For the fellas, Kohl's has the Holiday Scene Sweatshirt that has a button-up sweater print. It costs just $14.99.
Macys: Macys has a nice selection of ugly Christmas sweaters for men, including the American Rag Men's Family Portrait Sweater for $34.99. This unique-looking sweater is a striped turtleneck pullover that has a v-neck sweater print. There's also the American Rag Men's Christmas Tree hoodie that will make you look like, well, a Christmas tree. It's being sold for $34.99.
Party City: This retailer has a bunch of sweaters and shirts, including a long sleeve t-shirt for men that has a realistic print of red suspenders over a Fair Isle sweater. It costs only $21.99. For the ladies, Party City has a festive sweater dress that has way too many holiday decorations on it. This sweater also costs $21.99.
Yandy.com: Want to make sure all eyes will be on you at the ugly Christmas sweater party? Then you should check out Yandy's red and green sweater that includes a printed bright yellow bow. You'll be sure to stand out in this photo, and it costs $20.77. For the men, the online retailer has a funny Santa "butt crack" sweater that has Santa bending over and accidentally mooning everyone. The sweater is on sale for $36.37.
Walmart: Santa must have went a little overboard on the Christmas cookies. Walmart is selling a Men's Sexy Santa Pullover Sweater that has a print of a very overweight Santa wearing a too-tight shirt. It costs only $28.99. If you want to be a little hardcore at the office party, then you should check out Walmart's "Gangsta Wrapper" sweater for women. The black sweater has a print of a tiny elf rocking a pair of shades surrounded by gifts. The sweater costs 10 bucks.
© Copyright IBTimes 2023. All rights reserved.