Where Does Trump Get His Info? Philadelphia Mayor Slams President For 'False Comments' On City's Crime Rates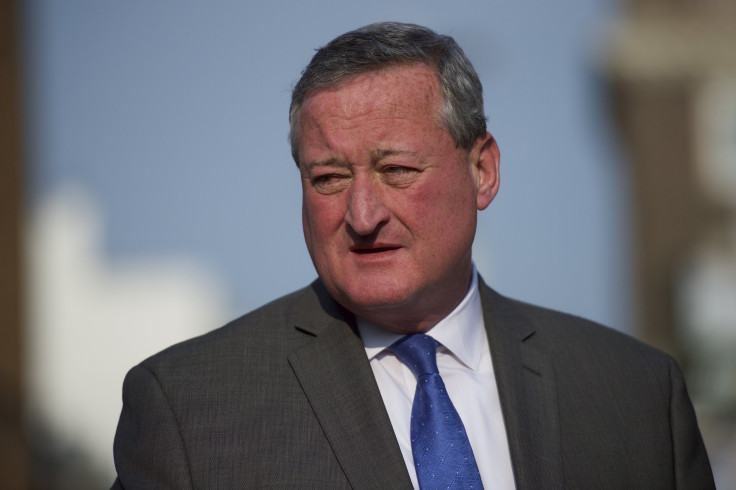 Philadelphia Mayor Jim Kenney debunked President Donald Trump's comments Thursday about the city's crime rates, adding that the commander-in-chief's "false comments were an insult to the men and women of the Philadelphia police force."
Earlier on Thursday, while addressing a group of Republican lawmakers in Philadelphia, Trump reportedly said: "Right now, too many families don't feel secure. Just look at the 30 largest cities. In the last year alone, the murder rate has increased by an estimated 14 percent. Here in Philadelphia, the murder rate has been steady, I mean just, terribly increasing."
However, police data revealed that the incidence of violent crime in the city was at its lowest level since 1979. The number of murders in Philadelphia showed a steady decline from 2007, at which point the city witnessed over 300 cases of homicide a year, to 277 in 2016.
However, there was a spike in the number of homicides in 2016 in comparison with recent years. The city witnessed 246 murders in 2013, 248 in 2014, and 280 in 2015. The city's murder rate, which was at its peak in 1990 with 500 cases of homicide, decreased by 41 percent in the past decade.
"President Trump's false statements today were an insult to the men and women of the Philadelphia police force — the very same men and women who are working long hours today to ensure his safety," Kenney reportedly said Thursday. "Our police officers have worked tirelessly and with great personal sacrifice to get Philadelphia's crime rate down to its lowest point in forty years, while also successfully implementing reforms to strengthen police-community relations and uphold the rights of all our residents."
He also criticized Republicans for failing to implement stricter gun control laws.
"Our homicides are, in fact, slowly declining, and while we are not satisfied with even our current numbers, we are handicapped by Republican refusal to enact any kind of common sense gun control and by their obsession with turning our police officers into ICE agents – which will prevent immigrants from coming forward to report crimes or provide critical witnesses statements that can put dangerous criminals behind bars," the mayor added.
© Copyright IBTimes 2022. All rights reserved.
FOLLOW MORE IBT NEWS ON THE BELOW CHANNELS