Which States Will Legalize Marijuana Next? List Of East Coast States And More Considering Changing Pot Laws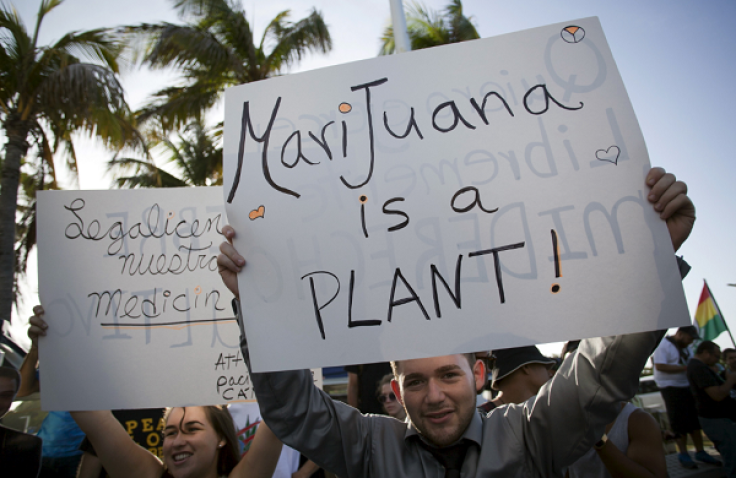 The votes were counted, the oath was taken and Donald Trump became the 45th president of the United States Friday. However, a new president isn't the only thing Americans received as a result of the 2016 election — a slew of citizens got sweet changes to marijuana laws after nine states legalized cannabis in some capacity.
With a new leader of the republic, there are bound to be changes ahead regarding many policies and practices in the U.S. Trump has already said the first of his executive orders would change immigration rules and Obamacare, and advance plans to build a wall along the U.S.-Mexico border. Meanwhile, states where marijuana was legalized were beginning to structure and implement regulations.
However, there could be even more changes to marijuana in America's future because several other states are considering reforming their pot laws.
Check out the list of states debating marijuana reform in 2017 below:
Texas: The Lone Star State has been notoriously strict on marijuana use. However, on the first day of bill filing for the 2017 legislative session, lawmakers filed several requests to decriminalize marijuana, which would reducing charges and changing possession penalties from jail time and a criminal record to a mere civil infraction and $250 fine.
Virginia: Gov. Terry McAuliffe has already voiced his desire to make medical marijuana available in 2017, and lawmakers filed a bill earlier this month proposing the decriminalization of marijuana, which would reduce possession charges down to simple monetary fines from jail time and misdemeanor records.
Tennessee: Two cities in Tennessee already have decriminalized marijuana, reducing charges for possession of the plant. However, state representatives reportedly plan to file a bill during the 2017 legislative season to make marijuana available for medical purposes.
Connecticut: State leaders are hoping to convince Gov. Dannel Malloy to change his stance on full legalization of marijuana and allow adults 21 and older to consume cannabis legally. Democratic Senate President Pro Tempore Martin Looney, who introduced a recreational bill in early January, told the Wall Street Journal legalizing marijuana could produce a "significant revenue source" to help the state's $1.5 billion budget deficit.
Rhode Island: Now that surrounding New England states have legalized recreational weed, lawmakers in Rhode Island are hoping not to get left behind. Two lawmakers submitted legislation that not only would allow adults 21 and older consume marijuana recreationally, but also imposed a 23 percent tax on the drug.
Wisconsin: Medical marijuana isn't necessarily legal in the state; however, people who suffer from seizures can consume products that feature marijuana extracts. Lawmakers want to expand the current program to make all forms of medical marijuana legal for all ailing Wisconsinites.
New Hampshire: Senate Minority Leader Jeff Woodburn said in December he would introduce a recreational marijuana bill this year. Woodburn's proposal would allow adults to use marijuana in a similar way to the state's approach to alcohol, which is only legal for people 21 and older. In addition to considering legalizing recreational use, another group of lawmakers introduced House Bill 215 Jan. 4, which would commission a study of the laws regarding legalization, regulation and taxation of marijuana. The study would examine the impact of marijuana on neighboring states with legal recreational and medical use like Maine and Massachusetts. Findings are to be released by Dec. 1.
New York: Gov. Andrew Cuomo proposed a measure to decriminalize marijuana in early January, the Associated Press reported. Although Cuomo has been a vocal opponent of recreational marijuana, in his 2017 legislative agenda Cuomo wrote, "Data consistently show that recreational users of marijuana pose little to no threat to public safety."
South Carolina: Legislation that would legalize marijuana for "debilitating medical conditions" from cancer to PTSD and even autism was filed by lawmakers in early January called the South Carolina Compassionate Care Act. The state passed a minor bill allowing cannabis oils for medical use in 2014; however, lawmakers failed to realize interstate commerce laws would prohibit residents from actually bringing it to the state as production and sale of cannabis-based oils are very limited locally, making it necessary for people to travel to neighboring legal medical marijuana states to purchase products.
Missouri: Voters may soon have the chance to legalize medical and recreational marijuana in the state after Missouri Secretary of State Jason Kander approved a petition backing an initiative to legalize cannabis for people 21 and older, as well as those suffering from medical conditions who have a doctor's prescription.
© Copyright IBTimes 2023. All rights reserved.