White House Intruder Omar J. Gonzalez Got Closer To Obama Family Living Quarters Than Secret Service First Admitted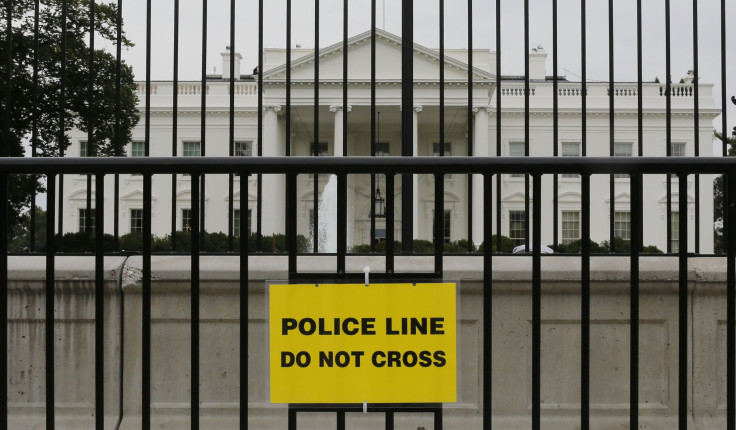 The man who jumped the White House fence and entered the North Portico doors on Friday, Sept. 19, made it all the way to the Green Room, one of three state parlors in the White House used for small receptions, before agents apprehended him close to the Obama family's living quarters, according to the Washington Post. The Secret Service initially said that the intruder, 42-year-old Omar J. Gonzalez, a decorated U.S. military veteran from Texas, had been stopped at the entrance.
However, it seems Gonzalez made it much further into the building than was initially reported, having overpowered a Secret Service officer and sprinted through much of the main floor and through the 80-foot-long East Room. He was armed with a serrated knife that was three and half inches long.
An alarm box near the entrance that was supposed to alert guards inside of a trespasser had been muted by the usher's office, according to new details obtained by the Post. "If true, the fact that [the alarm boxes] were muted to avoid being 'disruptive' is not due to a lack of resources or an insufficient number of checkpoints or barriers," but rather a "lack of leadership" by the Secret Service, Rep. Jason Chaffetz, R-Utah, chairman of a House Oversight committee on Homeland Security, told the Washington Post.
Chaffetz had previously said that Secret Service officials have "a lot of questions to answer." Julia Pierson, the director of the Secret Service, will testify before the House Committee on Oversight and Government Reform on Tuesday regarding the recent security breach, according to the New York Times.
Although President Barack Obama and his family were away from the White House when the break-in occurred, the breach has raised questions about security protocol at the White House and the Secret Service's ability to execute them. While there have been several other incidents in recent years of people jumping the White House fence, Gonzalez having entered the premises is one of the most significant security breaches since Obama became president in 2009.
Prosecutors later found more than 800 rounds of ammunition, two hatchets and a machete in Gonzalez's car, which was parked just blocks from the White House. The military veteran had a "preoccupation with the White House and … represented a danger to the president," Prosecutor David Mudd said. Gonzalez has been detained until his next hearing on Oct. 1.
© Copyright IBTimes 2023. All rights reserved.