White Tiger Mauls Man To Death After He Apparently Jumped Into Its Enclosure At New Delhi Zoo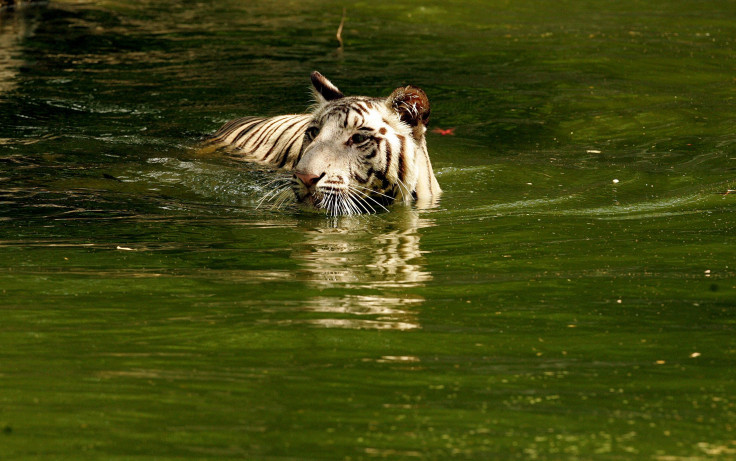 A man was mauled to death by a white tiger at the New Delhi zoo on Tuesday, according to local media. While some reports, citing witnesses, said that the tiger attacked the young man when he "jumped into the tiger's enclosure," others reported that he fell inside.
The attack reportedly occurred around lunchtime after the man, identified only by his first name Maqsood, climbed over a fence at the National Zoological Park in the capital city of India. The barricade separating visitors from the tiger enclosure is low, local media reports said, citing witnesses, who also accused officials at the zoo of lax security and not responding quickly to the incident. Local media reports said that the man was 22 but The Associated Press reported, citing Deputy Commissioner of Police M.S. Randhawa, that he was 20.
"Instead of focusing on saving that person's life, the security was focusing on shooing away the crowds who had gathered there," a witness said, according to CNN.
According to local reports, witnesses also said that security officials arrived nearly 20 minutes after the man fell inside the enclosure. Some witnesses also said that the man slipped into the tiger's enclosure while taking a photograph of the animal.
Meanwhile, another person who was present at the site claimed that the tiger did not attack the man for nearly 15 minutes and instead "silently watched him," adding: "Everyone was pelting stones and making noises to divert the tiger's attention," according to India Today. "It was then that the tiger pounced on the youth with his paw and dragged him inside his enclosure by his neck."
Park spokesman Riyaz Ahmed Khan reportedly said that the man had been warned several times to stay away from the outdoor enclosure of the tiger. The zoo's manager reportedly said that an investigation is underway.
© Copyright IBTimes 2023. All rights reserved.