Who Is Aaron Persky? Judge In Brock Turner Sexual Assault Case Could Be Removed From Bench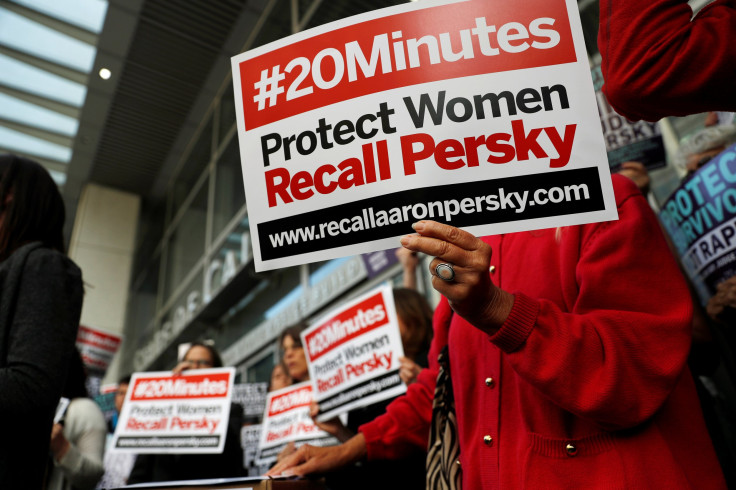 The judge who presided over the sexual assault case against Stanford swimmer Brock Turner could be removed from the bench thanks to a petition. A campaign to remove Superior Court Judge Aaron Persky garnered 94,539 signatures, enough to place it on the June ballot, according to KGO-TV.
The Santa Clara County Registrar of Voters confirmed in a press release Tuesday that the campaign to recall Persky collected enough signatures to head to a vote.
Persky was appointed by Democratic Gov. Gray Davis in 2003 to the Superior Court of Santa Clara County in California, according to Ballotpedia.
In the now-notorious trial, Persky sentenced Turner to 6-months in jail after he was found guilty of three counts of felony sex crime in 2015. Persky said Turner's lack of any prior convictions and his youth as reasoning for his sentencing decision, stating that a longer sentence would have a "severe impact" on him. Persky also said in his decision that there was "less moral culpability attached to the defendant who is legally intoxicated," according to the New York Daily News.
Turner was subsequently released from jail after three months.
The case garnered widespread outrage after the victim read a letter aloud at the trial, detailing the impact of the assault.
Those who petitioned to recall the judge also claimed he had a "history of awarding lenient sentences to athletes and upper class defendants for sex crimes and violence against women."
"Judge Persky's decision is unacceptable," the online campaign read. "Judge Persky's ruling also sends the message that campus rape is not 'real' rape. Rape is rape whether it happens on campus or off and whether the perpetrator is an elite athlete or not. This dangerous ruling makes all women at Stanford and at colleges across California less safe."
A website was set up to combat the recall efforts, on which Persky said he believed in "judicial independence" and had a "reputation for being fair to both sides."
"As a judge, my role is to consider both sides," Persky said in response, according to The Mercury News. "It's not always popular, but it's the law and I took an oath to follow it without regard to public opinion or my opinions as a former prosecutor."
Persky's decision also drew an investigation by the California Commission on Judicial Performance. The investigation, however, was closed in 2016 after the commission said there was "not clear and convincing evidence of bias, abuse of authority or other basis to conclude that Judge Persky engaged in judicial misconduct warranting discipline."
© Copyright IBTimes 2023. All rights reserved.