Who Is Ben Carson? GOP Debate 'Winner' A Neurosurgeon Looking To Prove Political Expertise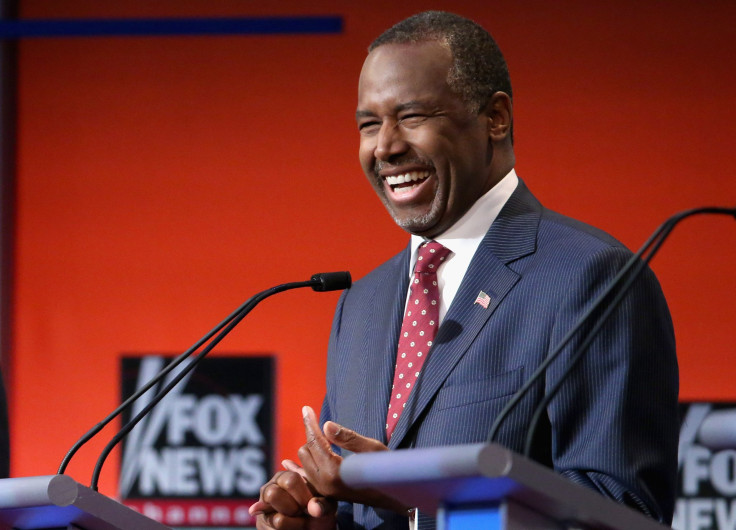 When the top 10 Republican presidential candidates took the stage for the first prime-time GOP debate Thursday night, they were all hoping to stand out. But two hours later, it wasn't the loudest or meanest men who some said had made the most impact. It was Dr. Ben Carson, who spoke calmly from his lectern three spots in from the left and grabbed the attention of thousands.
In a debate with no official winner, Carson seemed to come out on top. His jokes, comments on race and references to medical expertise went over well and earned him 24,000 new Twitter followers and 230,000 Facebook fans, the most of any candidate. A One America News Network poll found that 22 percent of respondents thought he won the debate, and 80 percent of them said they had a more favorable opinion of Carson after the event.
This could indicate that the debate was many people's first introduction to Carson, a retired pediatric neurosurgeon who spent 29 years working at the Johns Hopkins Hospital in Baltimore. So here's a refresher on who he is.
Carson, now 63, grew up in Detroit in a single-mother household. He was bad student and had anger problems, even at one point trying to stab a friend over which radio station they should listen to. To remedy this, Carson turned to psychology and faith. He learned to keep his temper under control.
He attended Yale University and earned a degree in psychology, then proceeded to the University of Michigan to get his medical degree. Carson did his residency at Johns Hopkins University and stayed on afterward. He later became the first surgeon to successfully separate twins conjoined at the head.
Carson didn't really enter the political scene until 2013, when he stood up at President Barack Obama's National Prayer Breakfast and criticized him for nearly a half-hour. Carson took on healthcare, education, national debt and political correctness, among other topics. "We've reached a point where people are actually afraid to talk about what they want to say, because somebody might be offended," Carson said. "We've got to get over this sensitivity and it keeps people from saying what they really believe."
He joined the Republican Party a year later and announced his presidential campaign in May. He entered Thursday's debate in fifth place, with support from 5.8 percent of likely GOP primary voters.
Ben Carson Campaign Contributions by State | InsideGov
Carson took the spotlight during the debate for his humor, which included a comment to Fox News host Megyn Kelly that he wasn't sure he'd get to speak after she called on other candidates for 40 minutes. Carson talked for 6 minutes, 28 seconds total -- less time than former Arkansas Gov. Mike Huckabee, former Florida Gov. Jeb Bush and businessman Donald Trump. He sidestepped a question on the ethics of torture and said he wanted to strengthen the military. Carson also turned heads when he said he doubted Democratic front-runner Hillary Clinton would be the rival party's nominee.
At one point, Kelly asked Carson -- a black man -- what he would do to heal the racial divide in the United States. He said he didn't like that every incident between two people of different races turned into a "race war" because it drove people apart. Carson added that he didn't discuss the issue often because of his profession.
"When I take someone to the operating room, I'm actually operating on the thing that makes them who they are," he said. "The skin doesn't make them who they are, the hair doesn't make them who they are, and it's time for us to move beyond that because -- you know, our strength as a nation comes in our unity."
He invoked his medical experience in his closing remarks, as well. Carson said he should stand out among the candidates because he's the only one who'd surgically removed half of a brain -- "although you would think if you go to Washington someone had beaten me to it," he joked.
In a statement posted to Facebook on Friday morning, Carson seemed happily surprised by his sudden popularity. "What can I say, Cleveland Rocks!" he wrote. "Last night something amazing happened."
© Copyright IBTimes 2023. All rights reserved.