Who Is Bristol Palin? Sarah Palin's Daughter Joining 'Teen Mom OG' Cast
Former Governor of Alaska Sarah Palin's daughter Bristol Palin is going to be joining the cast of "Teen Mom OG," TMZ reported.
According to the report, Bristol has "signed on as a regular on the show," alongside Amber Portwood, Catelynn Baltierra, and Maci Bookout.
The news was confirmed by the Ashley's Reality Roundups. "Amber, Catelynn and Maci did not even know," a source told the publication. "It was kept under wraps because MTV was afraid that Sarah [Palin] would pull out, and MTV knew that the original girls would be upset. In fact, they even used a different name when discussing Bristol being on the show, to keep it a secret!"
Here are a few interesting facts about Bristol.
Bristol, 27, was born on October 18, 1990, in Wasilla, Alaska, and went to Juneau-Douglas High School while Sarah was governor. At the age of 18, she was pregnant with the child of her then boyfriend Levi Johnston.
The news of her pregnancy created quite a controversy at the time, especially since her mother was campaigning as the running mate of Sen. John McCain (R-AZ) — a presidential candidate at the time, Earn The Necklace reported.
Although the couple always answered in the affirmative when asked whether they planned to get married, their relationship came to an end after their son, Tripp was born. Both of them entered into a custody battle for their son and while Bristol was given primary custody of Tripp, Johnston was allowed visitation rights, and also made responsible for child support payments.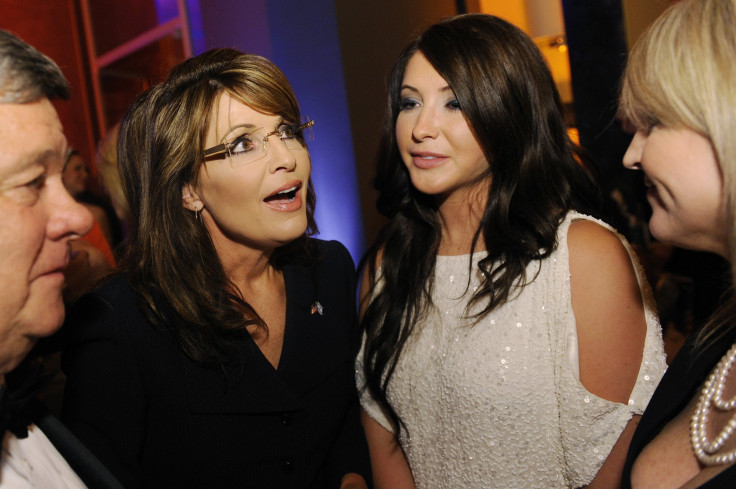 Despite having a child out of wedlock, Bristol began working with the Candie's Foundation, which aimed to prevent teen pregnancy and promote abstinence. However, Bristol often wavered in her views on abstinence while working for the foundation.
"Regardless of what I did personally, abstinence is the only 100% foolproof way you can prevent pregnancy," Bristol initially said. However, in a 2011 interview, she stressed she did not want to "be named as an abstinence preacher….I'm not out there saying don't have sex. I hate that kind of stuff. Birth control needs to be used effectively each and every single time if you're gonna be having sex…I'm not advocating [abstinence] for everyone else."
In 2015, her mother announced that Bristol's wedding to former marine, Dakota Meyer, who received the Medal of Honor, was cancelled. A month after the announcement, news broke that Bristol was pregnant with her second child. She told the media that although the baby was unplanned, she had decided not to abort it.
She did eventually get married to Meyer in June 2016. By December that same year, Bristol and her husband were expecting a second child and the fifth member of their family.
Bristol is currently in the process of separating from her husband, TMZ reported in February. According to sources, although the pair had not filed divorce papers then, they were no longer living under the same roof and had unfollowed each other on Instagram.
In 2010, Bristol also participated in "Dancing With The Stars" with choreographer Mark Ballas and came in third.
She also tried to pull a Kardashian and have a TV show featuring her life in 2012, called "Bristol Palin: Life's a Tripp," meant to focus on how she dealt with the birth of her first child, but it was canceled after one season.
© Copyright IBTimes 2023. All rights reserved.