Tuesday Election Live Updates 2016: Results From Florida, Ohio, Illinois, Missouri And North Carolina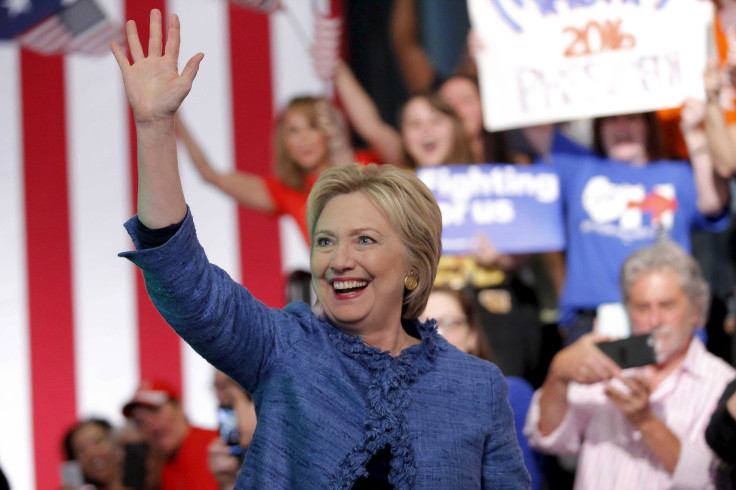 UPDATE: 4:30 a.m. EDT — Hillary Clinton has won Democratic Primary in Illinois, securing 50.5 percent of the votes cast, the Associated Press reported. Her rival Bernie Sanders, meanwhile, won 48.7 percent of the votes.
UPDATE: 12:59 a.m. EDT — Hillary Clinton is the projected winner in Missouri, where only a few votes seperated her from Bernie Sanders, NBC News reported. In the GOP contest, about 2,400 votes separate Donald Trump and Ted Cruz in the race for delegates.
UPDATE: 12:45 a.m. EDT – In Missouri, Hillary Clinton is the favorite among women at 56 percent to 43 percent, and Bernie Sanders is winning men at 54 percent to 45 percent. Sanders got 29 percent of black voter support, CBS News exit polls show.
UPDATE: 12:21 a.m. EDT – Hillary Clinton is the projected winner in Illinois, where she was born, CNN reported. She also won Florida, North Carolina and Ohio Tuesday night. She was not the favorite heading into Illinois, where Bernie Sanders campaigned heavily against her.
UPDATE: 11:50 p.m. EDT – It's still too close to call in Missouri and Illinois for the Democrats. Republican Donald Trump and Democrat Bernie Sanders had narrow leads in Missouri with 84 percent of the vote in, while Hillary Clinton was ahead of Sanders by 2 points in Illinois with 75 percent reporting, according to various media outlets.
Trump had 41 percent of the vote in Missouri, the only GOP race remaining Tuesday night. He won in Florida, Illinois and North Carolina. John Kasich won Ohio.
Clinton won Florida, North Carolina and Ohio.
UPDATE: 11:41 p.m. EDT – Voters don't want political insiders in the White House, but they are fine with keeping them in the House of Representatives. Incumbents in Illinois and Ohio congressional races won against competitive rivals Tuesday, despite the anti-establishment fervor that has fueled Donald Trump's presidential campaign. Voters in Texas, Alabama, Mississippi and Arkansas have also kept incumbent lawmakers over challengers in recent primary contests, the Hill reported.
UPDATE: 11:30 p.m. EDT – Remember that time Marco Rubio said whoever wins Florida will become the Republican nominee? Donald Trump does. He tweeted a video Tuesday night after winning Florida, reminding voters of Rubio's remark.
Rubio told supporters in early March: "I believe with all my heart that the winner of the Florida primary next Tuesday will be the nominee of the Republican Party."
UPDATE: 11:20 p.m. EDT – House Speaker Paul Ryan hasn't technically ruled out accepting the GOP presidential nomination in the event of a contested convention. In a CNBC interview Tuesday night, his strongest response to demands that he run for president was muted.
"You know, I haven't given any thought to this stuff," Ryan said. "People say, 'What about the contested convention?' I say, well, there are a lot of people running for president. We'll see. Who knows."
UPDATE: 10:55 p.m. EDT – Ted Cruz said he is the only Republican who has repeatedly beat Donald Trump and the only rival with a chance of winning the nomination. He also cast Trump as a flip-flopper.
"Do you want a candidate who shares your values, or a candidate who has spent decades opposing your values?" Cruz said in a speech Tuesday night.
UPDATE: 10:30 p.m. EDT – There's one Republican race left to call. Missouri, where 52 delegates are up for grabs, has turned into a close race between Donald Trump and U.S. Sen. Ted Cruz of Texas. If the winner clears 50 percent of the vote, they get all the delegates. But that seems unlikely, the Guardian reported.
UPDATE: 10:10 p.m. EDT – Donald Trump said voters want a leader who will protect the Second Amendment, veterans and the military -- and he is the guy to do it. Trump gave a somewhat reserved victory speech from Palm Beach, Florida, on Tuesday night after picking up crucial primary wins in Florida, North Carolina and Illinois.
"This country is going to start winning again. We don't win anymore," he said. "We don't win with our military. We can't beat ISIS. We are going to knock the hell out of them. We don't win with trade ... Anybody we do business with beats us."
He said there was a record number of negative ads against him that "were mostly false."
UPDATE: 9:56 p.m. EDT – Donald Trump is the projected winner in North Carolina's Republican primary, according to Fox News and NBC News. Minutes after the call was made, Trump addressed supporters in Florida, noting that he wasn't sure about the results in Illinois, where he was declared the winner a few minutes earlier.
UPDATE: 9:45 p.m. EDT – Donald Trump is the projected winner of the Illinois Republican primary Tuesday night, adding to his massive delegate count. Trump also claimed he won North Carolina, but the race is still too close to call.
UPDATE: 9:30 p.m. EDT – Gov. John Kasich told Ohio on Tuesday night he was going to win the Republican Party's presidential nomination. His speech came after he won the GOP primary in his home state for his first victory of the 2016 race.
"I want to remind you tonight that I will not take the low road to the highest office in the land," Kasich said, in a clear reference to the often vulgar rhetoric of GOP front-runner Donald Trump.
There aren't enough primary elections left this year to help Kasich get the 1,237 delegates needed to win the Republican nomination, but by winning his home state of Ohio Tuesday night, Kasich may have made it so no one else can reach that crucial number, either, the Guardian reported.
UPDATE: 9:12 p.m. EDT – Hillary Clinton told supporters she was moving closer to securing the Democratic Party's presidential nomination and winning the general election in November before she turned her focus to Donald Trump during a Tuesday night victory speech that seemed like a preview to her fight against the New York businessman in coming months.
"This may be one of the most consequential campaigns of our lifetimes," Clinton said. "When he embraces torture, that doesn't make him strong, that makes him wrong. ... This isn't just about Donald Trump — all of us have to do our part."
UPDATE: 9:01 p.m. EDT – Hillary Clinton said she has won more votes than any other candidate, Democrat or Republican, in a speech to supporters Tuesday night after she won in Ohio, North Carolina and Florida.
In Ohio's GOP contest, Ohio Gov. John Kasich picked up 66 delegates Tuesday night, and he said he will win plenty more in coming months to catch up with Donald Trump. "I'll have all the money we need," Kasich told CNN after winning his home state. "We also are lining up great political support."
UPDATE: 8:50 p.m. EDT – Gov. John Kasich is the projected winner of Ohio's Republican primary. It's his first win of the 2016 race and he is far behind front-runner Donald Trump in the delegate count, but the victory could help elite Republicans who want to stall Trump's march toward the nomination.
UPDATE: 8:43 p.m. EDT – Hillary Clinton is projected to win Ohio's Democratic primary, while a winner hasn't been announced in the GOP contest. That's her third major victory of the night against rival Bernie Sanders after she picked up Florida and North Carolina.
Meanwhile, elite Republicans who have united against Donald Trump were scrambling to figure out their next step after Marco Rubio dropped out Tuesday night. If Rubio endorses another candidate, he could give them his 163 delegates, though the rules vary from state to state. In some states, delegates are free to vote as they choose after their candidate drops out. A Rubio policy adviser has called on supporters to switch to Ted Cruz.
UPDATE: 8:35 p.m. EDT – Former Secretary of State Hillary Clinton was projected as the winner in North Carolina on Tuesday evening, beating rival Vermont Sen. Bernie Sanders. Clinton had 58 percent of the vote to Sanders' 32 percent. Clinton stands to pick up 107 delegates in the Tar Heel State.
UPDATE: 8:25 p.m. EDT -- U.S. Sen. Marco Rubio suspended his campaign for president Tuesday night after losing his home state of Florida. He also warned Republicans that they might lose the 2016 election if they continue to rally behind Donald Trump and divide the nation.
"While we are on the right side, this year, we will not be on the winning side," he said.
He added: "While it is not God's plan that I be president in 2016, or maybe ever, I ask the American people, do not give into the fear. Do not give into the frustration."
UPDATE: 8:10 p.m. EDT -- In North Carolina early voting results, Donald Trump had 42 percent of the vote, while Hillary Clinton had 59 percent. In Ohio, Gov. John Kasich had 45 percent of the vote and Clinton had captured 69 percent of the electorate. The contests are still too close for a winner to be named after Florida results were predicted within minutes of the polls closing at 8 p.m. EDT.
UPDATE: 8:01 p.m. EDT -- Republican Donald Trump has been declared the winner of the Florida GOP primary within minutes of the polls closing at 8 p.m. EDT in a race that was considered a must-win for Florida Sen. Marco Rubio. Florida's 99 delegates all went to Trump, putting him closer to the GOP nomination despite efforts from many Republican leaders, including 2012 nominee Mitt Romney, to stall his campaign.
In the Democratic contest, Hillary Clinton was named the winner of Florida's primary against Vermont Sen. Bernie Sanders. She remains far ahead in the delegate race and her Florida victory solidified her standing as the presumptive Democratic presidential nominee.
Polls also closed in Missouri as of 8 p.m. EDT.
UPDATE: 7:45 p.m. EDT -- Bernie Sanders is looking past Florida and heading to Arizona, where voters will weigh in on the 2016 race next week. As results came in from Florida with Clinton trouncing him by high margins, Sanders arrived in Arizona on Tuesday to campaign.
Meanwhile, in the Republican race, rapper Foxy Brown, a lifelong Democrat, endorsed Donald Trump on Tuesday. But Trump wasn't the favorite in Ohio. There, voters seemed to be backing Gov. John Kasich, according to exit polls.
.@BernieSanders just landed in Phoenix, Arizona. He seemed cheerful as he waved to reporters. pic.twitter.com/YtjxODiWRk

— Yamiche Alcindor (@Yamiche) March 15, 2016
UPDATE: 7:35 p.m. EDT -- Polls have closed in Ohio, while in Florida, Donald Trump and Hillary Clinton were far ahead of their rivals. Clinton had 67 percent of the vote so far in Florida, where polls close at 8 p.m. EDT. Trump had more than 40 percent of the vote.
UPDATE: 7:20 p.m. EDT -- Donald Trump has a substantial 48 to 24 percent lead over Marco Rubio with nearly 400,000 votes counted, according to an early count Tuesday night of the Republican vote in Florida. Polls in the state close at 8 p.m. EDT, but Trump has already declared himself the winner on Twitter.
UPDATE: 7:05 p.m. EDT -- With 1 percent of the vote announced in Florida, Donald Trump has a small lead, CNN reported Tuesday night. There are 358 Republican and 691 Democratic delegates at stake in five states. International Business Times has a map of the returns as they come in here.​
Delegates Awarded to Republican Candidates | InsideGov
UPDATE: 6:45 p.m. EDT Hillary Clinton is expected to win big Tuesday night, but Bernie Sanders supporters really aren't happy about it. Democratic primary voters casting their ballot Tuesday said they might not support her if Sanders is not the eventual nominee, according to NBC News' exit polling. Roughly 51 percent said they would be dissatisfied with her.
Bernie Sanders Presidential Candidate Profile | InsideGov
UPDATE: 6:20 p.m. EDT -- New Jersey Gov. Chris Christie defended his endorsement Tuesday of Republican front-runner Donald Trump.
"No, I don't feel like a sidekick. You know, I'm an endorser of someone for president of the United States," he said at a news conference, Politico reported. "And if that makes you a sidekick in your world, that's OK by me. But that's not what I would see myself as."
UPDATE: 5:55 p.m. EDT -- Former President Bill Clinton called Democratic presidential candidate Bernie Sanders the "blame candidate" ahead of Tuesday's primaries in Ohio, North Carolina, Illinois and Florida. "There's a blame candidate and a responsibility candidate in this race," he told NBC News outside a polling place in Illinois. "I bet the responsibility candidate is going to win."
UPDATE: 5:40 p.m. EDT -- Senate Majority Leader Mitch McConnell called Republican presidential front-runner Donald Trump Tuesday to denounce the violence that has erupted at his rallies. "I mentioned to him that I thought it would be a good idea for him no matter who starts these violent episodes to condemn it," McConnell told reporters on Tuesday.
UPDATE: 5:10 p.m. EDT -- President Barack Obama warned Tuesday that "vulgar and divisive" rhetoric and violence on the campaign trail could hurt America's standing in the world. Obama's remarks came amid growing violence at Republican front-runner Donald Trump's rallies.
"Too often, we've accepted this as somehow the new normal. And it's worth asking ourselves what each of us may have done to contribute to this vicious atmosphere in our politics," Obama said, the Hill reported. "And while some may be more to blame than others for the current climate, all of us are responsible for reversing it, for it is a cycle that is not an accurate reflection of America. And it has to stop."
UPDATE: 4:30 p.m. EDT -- Ohio turnout Tuesday was up compared with 2012 levels, and state Republicans were pointing toward business mogul Donald Trump. "It's the Donald Trump phenomenon," Hamilton County GOP Chairman Alex Triantafilou told local reporters. "This much we can say about Donald Trump: He elicits a lot of emotion, both pro and con."
Ohio election officials were predicting turnout of up to 45 percent. In 2012, 20 percent of voters showed up.
UPDATE: 4 p.m. EDT-- Donald Trump is raising the alarm about potential voter fraud. He said Tuesday received "a lot of complaints" that his name was not on the ballot at some Florida polling stations. He has made similar complaints about Florida's voting process in recent days.
UPDATE: 3:10 p.m. EDT -- A sneak peek of Democratic candidate Hillary Clinton's appearance on Comedy Central's popular show "Broad City" was released online Tuesday afternoon. The stars of the show clarified that Clinton's cameo on the show does not necessarily mean that they are endorsing her.
"I think that we were not trying to make a political statement. Our writing process is that we wrote season three a year ago, and we weren't like -- that's not our show, really -- 'Let's make a political stance here.' It's really more that this is something that Ilana's character would do. And Hillary, even regardless of where we stand -- and we love Hillary -- Hillary is such an iconic figure," "Broad City" star Abbi Jacobson said at a SXSW panel, Vulture reported.
UPDATE: 2:38 p.m. EDT – Though analysts have said Tuesday is Marco Rubio's last chance to show he's a viable candidate, the Florida senator has vowed to push forward even if he loses his home state, BuzzFeed reported Tuesday. Rubio's campaign has struggled to attract support, particularly as front-runner Donald Trump has captured the spotlight. Trump is hoping success Tuesday will pressure the GOP into lending him their wary support.
Donald Trump Presidential Candidate Profile | InsideGov
UPDATE: 1:43 p.m. EDT -- For the first time this election cycle, Republican candidate and billionaire businessman Donald Trump has garnered the support of a majority of GOP primary voters nationwide with 53 percent, a new Economist/YouGov poll revealed. Meanwhile, Florida Sen. Marco Rubio slipped in favorability among GOP voters; 42 percent of Republican primary voters said that they have become less favorable toward Rubio.
The poll was conducted mostly before violence, protests and arrests erupted at Trump rallies in Chicago, Dayton, Ohio, and Kansas City, Missouri, last weekend.
UPDATE: 1:25 p.m. EDT -- Republican presidential front-runner Donald Trump has so far earned the equivalent of $1.9 billion in free advertising due to the intense media coverage he has received this election cycle, according to a report released Tuesday by the New York Times. In comparison, his nearest rival, Texas Sen. Ted Cruz, has earned $313 million in free advertising. The figure for the free advertising was calculated based on media coverage and the equivalent advertising rates.
The real estate mogul has spent only $10 million in paid advertising, while former Republican candidate Jeb Bush spent a whopping $82 million.
UPDATE: 1:05 p.m. EDT -- Voters at Pompano Beach Middle School in Pompano Beach, Florida, were disrupted from the voting process for almost two hours after being evacuated following a hoax bomb threat Tuesday morning, WFOR-TV reported. Students and voters were allowed back inside the school just before 10:30 a.m. local time after the authorities determined that the threat was a hoax.
Meanwhile in North Carolina, officials with the state's board of elections are investigating reports of computer issues that occurred at voting sites Tuesday morning, WTVD-TV reported.
UPDATE: 12:10 p.m. EDT -- Republican front-runner Donald Trump's son Eric took to Twitter Tuesday morning, slamming Ohio Gov. and GOP candidate John Kasich. The younger Trump tweeted, "Mathematically it is statistically impossible for Kasich to get to 1,237 - he would need 112% of the remaining delegates to be the nominee!"
However, the Guardian reported that there are 1,401 available delegates remaining in the Republican presidential primary, and Kasich already has 63 delegates. He would therefore need to win 83 percent of the remaining delegates to win the party's nomination, which is not "statistically impossible."
Eric Trump graduated from Georgetown University with a degree in finance.
UPDATE: 11:15 a.m. EDT -- Ohio Gov. and Republican candidate John Kasich was seencasting a vote for himself Tuesday morning at a voting booth in Westerville, Ohio.
Marco Rubio Presidential Candidate Profile | InsideGov
UPDATE: 10:40 a.m. EDT -- Republican front-runner Donald Trump went back on his previous statement that he would pay the legal fees for a supporter who punched a protester in the face at one if his rallies, the New York Times reported. Trump had previously said that he would pay the legal fees of supporters who roughed up protesters. On Sunday's edition of the CBS political news show "Meet the Press," the billionaire businessman said that he instructed his staff members to look into paying the legal fees of a man who is facing assault charges after sucker-punching a demonstrator at a Trump rally last week in North Carolina.
However, Trump changed his tune Tuesday morning in an interview with "Good Morning America."
"I don't condone violence and I didn't say I was going to pay for his fees," he said. "Nobody asked me to pay for fees."
UPDATE: 10:05 a.m. EDT -- Officials said Democratic Hillary Clinton is expected to arrive in central North Carolina around 9:30 a.m. local time to visit with voters at a polling site, in a final push for a win in the state's primary. The exact location was not disclosed.
Polls showed Clinton holding a wide lead in North Carolina and Florida heading into Tuesday's primary elections.
UPDATE: 9:30 a.m. EDT -- In an interview with WFOR-TV, Florida Sen. Marco Rubio urged voters to vote for him and said he is the only one who has a chance of beating Republican front-runner Donald Trump, acknowledging that it will be a tough race.
"This is an individual who has been vulgar and divisive. I don't think we've seen anything like this in the history of American politics. This country deserves better," said Rubio. "Even if you are thinking about voting for one of the other candidates, Ted Cruz or John Kasich, they're not even doing campaigning in Florida, they have zero chance to win here. But if you vote for them instead of me you are in essence voting for Donald Trump."
Trump has a large lead in Florida's Republican field with 46 percent. He is trailed by Rubio, who has 22 percent, according to new polling from Quinnipiac University.
UPDATE: 8:45 a.m. EDT -- Republican candidate Donald Trump has won the Republican caucus in the Northern Mariana Islands, nabbing nine pledged delegates.
UPDATE: 8:30 a.m. EDT -- Polls opened up at 6 a.m. local time in Missouri, with officials expecting a big turnout for Tuesday's primary elections. Eric Fey, the director of elections for St. Louis County, said in 2008 they had a 43 percent voter turnout for the presidential primary, while in 2012 that number dropped to eight percent. He predicted that the voter turnout for this year's presidential primary will be in the low to mid 40 percentage range, KTVI reported.
Hillary Clinton Presidential Candidate Profile | InsideGov
While there has not been much polling in the state, the Wall Street Journal predicted that Texas Sen. Ted Cruz will do well on the Republican side, while Vermont Sen. Bernie Sanders will fare well with Democrats due to the state's largely white, rural counties.
In Illinois, polls also opened 6 a.m. opened local time. Early voting in Illinois for this year's presidential primaries reached record levels, and by Monday, over 130,000 people had already cast ballots in Chicago and over 102,000 had voted in suburban Cook County.
UPDATE: 7:44 a.m. EDT -- Computer problems occurred across all 199 precincts in Duval County, Florida, in the Jacksonville area, according to a tweet from a local reporter. In response, the elections offices said every precinct went to paper ballots as of 7 a.m. local time.
Hordes of people in Duval County had flocked to the polls for early voting, and the numbers from the county's Supervisor of Elections site showed that Republican votes outnumbered Democrat votes by almost 10,000.
In Florida, Duval, Hamilton, Jefferson and Madison Counties are characterized by large African-American populations and lower household incomes, according to the Wall Street Journal. It was predicted that Republican candidate Donald Trump and Democratic candidate Hillary Clinton will do very well in Duval, Hamilton, Jefferson and Madison Counties.
UPDATE: 7:08 a.m. EDT -- Presidential primary voting has begun in Ohio, where Gov. John Kasich is looking to remain in the Republican race by winning his first contest of the primary season. Rival candidates are apparently pushing a voting strategy and urging voters to cast their ballots for anybody but Donald Trump, who is entering Tuesday with a polling lead over Kasich, Texas Sen. Ted Cruz and Florida Sen. Marco Rubio.
Trump delivered a speech Monday night in Youngstown, Ohio, to tell tell voters that Kasich was "weak on the borders. Trump and some political pundits have argued that if Kasich can't win his home state then he has no business running for president.
Rubio faces the same task of winning his home state when voters take to the polls in Florida Tuesday.
UPDATE: 6:40 a.m. EDT -- Sybrina Fulton, the mother of Trayvon Martin, an unarmed teenager who was killed in 2012 before the admitted killer was ultimately acquitted, tweeted Tuesday morning her support for former Secretary of State Hillary Clinton's presidential bid. Fulton's tweet was accompanied by the hashtag "MothersoftheMovement, a reference to mothers of other unarmed black people who have died, including seen their children die under questionable circumstances, many times at the hands of law enforcement.
The tweet also included a Clinton ad that features the mothers "who have turned unimaginable grief into a call to action we all need to hear," as the candidate tweeted earlier this month.
UPDATE: 6:30 a.m. EDT -- Polls in North Carolina have opened and political observers are watching the state closely for how the state's voter I.D. laws may factor into the contest. The laws were passed in 2012 but this is the first time they will be put to the test in an election where high turnout is expected. The laws were enacted to prevent voter fraud but have in some cases forced voters without the proper identification to cast provisional ballots, which are not always counted, reported MSNBC.
In North Carolina, voters will need a government-issued I.D. with a photo, such as a driver's license, passport or military I.D. Anything less will result in voting using a provisional ballot, which will only register the vote upon verification of the voter's identity, reported local CBS affiliate WNCT.
Voters in Florida and Ohio will also have strict voter I.D. laws in place Tuesday.
UPDATE: 5:58 a.m. EDT -- The Washington Post forecasts what the Republican race might look like on Wednesday, if the voting goes as polls suggest. According to the paper's prediction, Donald Trump could end up with 727 delegates, Texas Sen. Ted Cruz with 427, and Florida Sen. Marco Rubio would drop out after being beaten in his home state by Trump, with Ohio Gov. John Kasich dropping out shortly after. The Post suggests that Cruz may close in on Trump as the contest continues, putting the race on the path toward a contested convention.
Donald Trump Campaign Committee Spending | InsideGov
UPDATE: 5:00 a.m. EDT -- Tuesday's elections will put to the test Republican front-runner Donald Trump's claims that he is the only GOP candidate with the broad appeal necessary to win in a general election. According to a CNN analysis, if Trump is able to triumph in the swing states of Florida and Ohio – which could be key to a general election victory – then he would have significant data to back up his argument.
Original story:
"Super Tuesday 3" has officially begun, as voters in a slew of states head to the polls to cast their votes in Democratic and Republican primary elections. The stakes are high for the remaining presidential contenders, and Tuesday's delegate-rich primary contests could serve as Republicans' last chance to block GOP front-runner Donald Trump's path to the party's nomination.
Florida, Illinois, Missouri, North Carolina and Ohio are slated to hold primaries for both parties Tuesday. For Republican candidates, 367 delegates are at stake, while there are 691 delegates up for grabs for Democratic candidates.
Heading into Tuesday's elections, numerous polls had Trump beating Florida Sen. Marco Rubio in his home state. A NBC News/Wall Street Journal/Marist poll had Trump leading in Florida with 43 percent, followed by Rubio with 22 percent and Texas Sen. Ted Cruz with 21 percent. A Quinnipiac poll also placed Trump ahead of Rubio 46 percent to 22 percent. A Florida Atlantic University poll had Trump at 44 percent and Rubio at 21 percent.
2016 Presidential Primary Tracker | InsideGov
While Trump led the polls in Missouri, North Carolina and Illinois, the billionaire businessman fell behind Ohio Gov. John Kasich in Ohio's polls, and a FiveThirtyEight forecast showed Kasich as the likely winner of the Buckeye State. Kasich has said that he will drop out of the race if he does not win Ohio.
The Republican caucuses in the North Mariana Islands are also scheduled to take place Tuesday, with nine delegates at stake.
Donald Trump Top Contributing States | InsideGov
On the Democratic side, Hillary Clinton was expected to finish her sweep of the South with wins in Florida and North Carolina. After his surprising and significant victory in Michigan last week, all eyes were on how Vermont Sen. Bernie Sanders would perform in Midwest states including Illinois, Missouri and Ohio. Recent polls showed a tightened race in Missouri, as well as Sanders gaining on Clinton in Illinois and Ohio, according to USA Today.
However, even if Sanders managed to pull off wins in Ohio and Illinois, Clinton's front-runner status would remain unchanged. Since delegates are awarded proportionally, she won't be shut out in the Midwestern states. The former secretary of state currently has 1,234 total delegates, which is over half the amount needed to win the nomination. Meanwhile, Sanders has 579.
Check back for updates throughout the day.
© Copyright IBTimes 2023. All rights reserved.