Who Is Daniel Prude? Chicago Native's Death Sparks Protests In New York
KEY POINTS
Daniel Prude was born in Chicago and still lived in the city with his father and sister
Prude's brother, Joe Prude, said the two spoke and visited each other regularly after the latter moved to New York
Prude's death is currently under investigation by the New York Attorney General's office
The death of Daniel Prude in Rochester, New York, after being forcefully restrained by police is the latest incident to spark protests after a video of Prude's arrest in March was released Wednesday. His death was ruled a homicide and is currently under investigation.
But who was Daniel Prude?
Prude, 41, was born in Chicago in 1978 to Dorothy Prude and Joe Louis Prude. Prude spent most of his life in Chicago with his father and his sister, Tameshay Prude, both of whom still reside in the city. His brother Joe Prude moved to Rochester. His mother has since passed away.
Joe Prude said he spoke with his brother often and the two regularly visited each other after Joe moved out of Illinois.
"We frequently visited each other and spoke on the telephone," Joe Prude said in court documents acquired by the Rochester Democrat & Chronicle. "We shared the most intimate parts of our lives with each other."
"Daniel was never aggressive with any one. Daniel never bothered anybody."
Daniel Prude was visiting his brother in March when Joe Prude called police to help his brother, who was going through a "mental health crisis" on March 23. Rochester police found Daniel Prude out in the street naked, ordering him to the ground to handcuff him when Daniel Prude said he had COVID-19. This prompted officers to put a spit hood over his head before he was pushed into the ground. He was formally pronounced dead a week later, but reports indicate the officers believed he died 10 minutes after he was forced to the ground.
The release of bodycam footage from the incident on Wednesday sparked Black Lives Matter protests in Rochester, where Prude's family and activists verbally attacked the police department for its actions.
"I placed the phone call for my brother to get help, not for my brother to get lynched," Joe Prude said to a crowd of protesters Wednesday. "When I say get lynched, that was full-fledged, murder, cold blooded — nothing other than cold blooded murder. The man is defenseless, naked on the ground, cuffed up already. I mean come on, how many brothers got to die for society to understand that this needs to stop? You killed a defenseless black man, a father's son, a brother's brother, a nephew's uncle."
Prude's family has filed a wrongful death lawsuit against the city of Rochester for his death.
"We'll address the legal claims later, today we're here to support the family," Prude family attorney Elliot Shields said Wednesday. "We're here to support Joe, and all that I can tell you is what Joe is going through, what his father is going through, what his sisters going through is incredible pain."
"I can't even imagine what Joe is going through and I talk to Joe all the time. It's just terrible and that's why we're here today."
As per New York Gov. Andrew Cuomo's executive order from July, New York Attorney General Letitia James' office is investigating Prude's case along with other cases where law enforcement was involved in a civilian's death.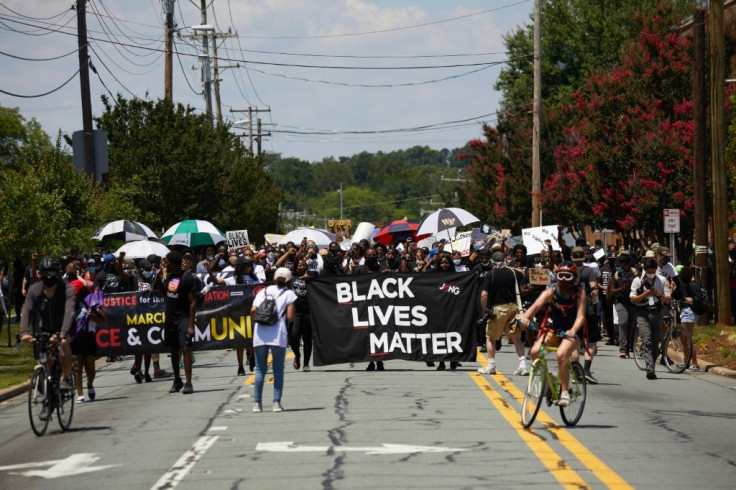 © Copyright IBTimes 2023. All rights reserved.
FOLLOW MORE IBT NEWS ON THE BELOW CHANNELS