Who Gets Top Secret Clearances? Trump Wants His Kids — Donald Jr., Ivanka, Eric — To Have Them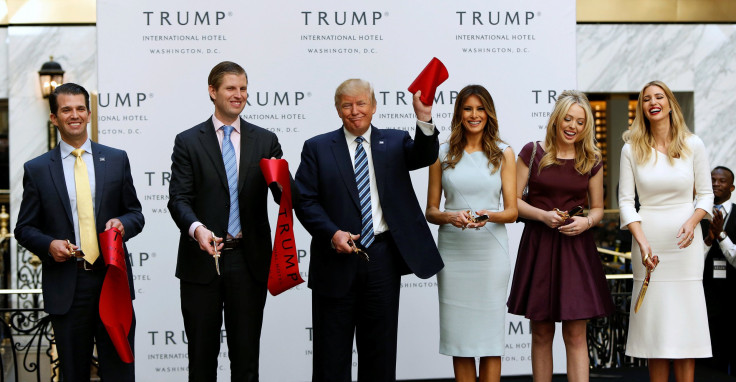 President-elect Donald Trump reportedly wants his oldest children to have top secret security clearances even though nepotism rules prevent them from being hired to work in the White House.
CBS News reported the Trump team has asked the White House to explore the possibility, which technically would require Trump's offspring — Ivanka, Eric and Donald Jr. — to be designated as national security advisers.
The three, along with Ivanka's husband Jared Kushner, already are members of Trump's transition team and played key roles in his election campaign. They have said they want no formal role in government. All three are considered part of Trump's inner circle.
Ivanka Trump has said she intends to stay in Trump's business empire where she is executive vice president of development and acquisitions. Her husband also is a real-estate investor and publisher of the New York Observer. Kushner headed Trump's primary campaign and was at the president-elect's side when he met with President Barack Obama last week.
Donald Trump Jr. and Eric Trump also are executive vice presidents at the Trump Organization, and both have been registered Republicans for years. Eric Trump also runs a foundation to help terminally ill children.
Eligibility for security clearances is determined through a background check to determine the candidate's loyalty to the country, character and judgment.
"Eligibility will be granted only where facts and circumstances indicate access to classified information is clearly consistent with the national security interests of the United States. Access to classified information will be terminated when an individual no longer has need for access," the State Department website says.
The process runs $3,000 to $15,000.
Trump is to receive top secret intelligence briefings through the transition period though no schedule for those briefings have been released. The Washington Post reported the first of those briefings deal with technical and human intelligence sources, as well as Special Access Programs dealing with the most top-secret projects.
Trump also will be briefed about CIA covert operations authorized by the president. Trump will have a chance to decide whether he wants to suspend any of the current dozen operations once he's inaugurated.
He also will be advised about domestic counterterrorism operations, military operations and nuclear war plans.
© Copyright IBTimes 2023. All rights reserved.