Who Is Harvey Weinstein? A Quick Biography Of The Hollywood Legend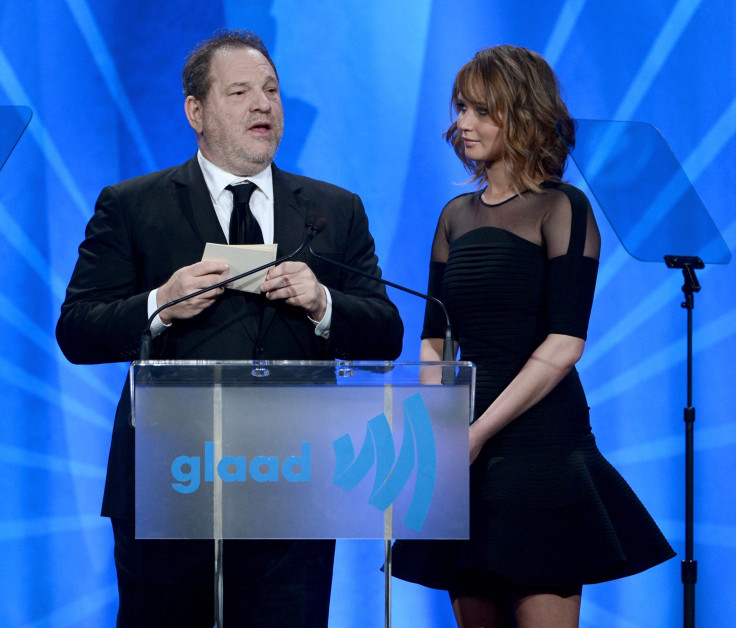 Next to God, Harvey Weinstein is the most-thanked individual in acceptance speeches every awards season. While his name may be uttered by Hollywood's elite as they accept their coveted acting wins, some viewers at home may not be familiar with the entertainment industry legend. Whether you're preparing for the Academy Awards this Sunday, or are simply trying to catch up on the 2015 show, here is everything you need to know about Harvey Weinstein.
Weinstein, 62, is as an American film producer and studio executive. The Flushing, New York, native started his career by co-founding Miramax films with his brother, Bob Weinstein, in 1979. The brothers named the company after their parents, Miriam and Max. Over a 16-year period, the company released 16 best picture nominated films, including, "Good Will Hunting," "The English Patient," "Chicago" and "Gangs of New York."
Following the success of Miramax Films, the pair co-founded the multimedia and distribution company The Weinstein Company (TWC) in 2005. Since its creation, TWC has released dozens of Oscar-nominated films and blockbusters such as "The King's Speech," "The Reader," "Halloween" and "The Mist."
Throughout his career, Harvey Weinstein has earned one Academy Award win for producing 2003's "Shakespeare in Love." He has also garnered dozens of other notable wins such as seven Tony Awards for the musicals "The Producers," "Billy Elliot The Musical" and "August: Osage County." In 2013, he shared the movie of the year honor with director David O. Russell for the hit film "Silver Linings Playbook." Throughout his career, he has accumulated dozens of Emmy nominations, most of which stemmed from his work on Bravo's reality competition series "Project Runway."
In total, the Weinstein brother's projects have garnered more than 300 Oscar nominations and 75 Academy Award wins. Beat that, Meryl Streep.
Over the years, Weinstein's reputation in Hollywood has resulted in a barrage of unique nicknames. Acccording to the Guardian, Madonna once referred to him as "the punisher" and Thomas Langmann, the French producer of TWC's "The Artist," labeled him as "le boss." "He can be your most frightening nightmare and your closest friend," Time reported of Weinstein's personality in 2012. That same year, Weinstein was named as one of the 100 most influential people by the magazine.
While Weinstein is known for his work behind the camera, his persona did make a cameo in several episodes of the HBO series "Entourage." In the show, a sharp-tongued character named Harvey Weingard -- played by Maury Chaykin -- had the same first name, physique and rumored attitude of the Hollywood bigwig.
While Weinstein's career usually takes center stage, he has also found success in his personal life. He is married to Georgina Chapman. He wed the 38-year-old British fashion designer and actress in 2007. The couple has two children, Dashiell and India Pearl. His marriage to his first wife, Eve Chilton Weinstein, ended in 2004 after 17 years. They share three daughters, Lily, Emma, and Ruth.
TWC has one film up for the best picture award at the Oscars this year, "The Imitation Game." The biographical drama stars best actor nominee Benedict Cumberbatch as mathematician Alan Turing. Director Morten Tyldum and actress Keira Knightley are also nominated for their efforts.
© Copyright IBTimes 2022. All rights reserved.
FOLLOW MORE IBT NEWS ON THE BELOW CHANNELS