Who Is Jeanette Vizguerra? Undocumented Immigrant In Denver Fights Trump Immigration Raids, Deportation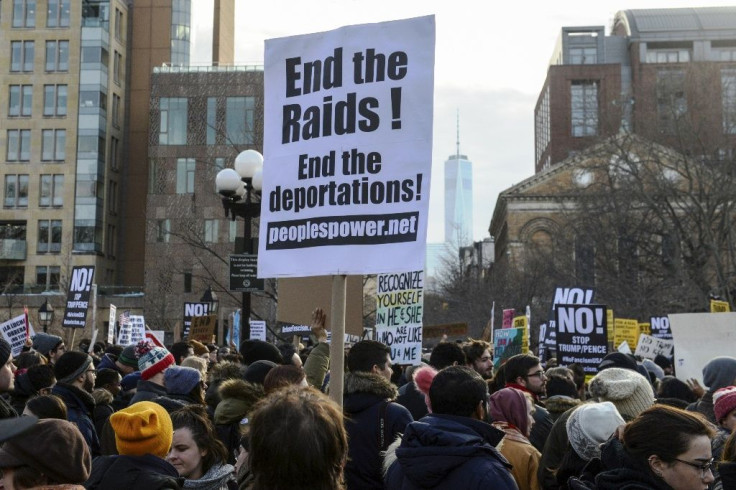 An undocumented immigrant from Mexico is seeking to avoid deportation by taking shelter in a Denver church Wednesday, according to reports. The immigrant, Jeanette Vizguerra, avoided a scheduled meeting with the U.S. Immigration and Customs Enforcement (ICE) officials after the agency declined her request to remain in the country.
ICE spokesman Shawn Neudauer said Vizguerra was an "enforcement priority" as she had two misdemeanor convictions.
"Jeanette Vizguerra-Ramirez, from Mexico, has two misdemeanor convictions. On Nov. 18, 2011, a federal immigration judge originally issued her final orders of deportation to Mexico. Based on these factors, Vizguerra-Ramirez is an ICE enforcement priority. Ms. Vizguerra-Ramirez's request for another Stay of Removal was denied Feb. 15, 2017 by the ICE Denver Field Office," Neudauer told CBS4, a local CBS affiliate.
Hans Meyer, the woman's attorney, said Vizguerra — who is seeking a U visa — was given several extensions under Barack Obama's administration because authorities realized it would take a few more years for her to get the visa. She has an active application for U visa, which is sometimes given to violent crime victims and their family members if they agree to work with authorities in the investigation and prosecution of the crime against them, the Denver Channel reported.
"This is a big, huge red flare that the [Donald] Trump administration has plans to deport as many people as possible," Meyer said, without giving details about the crime in which Vizguerra was a victim.
Vizguerra addressed her supporters through the church. She said she was previously taken into custody for not having a driver's license or current vehicle registration. Authorities have also found that she had a fake identity document, which according to Vizguerra had a Social Security number made up of digits from her birth date.
"This is not just an attack on me, it's an attack on the entire immigrant community," she reportedly said. "The only thing that I've done is use false documents to put food on the table of my family."
Vizguerra's case is the latest in the ICE raids and deportation after President Donald Trump signed an executive order to deport any undocumented immigrant who has a criminal record. This move has been met with strong opposition from people with protests across the U.S.
Earlier this month, ICE authorities deported Guadalupe Garcia de Rayos — a Phoenix, Arizona, woman — after she went for a routine immigration check at a local ICE office. In 2008, she was arrested for impersonation, following a raid by Maricopa County Sheriff's Office and was charged with a felony. However, her attorneys said her original arrest and charges were unconstitutional.
© Copyright IBTimes 2022. All rights reserved.
FOLLOW MORE IBT NEWS ON THE BELOW CHANNELS